By Anna Regidor, image by Jefferson Villacruz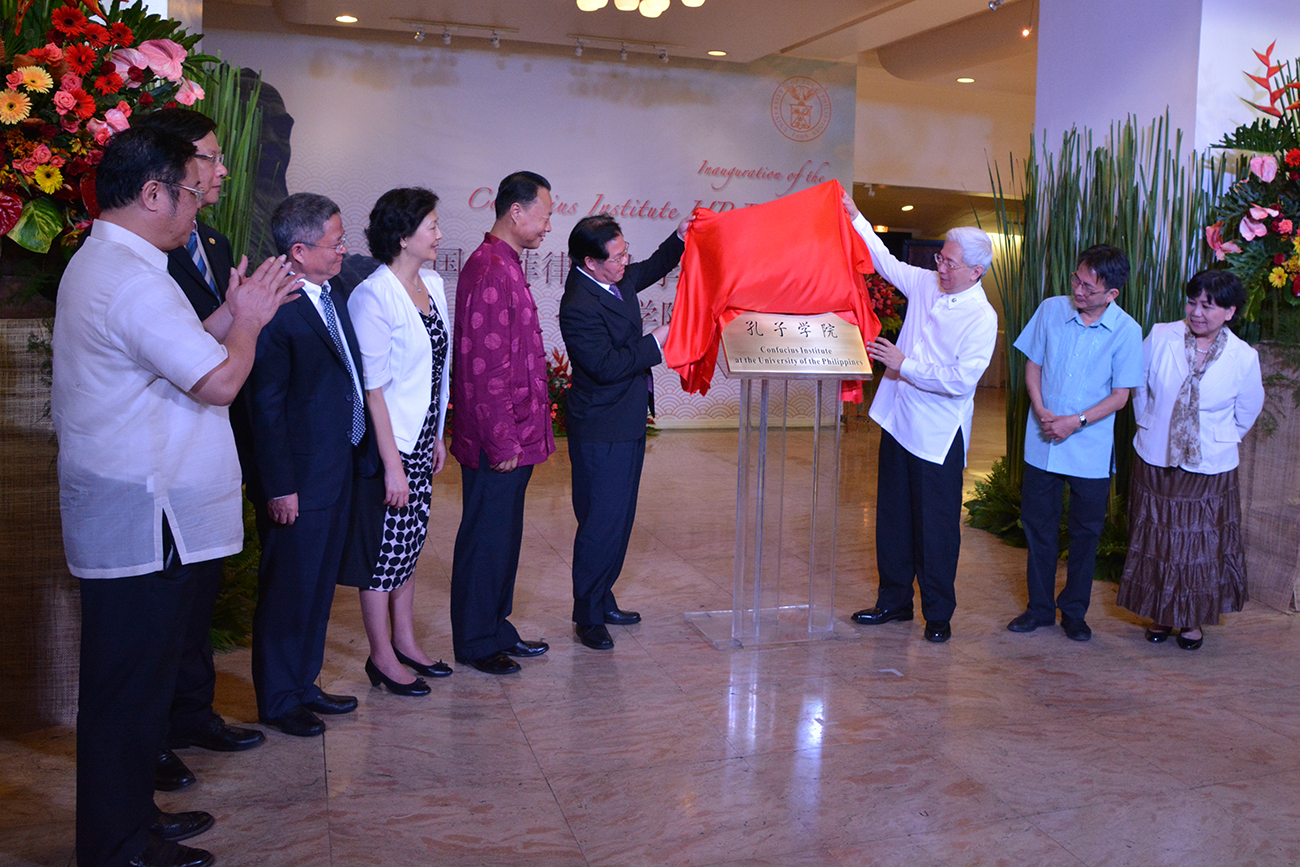 (OCT. 13)—The Confucius Institute at UP Diliman (CI-UPD) will "serve as a strong bridge to connect and to enhance the cooperative exchanges between the two countries (China and the Philippines)," said Xiamen University President Zhu Chongsi at the inauguration of the CI-UPD on Oct. 12, 9 a.m. at The Forefront, University Theater.
The CI-UPD was established through an agreement between UP and the Confucius Institute Headquarters of China or Hanban, led by its Chief Executive, Mme. Xu Lin, on Dec. 7, 2014. One of its objectives is to strengthen the educational and research cooperation between China and the Philippines, particularly in the areas of language, art, literature, film, culture, the natural and social sciences and engineering, medicine, agriculture and aquaculture.
XU Vice President Zhan Xinli, who spoke on behalf of Xu Lin, Chief Executive of the Confucius Institute Headquarters and Director-General of Hanban, added that "…through our joint effort, the Confucius Institute and UP will provide quality service for the local people to learn about Chinese language and culture. It will make positive contribution to enhancing the relations between the people of China and the Philippines."
Presently located at the Advanced Science and Technology Institute along C.P. Garcia Avenue, Technology Park Complex inside the UPD campus, the CI-UPD aims to support and promote the development of Chinese studies in UPD to include Chinese language, history, art and culture.
It is the fourth and latest Confucius Institute to be established in the Philippines. The first three are at the Ateneo de Manila University in Quezon City and Makati City, at the in Bulacan State University in Malolos City, Bulacan; and at the Angeles University Foundation in Angeles City, Pampanga.
The Confucius Institute is a non-profit public educational organization that promotes Chinese language and culture. It is affiliated with the Ministry of Education of the People's Republic of China and is usually likened with the Goethe-Institut of Germany, Alliance Française of France and the British Council of the United Kingdom, which promote the language and culture of Germany, France and United Kingdom, respectively.
At the inauguration, guests were welcomed by a dragon and lion dance performance by the UP Wushu Club at the University Theater Lawn. They were also treated to select cultural performances by the UP Filipiniana Dance Group, the UP Tugtugang Musika Asyatika and Tellu Bituun Bagani. Zhang Lei and Li Yang from XU performed traditional Chinese music, with Zhang on Gu Zheng and Li on Pi Pa.
Among the guests were H.E. Zhao Jianhua, Ambassador of the People's Republic of China to the Philippines, the heads of the other Confucius Institutes in the country and representatives from various Chinese schools.
They were also given a short tour of the CI-UPD's offices at the Advanced Science and Technology Institute along C.P. Garcia Avenue after the launch.