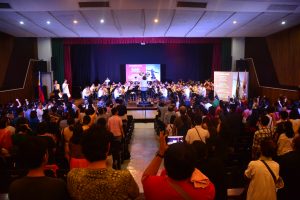 (OCT. 2) — Capping its centennial anniversary celebration, the UP College of Music staged a full house closing concert featuring its faculty and resident performing groups on Sept. 15 at the Abelardo Hall Auditorium.
Performers. UP Tugtugang Musika Asyatika (UP TUGMA) set the mood with a chant set against the background of gongs and kulintang. UP TUGMA is an organization of student-performers and enthusiasts of Philippine and Asian traditional music based at the CMu.
When the ritual ended, the UP Concert Chorus (UPCC) and UP Chorus Class, under the baton of Cyro Moral, gave an enchanting performance of "Silence My Soul" by National Artist for Music Francisco Feliciano.
Created in 1962, the UPCC is the official choir of UP and an internationally-acclaimed group that has won top prizes in major international competition, the most recent of which was the Grand Prix at the 6th International Krakow Choir Festival in Poland on June 14, 2015. The group is presently led by Prof. Janet Sabas-Aracama.
The concert officially started with the singing of the Philippine National Anthem led by the UPCC with Calvin Capacete as the assistant conductor.
The show continued with the dance interpretation of CMu Prof. Josefino "Chino" Toledo's "Kristo Kyrie" from "Misa Lingua Sama-sama" by the UP Dance Company (UPDC), the official contemporary dance group of UPD. The dance was choreographed by professors Angela Lawenko Baguilat, Herbert Alvarez and Ma. Elena Laniog Alvarez.
After UPDC's performance, CMu dean Dr. Jose S. Buenconsejo formally welcomed everyone and said the CMu concert "marks the end of its centennial celebration 1916-2016."
Buenconsejo also said it "reflects on the College's mission in the teaching of the art of music performance as well as inculcating research on Philippine music and dance that has impacted on Filipino national cultural consciousness."
The concert also featured "Bituing Marikit" by National Artists for Music Nicanor Abelardo and "Sa Mahal Kong Bayan" by Lucio D. San Pedro which were arranged and performed by pianist and CMu professor Augusto Espino, a Gawad Chanselor awardee as "Pinakamahusay na Alagad ng Sining" (Music Arts Category) in 2000.
Meanwhile, UP Voice Department Opera Ensemble composed of Rica Nepomuceno (soprano), Malvin Beethoven P. Macasaet (tenor), Katherine Frances V. Molina (soprano), Raymond Leslie Diaz (baritone), Nanette Moscardon-Maigue (soprano), Camille Lopez Molina (mezzo soprano) and Albert Napoleon J. Roldan (piano) gave an astounding display of vocal prowess with their performance of "Sulatan Mo Siya" from the opera "Noli Me Tangere" written by National Artist for Music Felipe de Leon based on the novel of national hero Dr. Jose P. Rizal.
Closing the first part of the concert was the UP Jazz Ensemble that performed "I've Found a New Baby" by Jack Palmer and Spencer Williams and "The Jazz Police" by Gordon Goodwin.
Founded in 1977, the UP Jazz Ensemble is the official jazz group of the university with Prof. Raymundo Maigue as musical director. The 30-member band consisting of CMu students and alumni has repertoire ranging from known standard composers and arrangers like Duke Ellington, Glenn Miller Sammy Nestico, George Gershwin and Count Basie, as well as comtemporary composers such as Beatles, John Williams and Dave Gruisin.
After a 10-minute break, the UPCC opened the second half of the concert with their performance of "Bayan Ko" by Constancio de Guzman and Jose Corazon de Jesus and "Nais Ko" by Ryan Cayabyab and arranged by Robert Delgado.
CMu Keyboard Department faculty Ena Maria Aldecoa (piano I, primo), Pia Margarita Balasico (piano I, secondo), Michelle Nicolasora (piano II, primo) and Carolyn Cheng (piano II, secondo) came in next and played the piano version of "Iba't Ibang Kulay" by Felipe de Leon and arranged by Espino.
The UP Guitar Orchestra (UPGO) also performed that night and played "Danza Del Sur" by Hansjoachim Kaps and "Allegro (Concerto in D Minor)" by Filippo Gragnani.
Founded in 1982 by classical guitar professor Lester Demetillo, the UPGO, originally called UP Guitar Ensemble, is composed of CMu students majoring in Guitar. The group has performed in various concert series and joined several competitions such as the National Music Competition for Young Artists (NMCYA).
The last to perform was the UP Symphonic Band under the baton of Prof. Rodney D.S. Ambat with orchestra pieces "Dalampasigan, Concert Overture" and "Lulay Concert March" composed by Lt. Col. Valentin Y. Mechilina of the Philippine Air Force.
The UP Symphonic Band is the official student performing arts group of UP Diliman based in the CMu. In November 2015, the band bagged the Best Performing Group Award under the symphonic band category of the Asian Composers League Festival and Conference.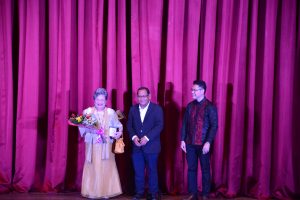 Awarding ceremony. Halfway through the concert, Buenconsejo and Dr. Raul Navarro, chair of the UPCMu Centennial Closing Concert, presented the Gawad Nicanor Abelardo for the Outstanding Music Educators award to Prof. Carmencita Guanzon-Arambulo, Professor Emeritus Fides Cuyugan-Asensio and Prof. Elizabeth Susan Vista-Suarez.
Gawad Nicanor Abelardo is part of the UP College of Music Centennial Awards. Recipients of this award were selected by a search committee headed by former CMu dean Dr. Ramon Acoymo with National Artist for Music Dr. Ramon Santos and Prof. Mauricia Borromeo as members.
According to the Business World Online  article "Berlin-based violinist performs in Manila," Guanzon-Arambulo was known for introducing Japanese musician and educator Dr. Shinichi Suzuki's philosophy and methodology in teaching music in the Philippines and other Asian countries. She is also the founder of the Greenhills Music Studio.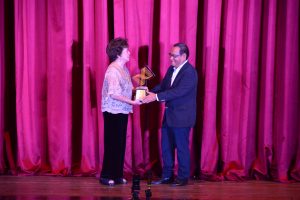 Cuyugan-Asensio is a professor emeritus at the CMu Voice and Music Theater/Dance Department. According to UPCMu's website, she is a profile singer, actress, librettist, lyricist, pedagogue, producer and director.
Vista-Suarez is a professor and dean at the Silliman University College of Performing and Visual Arts (COPVA). According to Silliman's website, Vista-Suarez obtained both her bachelor's degree in Music major in Piano (cum laude) and Doctor of Philosophy in Education from Silliman University in 1984 and 2001, respectively.
The concert ended on a high note with the singing of UP Naming Mahal with the accompaniment of the UP Symphonic Band.
CMU's centennial concert was emceed by Prof. Patricia B. Silvestre and Kevin Almario, and directed by Prof. Alegria O. Ferrer.
CMu kicked off its 100th anniversary celebration in 2016 aptly titled "Sandaang Taon ng Himig at Tinig: Pagpupugay ng UP Kolehiyo ng Musika."