(26 SEPT.)—Proposed policy directions affecting students, faculty and administrative personnel were announced by Atty. Danilo L. Concepcion during his investiture as the 21st president of the University of the Philippines on Sept. 20 at the University Theater at UP Diliman (UPD).
In his speech "Compassion, Our Common Ground," Concepcion highlighted UP's overarching vision of "as a leading regional and global university in an environment that sustains 21st century learning, knowledge creation, and public service for society and humanity."
"UP must be that special place within which it should still be possible—despite all divisions and distractions—to work together with the University's and the nation's strategic interests in mind."
"For this we must promote consensus over conflict, civility over calumny and collaboration over confrontation. We must foster strategic thinking over short-sightedness, honest labor over opportunism, and shared effort over self-promotion," he added.
He called on the students, faculty and administrative staff—which he described as the "three vital components of the University," to "aim as one to hit our targets. Our unity is the key to our success. True, unity is elusive because we fully acknowledge and accept the complexity and diversity of our respective needs, beliefs and standards. However, we believe that there is a common ground where all of the three components can stand together as one body."
Students.  The most significant policy to affect UP students is the imposition of a return service as a condition for those who will avail of the government's tuition-free college education.
On Aug. 3, Philippine president Rodrigo Duterte signed into law RA 10931 or the "Universal Access to Quality Tertiary Education Act," giving full tuition subsidy to students in state and local universities and colleges and state-run vocational schools, cnnphilippines.com reported on Aug. 5.
Noting that only a small percentage of public high school graduates outside Metro Manila pass the UPCAT, Concepcion said the free tuition program "will clearly be pointless, senseless and useless if the students from poor families will not pass the UPCAT."
The return service "will be for one year after graduation. Our graduates will be required to teach senior high school students in public high schools that we will identify as UP feeder schools. This scheme, we hope, will uplift the quality of the graduates from these feeder schools," he said.
He said the return service is voluntary. "Any student may opt out from this condition before graduation by paying his tuition, or the cost of his education if he will opt out after graduation." He also said this "will not be for free" but "students who decide to teach will be compensated properly."
"While it is voluntary, we are very optimistic that our students, the scholars of the nation, will choose to render return service. That is because it will be a perfect opportunity for them to live out their professed love for our country, and their advocacy to serve our poor countrymen," he added.
In addition, Concepcion promised the students his administration "shall guarantee their right and freedom to express their ideas, beliefs and principles. We will never even attempt to suppress what they want to say, or oppress them for what they fight for. Instead, we shall listen to them, understand them and guide them."
Faculty. "We will vigorously pursue and secure the funding needed to continue and improve our faculty development programs," Concepcion vowed.
He said the University had been allocating 60 percent of tuition fee collections for faculty development programs. "If the national government will not replace the tuition collection we will forego, there will be no funds to finance the programs that develop and uplift the conditions of our faculty."
He also said his administration "will study how to ease the rules on tenure and promotion to make them fair and just" to retain valued faculty in the University. In addition, he proposed to create an office "specifically dedicated to prepare our faculty for a well-deserved retirement life and to assist them with their needs, especially in housing."
Finally, he said "We will also upgrade their working conditions and provide them with a happy and vibrant academic life in our campuses. After it burned down last year, a bigger, more modern and faculty-friendly Faculty Center will rise up again in three years."
Administrative staff. According to the President, the administration has begun the process of making contractual personnel who have served the University for a long time regular employees.
He however noted that "inasmuch as doing it will require the creation of new plantilla positions, the process will take some time. In the meantime, we shall move up our non-UP contractuals, those who have rendered many years of service, to the level of UP contractual so they can be entitled to all the benefits that a regular employee receives."
He also pointed to the need "to take stock of and examine our operations to ensure a match between the size of our administrative workforce and our operational requirements. We will ensure that its size no longer balloons unchecked."
Priority programs. Concepcion vowed to rehabilitate the various UP campuses, which will require "the repair, restoration and improvement of our buildings and dormitories." He proposed to reach out to "successful alumni who stayed in the dormitories and enjoyed the benefits of living on campus, paying very cheap dormitory fees."
He committed to build a second Philippine General Hospital at UPD, with the College of Medicine and the Genomic Cancer Research Institute as complement to serve the UPD community and the north of Metro Manila."
"We conceive of PGH-Diliman to be the most modern, well-equipped, and excellent hospital in the country. We believe that we can make this dream happen with your support and the help of our national and local governments," he said.
He also pledged to institute reforms in "the procurement system, in the automation of our operating systems and in the allocation and use of our funds and resources."
Touching on the University's mandate towards other universities and colleges, he said "We shall foster cooperation and collaboration with schools that wish to partner with us in academic and research initiatives. We shall study and consider the establishment and operationalization of a facility-sharing scheme."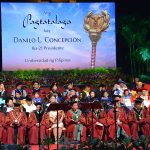 Finally, on informal settlers, he said "We shall give proper attention to their needs and well-being. Their welfare will be included in all of our plans to put in order our campuses. We will not destroy houses if it will destroy lives. My sincere prayer and hope is for them to also have compassion for our University and our community."
Investiture. Dr. Patricia Licuanan, Chairperson of the Commission on Higher Education, presided over the investiture ceremony. She also presented Concepcion with the symbols of the UP presidency–the mace and the medallion.
Among the guests were Philippine Vice President Maria Leonor Robredo, National Artists, National Scientists, members of the diplomatic corps, heads of national and international institutions of higher learning, UP officials and the president's family.
Concurrently Professor and Dean of the UP College of Law, Concepcion assumed the position on Feb. 10. He was elected to the post by the UP Board of Regents in November 2016.