Former UP Diliman (UPD) College of Fine Arts (CFA) dean Florentina P. Colayco was recently conferred the Chevalier de l'Ordre des Arts et des Lettres (Knight of the Order of Arts and Letters) by the French government.
According to the award's website, "the Order is intended to reward people who have distinguished themselves by their creations in the artistic or literary field or by the contribution they have made to the influence of the arts and letters in France and in the world." The Order has three grades: Knight/Chevalier, Officer/Officier, and Commander/Commandeur.
The prestigious award is in recognition of Colayco's significant contributions to culture and the arts as an educator, professor, and publisher.
As educator, professor, and former dean, Colayco was "instrumental in establishing and implementing the Cooperation Agreement between UP and the Ecole Nationale Supérieure des Beaux Arts de Paris which allowed an exchange program between Filipino and French students," the award citation stated.
During Colayco's deanship (2006-2012), the said cooperation agreement was first entered into in June 2010, and renewed in June 2013.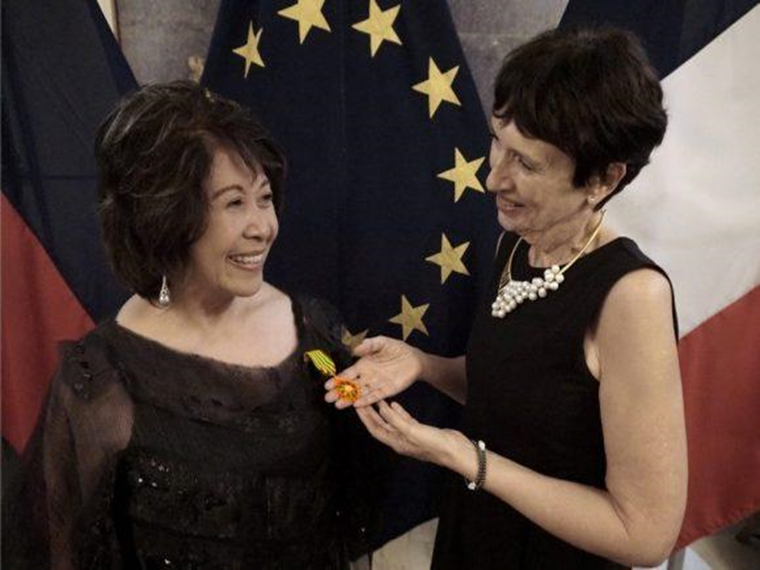 Colayco is the publisher and founder of ArtPostAsia, Inc. Established in 2000, ArtPostAsia, Inc. produces coffee table books on Southeast Asian and Philippine art, design, photography, heritage and traditions, and the environment.
Through ArtPostAsia, Inc., she worked with the editorial and production team of 60 Years and Bon Vivant! Philippine French Relations, by Ambeth R. Ocampo. The book is based on a 2008 symposium on the role and influence of France in Philippine history, culture, education, and the arts.
As the current president of the Metropolitan Museum of Manila (MET), she has led the museum in organizing several important exhibitions including Brave New Worlds: My Utopia in Your Dystopia in 2014 (Brave New Worlds) and FITE: Renaissance (Festival International des Textiles Extraordinaires) in 2015 (FITE). Brave New Worlds brought together 20 Filipino and four French artists, while FITE was a collaboration of the French Embassy in Manila, MET, the Musée de Bargoin, the city of Clermont-Ferrand, and Filipino designer Patis Tesoro. This showcased textile and woven materials all over the world, linking heritage, the tradition of weaving, and contemporary art.
Colayco's conferment coincides with the 75 years of strong, dynamic, and diverse relations between the Philippines and France.
Former French ambassador to the Philippines Michèle Boccoz conferred the award on Colayco on June 22.—With a report from the CFA website