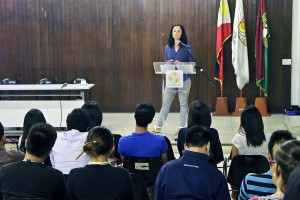 ( NOV. 17)—Mexico and the Philippines have similar conditions on how television is located in the 21st century. This was the focus of the public lecture, "Cacique Television: Rethinking Philippine Popular Culture through the Lens of Latin America," held on Nov. 11 at the College of Mass Communication (CMC) Auditorium.Dr. Anna Cristina Pertierra, lecturer in Anthropology at University of Queensland discussed the comparative study of entertainment television in the Philippines and Mexico.
Both countries, Mexico and the Philippines, aside from sharing colonial and postcolonial histories, have similar condition on how television is located industrially, politically and culturally in the 21st century.
She mentioned that television industries and audiences can also be understood through the lens of commercialized caciquismo. She considered the rise of the 'popular classes' as a fruitful concept through which Latin American cultural theorists have reframed working class urban television audiences in the 20th and 21st centuries.
The lecture was organized by the CMC Graduate Studies Department. —Text and image by Alex Tamayo, College of Mass Communication