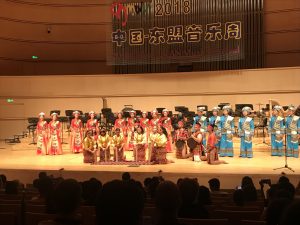 (JUL. 25)—Delegates from the College of Music (CM) participated in the 2018 China-ASEAN Music Festival from May 29 to June 4 in Nanning, Guangxi, China.
The delegation, comprised of performing groups UP Tugtugang Musika Asyatika (UP Tugma), Padayon Rondalla and the UP Dance Company (UPDC) and professors and staff of the College "went to the festival eager to learn, perform and interact with other artists and scholars from different countries," the CM report noted.
UP Tugma was the first group to perform. At the opening ceremonies on May 29, the group, together with the Guangxi Ethnic Group, wove together traditional Chinese folk songs with Cordillera gangsa patterns and the Salidummay song form. With the performance, the Guanxi students danced the Pattung while Tugma members sang a portion of a Chinese folk song.
Banyuhay: Life Cycle of Music Instruments from the Philippines opened on May 30 at Guangxi's Lijang Painting School Art Center.  Curated by Prof. Dayang Yraola of the College of Fine Arts and mounted by Sol Maris Trinidad of the UP Center for Ethnomusicology, the exhibit "presented the different stages of metamorphosis occurring among the Philippine indigenous instruments." 
UP Tugma demonstrated how the instruments were played.
A symposium on Philippine music took place at the same venue on May 31.
CM dean Prof. LaVerne de la Peña, PhD, lectured on the Philippine indigenous music, particularly Cordillera music while Prof. Ma Patricia Silvestre, Musicology Department chairperson, talked on the Spanish-influenced lowland music of the Philippines. At the same event, UP Tugma demonstrated the ginallupak pattern on the gangsa and the ninnaneng pattern on the patangguk. Meanwhile, the UP Rondalla, UP Tugma and the UPDC performed the song "Santa Clara."
Capping the symposium was Dr. Ramon Santos, National Artist for Music and UP Professor Emeritus lecture on Philippine music compositions.
In the evening of June 1, the performing groups held a concert at the university's auditorium. "It came as a wonderful surprise that there were many local citizens who just happened to pass by and ended up watching the concert. The segment on community dance was also very successful for many were absolutely willing to participate and dance on stage," the CM report noted.
The groups gave another concert the following night at the university's New Campus. While the venue was smaller than the auditorium, "it provided a more intimate space which allowed for more visual interaction between the performers and the audience."
Large orchestral works of composers from China and Southeast Asia closed the festival on Jun.3.