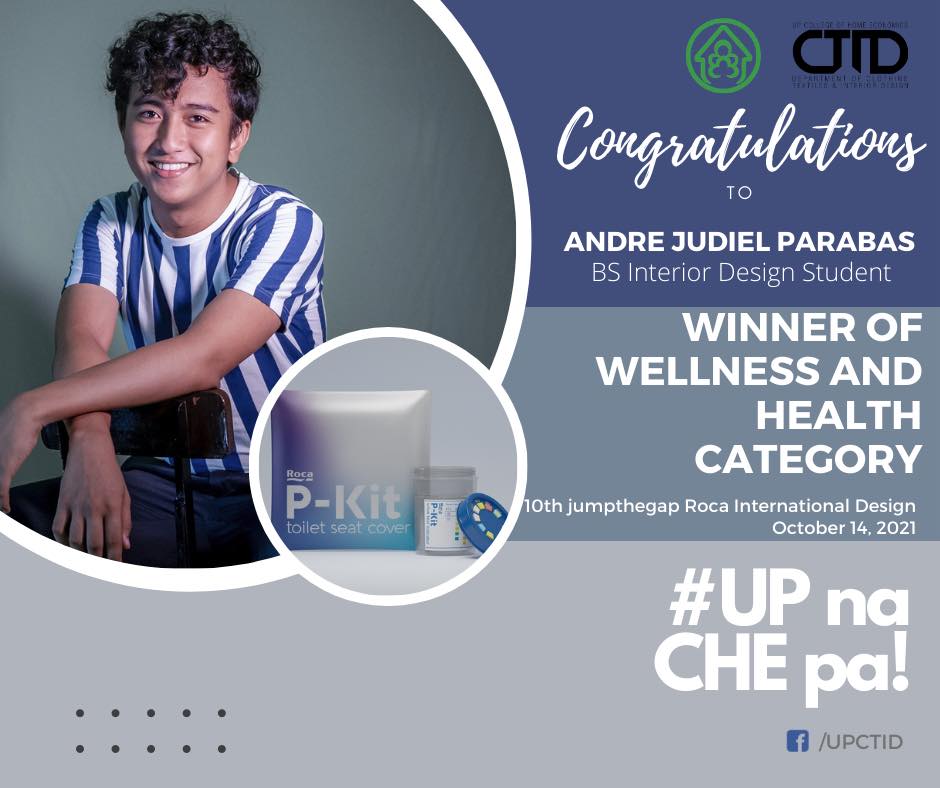 Andre Judiel Parabas, a student of the College of Home Economics (CHE), recently bagged the top prize in the wellness and health category of the 10th jumpthegap Roca International Design Contest for designing a biodegradable home urine rapid-testing kit.
Parabas's rapid-testing kit, named the P-Kit, is designed to be low-cost, biodegradable, and rapid, able to be done at home. The P-Kit checks for diseases such as diabetes and malaria.
The testing kit consists of three parts: a universal toilet seat, a urine cup labeled with instructions, and a urine cup cover that contains squares containing various reagents.
The cup is 76 mm tall with a 55-mm diameter base, with a cover diameter of around 63 mm, while the universal toilet seat cover unfolds from 5 inches to a full 14-inch cover.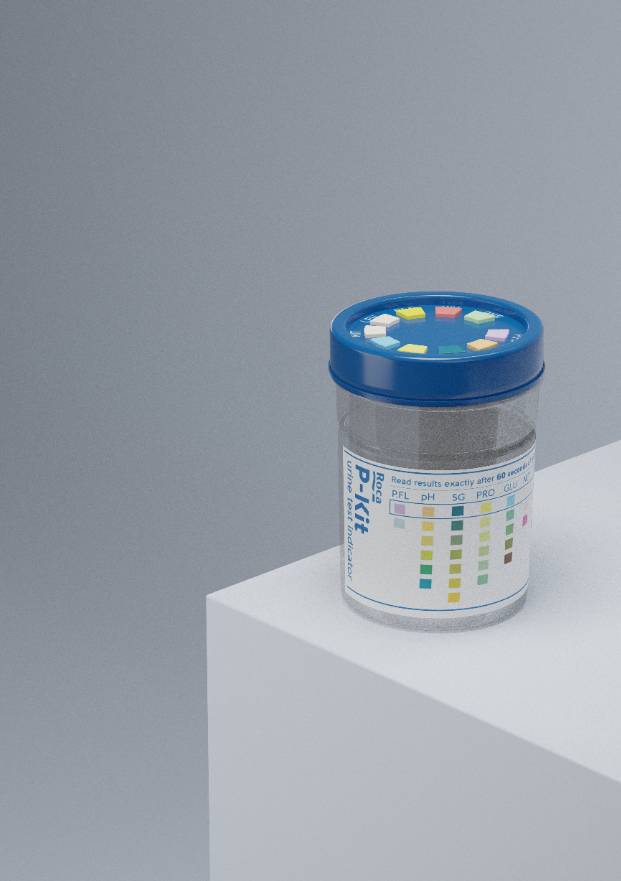 The P-Kit is based on existing home urinalysis kits that patients with diseases such as diabetes or kidney ailments use to monitor their condition.
A user would acquire the P-Kit from a nearby dispenser, unfold the toilet seat cover, and then place the urine cup in the allotted slot in the middle. After filling the cup with the appropriate amount of urine, the cup is covered and rapidly flipped upside down and then right side up again. After a 60-second wait, the user can then see and read the results based on the guide printed on the label.
Parabas envisions the entire P-Kit to be manufactured using plant-based bioplastic made from water hyacinths, which are plentiful in the Philippines. After flushing the urine sample, the P-Kit can be disposed along with other biodegradables.
"Aside from detecting iyong changes sa commonly known biometrics such as blood sugar, proteins, and acidity, nadi-detect din ng P-Kit ang presence ng S. pneumoniae antigen (for pneumonia), and HIV and histidine rich protein 2(HRP2) produced by malaria parasites. There are studies na naka-prove na kayang ma-detect ang mga diseases na ito gamit ang urine (especially sa HIV and malaria na widely used na po iyong urine testing for its early detection)," Parabas said.
While Parabas admits that P-Kit is not a substitute for a complete laboratory urinalysis, its accessibility could be critical for early detection and monitoring.
"The P-Kit could provide an accessible and early detection noong mga ito para magka-information agad kung anong diseases iyong maaaring meron sila. Bukod pa rito, napo-provide ng P-Kit iyong different markers na ito sa one urine cup, thus making it more efficient for people. Since urine lang po ang gagamitin, non-invasive test siya for everyone. This makes any toilet not just a space for relief but also a room for assessing your personal health," he said.
P-Kit won based on innovation and originality, feasibility, alignment with sustainable development goals, integration of the values and attitudes laid out by the competition, and quality of the presentation.
Parabas thanked the CHE Department of Clothing, Textiles, and Interior Design for guiding him.
"Without your guidance for the past 3.5 years, I would not have the empathy to understand an individual's needs in a space, the confidence to bring my designs to life, and the courage to present it to the world," he said.
The 10th jumpthegap Roca International Design Contest is organized by Italian luxury bathroom design firm Roca and non-profit foundation Barcelona Design Center. It challenged young architects and designers from all over the world to "come up with realistic solutions for the bathroom space that respond to the transversal goals set out by the United Nations (UN) 2030 Agenda for Sustainable Development."
The 2030 UN agenda is "a plan of action for people, planet, and prosperity" that has 17 sustainable development goals. The P-Kit addresses three of the 17 goals: good health and well-being, responsible consumption and production, and life below water.
Aside from wellness and health, the other three categories in the competition were: [un]neutral design, water and energy, and crisis and emergency.
The competition was open to architects, interior architects, industrial designers, interior designers, building engineers or other related professionals as well as students of architecture, industrial design, building engineering, or other related disciplines.
The winners in each category were chosen by a seven-man jury composed of industry professionals and academic experts, and received a €2,000 prize. The winners were announced online on Oct. 15 via Zoom.