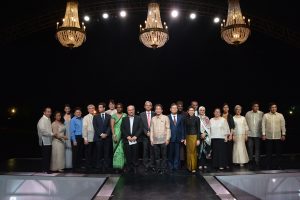 (MAY 23) — A 2-way celebration with the opening of the Linggo ng Parangal 2018 and feting UPD's international community through the Chancellor's International Reception was held on May 7, 6.p.m. at the Quezon Hall Lobby.
This was described by UPD Chancellor Michael Tan as a "time to honor people in UP and [their] partners." 
In his speech, Tan thanked the attending diplomats whose countries have academic and/or cultural partnerships with UPD. He acknowledged the contribution of international affiliates to the growth of the UPD student. "Their motivation will not be complete if they will not have exposure to the world," Tan stressed.
In attendance were Deputy Head of Mission Giancarlo Mosciatti (Embajada de Chile en Filipinas); Ambassador Jaideep Mazumdar (Embassy of India, Manila); Cultural Counselor Mohammad Jarimalak, Mme. Tandis Taghavi and Chairman of Comparative Education System of UNESCO Abas Arani (Embassy of the Islamic Republic of Iran in the Philippines); Minister and Consul-General Atsushi Kuawabara and Toshiyuki Taguchi (Embassy of Japan in the Philippines); Second Secretary Emmanuel Adamu J. Odoje (Embassy of the Federal Republic of Nigeria in the Philippines); Second Secretary and Head of Chancery Sewwandi de Silva (Embassy of the Democratic Socialist Republic of Sri Lanka in the Philippines); Charge D'Affaires Urawadee Sriphiromya and Minister-Counsellor Rachaphum Viengsima (The Royal Thai Embassy, Manila); Ambassador Lý Quôc Tuân and Mme. Hanh (Embassy of Vietnam in the Philippines).
May Zin Thet, foreign exchange student from Myanmar, shared about her stay in UP, "This experience of studying in UP […] prepares me for other opportunities and for the future."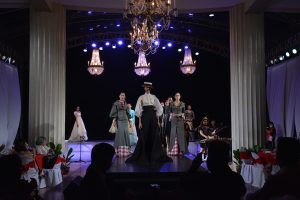 A miniature Oblation statue and a plaque of appreciation were given to dignitaries and special envoys from Chile, India, Iran, Japan, Nigeria, Sri Lanka, Thailand and Vietnam. Tan was joined by Vice Chancellor for Academic Affairs Evangeline C. Amor and Office of International Linkages Diliman (OIL-D) Director Imee S. Martinez.
Introduced in the program were this year's Gawad Tsanselor recipients. The award is the highest honor given by UPD to outstanding sectors of its community.
This year's Gawad Tsanselor awardees are Isabelita Gravides of the Barangay UP Campus and the UP Community Chest Foundation, Inc. (Natatanging Lingkod Komunidad); Joseph Daniel M. Dantes, Ernest P. Delmo and Lee Edson P. Yarcia (Natatanging Mag-aaral); John Paulo V. Gonzales, Fernando B. Llano and Imelda R. Reyes (Natatanging Kawani); Rhoel E. Rondilla, Marie Antoinette DP. Villaflor and Marte C. Villena (Natatanging Research, Extension and Professional Staff/REPS); Aklatang Bayan of the Sentro ng Wikang Filipino and Pagluluwal International Ceramic Arts Projects of the College of Fine Arts (Natatanging Programang Pang-Ekstensiyon) and Dr. Louis Angelo M. Danao, Dr. Ricardo T. Jose, Dr. Bryan B. Pajarito and Prof. Jose Carlo G. De Pano (Natatanging Guro).
The conferment rites of the Gawad Tsanselor and culmination of Linggo ng Parangal 2018 was held on May 11 at the Institute of Biology Auditorium.
A fashion show followed, featuring the masterpieces of internationally-acclaimed designer Jojie Lloren. Lloren showcased his collection of gowns and clothes inspired by styles of important Filipino painters. Tan and CHE Dean Aurorita T. Roldan presented Lloren with tokens of appreciation for his contributions to the Philippine fashion industry and display of UP's trademark honor and excellence.
Serenading the audience during the event were homegrown UP groups UP Tugtugang Musika Asyatika's (Tugma) and Padayon Rondalla. Bullet Dumas, a contemporary folk singer-songwriter, performed the songs Tugtog and Kapayapaan at the beginning and end of the program respectively with Tugma providing the accompaniment. 
Tan remarked that the Tugma instruments were a metaphor to the international nature of the event. Tugma's instruments consisted of the Western electronic guitar, electronic bass, and flute; Korean buk, Japanese koto and Philippine kulintang. Before the the solidarity toast that capped the night, Tan stressed "we have simple dreams: that is to make good music together." 
The program was organized by the UPD Office of the Chancellor, OIL-D, Office of Extension Coordination, CHE, UPD Festival of Culture and the Arts 2018 Core Team and the UP Diliman Information Office.