Dormers and staff of the UP Diliman (UPD) Office of Student Housing (OSH) under the UPD Office of the Vice Chancellor for Student Affairs (OVCSA) were pleasantly surprised when UPD Chancellor Edgardo Carlo L. Vistan II paid them a visit at the OSH Night of BarriOSHFiesta 2023: The UP Diliman Residence Halls Festival (BarriOSHFiesta) at the Yakal Residence Hall basketball court.
BarriOSHFiesta was the first UPD residence halls festival and open house activity since the COVID-19 pandemic hit the campus in 2020, and it was met with enthusiasm by all who participated.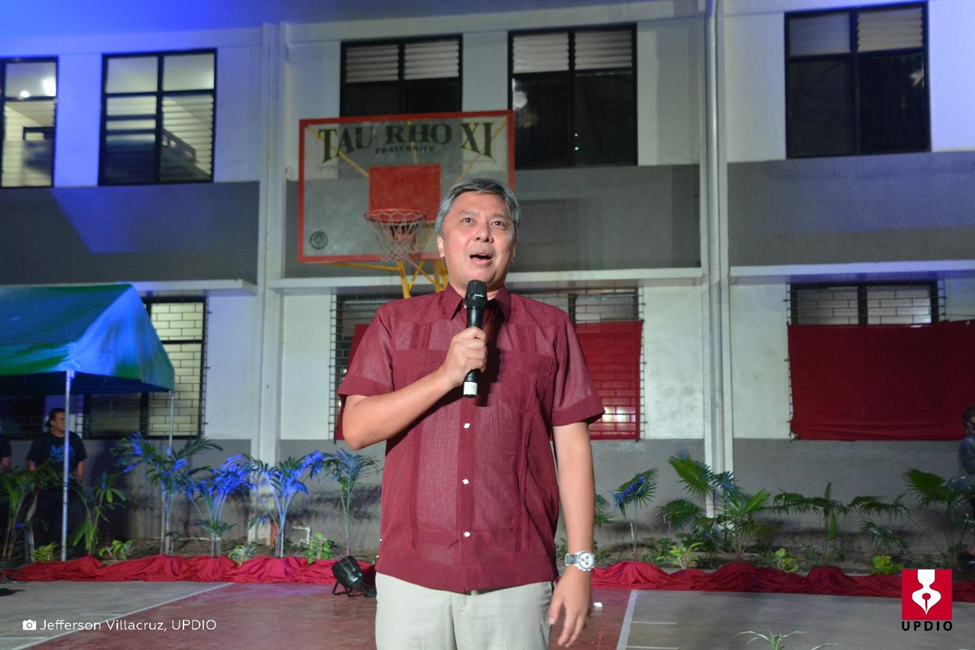 Vistan, in his impromptu speech, thanked the OSH for inviting him to the event and told those present, especially the students, that he was there to join them in having fun.
"Sana ma-enjoy ninyo ang mga activities. Ako'y manonood lang at makikisaya sa inyo," Vistan said.
Vistan was able to join the dormers for the talent portion night of the BarriOSHFiesta where students representing their residence halls rendered performances such as singing and dancing.
Josephine Esteban, the dorm manager of Molave Residence Hall, explained that BarriOSHFiesta was OSH's way of welcoming the students back to the campus.
"Ito ay ang aming munting paraan na i-welcome back ang mga estudyante ng UPD although malapit ng matapos ang semester, hindi pa huli ang lahat. Gusto rin naming mapakilala ulit ang mga dorms sa studentry, at sa community na rin. Kasi, iyon nga, lahat tayo pinadapa ng pandemic. This is our way of coming back," Esteban said.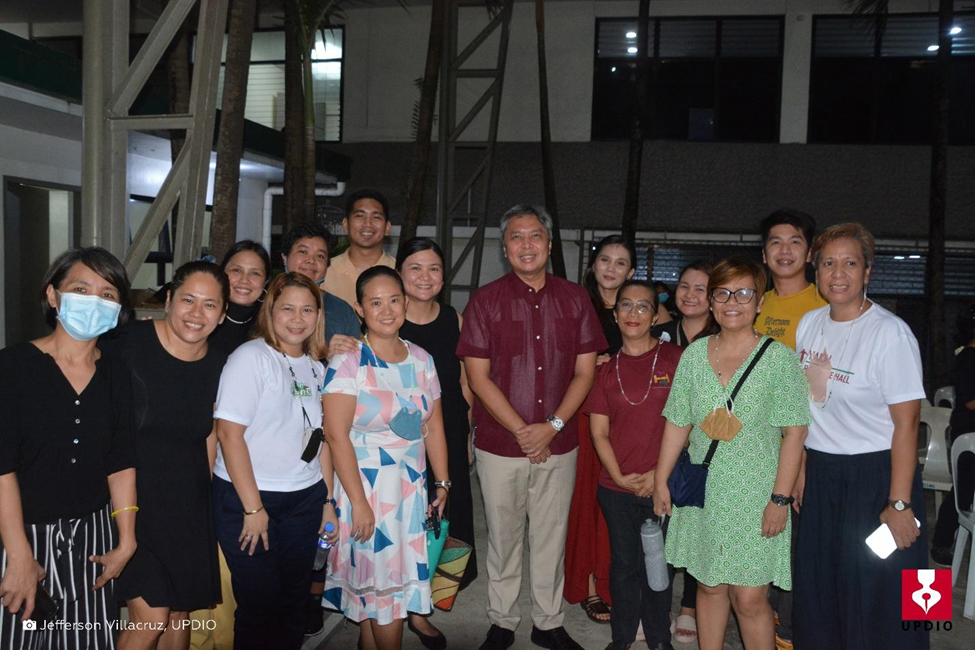 Meanwhile, Vice Chancellor for Student Affairs Louise Jashil R. Sonido said her office through the OSH is glad to have the dorm culture back.
"Dorm life is really a core memory. Happy, fun memory. Dorm life you will remember for the rest of your life, and it will matter," Sonido said.
For her part, OSH Officer-in-Charge-Director Crizel Sicat-De Laza thanked all the dorm managers, house parents, and all the organizers of the event. She called the OSH staff members to the makeshift stage so that they could be recognized and cheered by dormers.
Before the talent night, Maricel Rodriguez, dorm manager of the Yakal Residence Hall (Yakal), gave UPDate Online a brief tour of Yakal, showing the student lounge, reading room, and a vacant room in the ladies' wing. She also showed the fashion exhibit by clothing technology graduating student, Jan Paul Martinez, at the Yakal lobby.
"Hindi kasi nakapag-mount ng fashion show si Jan Paul dahil pumutok na iyong pandemic. Sayang naman na hindi niya maipapakita iyong nagawa niya. So, I told him to have his works exhibited here, during BarriOSHFiesta," Rodriguez said.
Martinez exhibited some pieces of his designs, among them a vest worn by singer KZ Tandingan.
"Basically po, lahat ng gawa ko rito sa exhibit are all made from sustainable and discarded materials. Iyong mga pieces po gawa po siya sa mga retaso," Martinez said.
Martinez is currently working as a co-designer of Riotazo, a company that makes clothes and accessories from discarded materials.
BarriOSHFiesta was a week-long event held from May 15 to May 21, at various dormitories on campus. The OSH Night happened on May 19.