By Mariamme D. Jadloc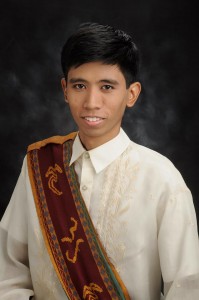 (MAY 26)—Vincent A. Isidro, a UP Diliman College of Education (CEd) alumnus, topped the March 2015 Licensure Examination for Teachers (LET) in the Elementary Level with a 90.40 percent rating. Isidro is one of the 87 UPD alumni who took the March 2015 LET, and one of the 24 who took the test in the elementary level.
Of the 44,144 who took the test in the said level, only 12,103 passed. All 24 UPD alumni passed, with six of them landing in the top 10. Along with Isidro in the top 10 are: Cricelle Marie B. del Mundo (2nd, 88.20%), Jasmine I. Dizon (5th, 87.40%), Krizia Camille C. Salvador (7th, 87%), Christel Marie P. Uy (8th, 86.80%) and Maria Rizza Fernandine DR de Asis (10th, 86.40%).
Meanwhile, UPD alumni also topped in the LET secondary level, with James Peter Z. Arellano securing the fifth spot with a rating of 89.60 percent. Joining Arellano in the Top 10 are fellow CEd graduates David C. Desamito (6th, 89.40%), Anne Bernadette B. Santos (8th, 89%) and James B. Tumlos (8th, 89%). Of the 56,596 examinees for the LET secondary level, only 17,904 passed.
In both levels, UPD ranked number 1 as top performing school. UPD, with a 100 percent passing rate, tied with De La Salle University Manila in the elementary level. The university's 95.24 percent passing rate (with 60 examinees passing) landed UPD the top spot in the secondary level.— Photo from Isidro's Facebook account.