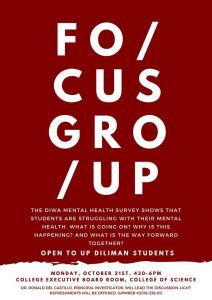 If you are at UP DILIMAN, this is for you! Sign up here: http://bit.ly/diwaFGD
The Diwa Mental Health Survey concluded in May 2019. Nearly one-third of students expressed feeling down, depressed or hopeless. A sizable number expressed feeling anxious or on edge. Almost half of the randomly selected students believe that mental health is a low priority or not-at-all a priority system-wide. While some believe faculty and staff are generally knowledgeable about mental health, nearly half of students also believe that faculty and staff do not know how to communicate with or support students with mental health concerns.
What is going on? Why is this happening? And what is the way forward together?
More about the study here: http://bit.ly/diwaMHsurvey
WHAT IS DIWA ASKING
The FGDs will discuss preliminary data from the survey questionnaire, perceptions you and others might have about mental health, and access to and use of services.
WHAT DOES IT INVOLVE
The discussions will be about 60-90 minutes with 8-12 other students – maybe more, maybe less. It will be held on campus and will be audio recorded. Dr. Del Castillo will lead these FGDs.
WHAT ARE THE RISKS
It might be distressing to answer potentially sensitive questions. However, this is unlikely and of low risk. If it does happen, it will likely go away on its own. The numbers of crisis hotlines and the UP Guidance and Counseling Offices will be provided to you.
DO YOU GET PAID
You will not get paid. There are no incentives or payments for taking part in the FGD. Light refreshments will be served.
WHAT ABOUT PRIVACY
The FGDs are confidential. Every effort will be made to remind you and the others that due to the nature of group discussions, the research team cannot control what you and the others might say or not say after the FGD.
WHO CAN YOU CONTACT
We welcome your questions and feedback. Email the team at diwaMHsurvey@gmail.com. You can also contact the UP Manila Research Ethics Board: 526 4346, upmreb@post.upm.edu.ph.
If you are ready, sign up for the FGD here: http://bit.ly/diwaFGD