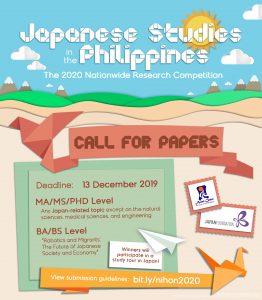 The Japan Foundation and the UP Asian Center are calling for submissions of Japan-related research for the "
Japanese Studies in the Philippines: The 2020 Nationwide Research Competition
." The competition is open to Filipino students enrolled in colleges and universities across the Philippines. Winners will receive a five-day all-expenses paid trip to Japan from 24 February to 28 February 2020 (To be confirmed).
Application Period

Application period will run from 14 October 2019 to 13 December 2019.
General Eligibility Guidelines

Currently enrolled in a BA/BS, or an MA/MS/PhD program in a Philippine university
Holder of Philippine passport with six-month validity as of 28 February 2020.
Can give (if paper is shortlisted) a public presentation of their research on 18 January 2020 @ UP Asian Center, Quezon City. Domestic flight tickets and accommodations will be provided for authors of shortlisted papers from outside Metro Manila.
Must be between 18 and 30 years old as of January 2020
General Paper Guidelines

Unpublished and solo-authored
Written in English
Must not be under consideration in another publication
Single-spaced, in Times New Roman, 12 font
Has an abstract (max 300 words)
Uses APA citation style
SPECIFIC GUIDELINES: BA/BS LEVEL
10 to 15 pages
Papers by BA/BS students must address the theme, "Robotics and Migrants: The Future of Japanese Society and Economy"
According to the Statistics Bureau of Japan, the population of the country has decreased over the last eight years at a rate of 0.21 percent in 2018. The number of births also dropped to a post-war low of 918,397 in 2019, the lowest since 1899. Apart from mechanization, computerization, and robotization, Prime Minister Shinzo Abe's administration has also recently opened Japan's doors to migrant workers to fill labor shortages in agriculture, nursing, and other sectors. Do the current solutions adequately solve Japan's demographic challenges? What other alternatives can be explored? How will automation and migration shape Japanese society and economy in the future?
Paper Guidelines for MA/MS/PhD Students

15 to 20 pages
Anything Japan-related except topics on the natural sciences, medical sciences, and engineering.
Application Procedures

Fill out this online application form.
Send a Zip file (.zip) containing PDF files of the following to asiancenter@up.edu.ph.
ο Two soft copies of the research paper
♦ File name of the first copy must have "Actual Copy" and include the title of the paper, your name and school. ( e.g.  Actual Copy – Politics of Japanese Pop Music_Juan Cruz_UP Diliman)
♦ File name of the second copy must be [Review Copy – Title of Paper], e.g. "Review Copy – Politics of Japanese Pop Music."  To ensure a fair, blind review, this copy must not indicate your name, school, course, etc.
Authors of shortlisted papers will be emailed by 20 December 2019.
Sending and File-Naming Instructions

The zip file must be named Last Name, First Name, e.g., "Morales, Jerry.zip"
Subject line should contain "Research Competition 2020." This is for email filters that can help ensure your application is processed.
Documents must be sent on or before 5 pm, 13 December 2019.
Please follow instructions to help ease the collecting/collating process. The organizers reserve the right to disqualify late, incomplete or improperly formatted applications.
For Authors of Shortlisted Papers (Finalists)

Authors of shortlisted papers must be ready to show (or send) the organizers the following:
School ID
Any valid ID indicating date of birth
Proof of enrollment in current semester (any of the following):
◊ Validation sticker on school ID indicating enrollment,
◊ Signed/validated enrollment form, OR
◊ Letter from the Office of Admissions/Registrar/College Secretary, or equivalent office.
Finalists will give a 15-minute presentation of their research on 18 January 2020 at the UP Asian Center, QC. As part of a forum/conference, the presentations will be open to the public. No presentation means ineligibility for the study tour. Presentations by proxies are not allowed.
Domestic flight tickets and accommodations will be provided for authors of shortlisted papers from outside Metro Manila.
Prize: Study Tour

Only six winners will be chosen from the finalists.
Three (3) undergraduate and three (3) graduate-level finalists will take part in the study tour scheduled on 24 February to 28 February 2020 (TBC). The students are solely responsible for ensuring that their passport has six-months validity as of 28 February 2020. Winners may not transfer their slots to another student.
Only the authors and presenters of the winning papers can take part in the study tour. It includes a five-day stay in Japan, accommodations, and roundtrip airfare to/from Manila-Japan. The students will also visit academic institutions in Japan, and interact with Japanese scholars and researchers. Upon returning to the Philippines, they will be debriefed in May 2020 (TBC).
Authors should prepare their winning papers for publication in the Asian Studies: Journal of Critical Perspectives on Asia, and must commit to the entire review and revision process.
The Japan Foundation will provide additional details on the travel requirements, including visa processing.
Dates to Remember

Application deadline: 13 December 2019, 5 pm
Announcement of shortlisted papers/finalists: 20 December 2019
Research Competition Forum: 18 January 2020
Study tour: 24 February to 28 February 2020 (TBC)
Debriefing: May 2020 (TBC)
About the Competition

The research competition aims to encourage Japan-related research among Filipino students, to disseminate knowledge, and exchange perspectives on Japanese Studies. It is organized by the Asian Center and the Japan Foundation, Manila.
For queries, please use this inquiry form: bit.ly/studytourquestion. As much as possible, please do not send any query via email, since we may overlook it given the volume of emails we can/will receive. The inquiry form allows us to centralize all questions in one location.