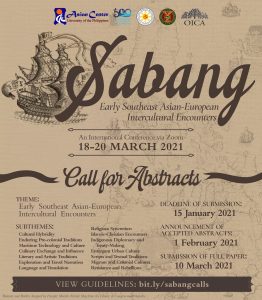 The UP Asian Center, in cooperation with the National Quincentennial Committee, the National Historical Commission of the Philippines, and the UP Diliman Office of the Initiatives for Culture and the Arts, welcomes abstracts for an international conference, "Sabang: Early Southeast Asian-European Intercultural Encounters," which will be held on 18–20 March 2021 via Zoom.
ABOUT THE CONFERENCE
This three-day webinar conference aims to discuss the varied cultural legacies of the European-Asian encounter. "Sabang" (meaning juncture of bodies of water in Visayan and several other Philippine languages) encapsulates the meeting of cultures and the centrality of the Philippines in these exchanges.
While the conference's inspiration draws primarily from the Philippine-Spanish experience, it also seeks presentations on and from neighboring Southeast Asian countries that:
• Highlight similarities and differences with the Philippine experience.
• Employ inter- and trans-disciplinary approaches to understand cultural exchange and hybridity.
SUBTHEMES
Abstracts must hew to any of the folllowing subthemes:
• Cultural hybridity
• Enduring pre-colonial traditions
• Maritime technology and culture
• Culinary exchange and influence
• Literary and artistic traditions
• Exploration and travel narratives
• Language and translation
• Religious syncretism
• Islamic-Christian encounters
• Indigenous diplomacy and treaty-making
• Emergent urban culture
• Scripts and textual traditions
• Migrant and colonial cultures
• Resistance and rebellions
KEYNOTE SPEAKERS
• Rene Escalante, PhD, Chair, National Historical Commission
• Leonard Y. Andaya, PhD, University of Hawai'i at Manoa
• Birgit Tremml-Werner, PhD, Linnaeus University, Sweden
DEADLINES AND DATES TO REMEMBER
• Deadline of abstract submission: 15 January 2021 (Saturday)
• Announcement of accepted abstracts: 1 February (Monday)
• Submission of full paper: 10 March (Wednesday)
ABOUT THE CONFERENCE
The Philippines' entanglement with Hispanic and Hispanicized cultures from the sixteenth century facilitated the flow and exchange of goods and ideas to and from Asia, on the one hand and the Americas and Europe, on the other. The Philippines, Manila in particular, played a crucial role not only as an important trans-shipment point for American silver, Chinese porcelain, textiles, and other products, but also as a melting pot of cultures. The 500th anniversary of the Philippine-Spanish encounter provides an opportune moment to analyze and reflect on the vaunted yet largely understudied intercultural encounters between Europe and Asia. "Sabang" envisions a lively online exchange of ideas by both young and senior scholars from Asia, the Americas, and Europe. It intends to have several modalities of exchange, namely roundtable discussions, keynote lectures, and panel presentations.
SUBMISSION PROCEDURES
Prepare and encode the following via the Submission Form (access to link below).
• Title of paper
• Abstract
• Brief statement of the argument
• Bionote
View details and access Submission Form in the Conference web page. For queries, please email ac_conferences.updiliman@up.edu.ph