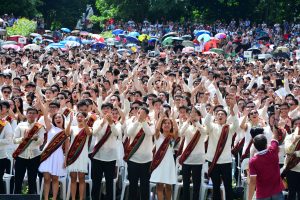 Folding fans, portable electric fans, umbrellas and shades became staple paraphernalia at UP Diliman's (UPD) 105th General Commencement Exercises as good weather, sunshine and sweltering heat bid the Class of 2016 farewell on Jun. 26.
Wearing the sablay, the official academic costume of the University, the graduates, together with their families, relatives, friends and other guests, arrived as early as 5:30 a.m. at the University Amphitheater for the rites. Some patiently waited for the ceremony to start while others took the opportunity to take pictures with the sunflowers. The ceremony started at exactly 7 a.m.
Thirty summa cum laude led 4,552 graduates from the 27 degree-granting units. Summa cum laude, a Latin phrase meaning "with the greatest honors," is the University's highest academic distinction for graduates who earned a weighted average grade (WAG) of 1.20 or better.
Summa cum laude. Miguel Ricardo R. Leung, BS Molecular Biology and Biotechnology (MBB), with a WAG of 1.0375, led the top honors.
Following Leung was Miguel Raymundo C. Gutierrez, BS Economics (Econ) with a grade of 1.064.  The third highest was Danilo Lorenzo S. Atanacio, BS Econ (1.074).
Others in the top 10 were: Adrian R. Vidal, BS Electronics and Communications Engineering (1.118); Julia Catherina P. Agoncillo, BA History, 1.122; Ariel Raye V. Rica, BS Chemical Engineering, 1.129; Athena Charanne R. Presto, BA Sociology, 1.129; Jose Daniel P. Berba, BS Computer Science, 1.148; Stephen June D. Tiongson, BS Mathematics (Math), 1.1504 and Francis Simonh M. Bries, BA Psychology (Psych), 1.152.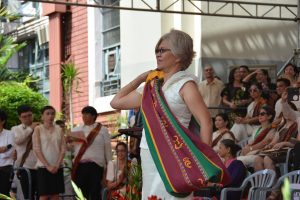 The next 10 were: Gabrielle R. Encarnacion, BFA (Painting), 1.1563; Joshua Elias Fred A. Suero, BS Econ, 1.158; Laarni Ann T. Ledesma, B Elementary Education (TEG,K-2), 1.165; Michelle Mariel C. Mariposa, BA Psych, 1.165; Jamila Coleen M. Briones, BA European Languages (German), 1.166; Luis Andre D. Soriano, BS Statistics, 1.169; Dominic Aily G. Ecat, BS Industrial Engineering (IE), 1.171; James Renier T. Domingo, BS IE, 1.176; Earl Marvin P. Balanag, BS Psych, 1.177; and Hyung Tong K. Yoon, BS Econ, 1.178.
Completing the roster of summa cum laude were: Daniel O. Young, BS Math, 1.1799; Alexander Atrio L. Lopez, BA Philosophy, 1.1810; Julie Anne A. Francisco, BS Business Administration and Accountancy (BSBAA), 1.182; Maria Luisa C. Pineda, BA Broadcast Communication, 1.182; Jian Kenzo O. Leal, BS MBB, 1.1859; Isaiah Paolo A. Lee, BS MBB, 1.1875; Arbie F. Dela Rosa, BS Business Economics, 1.192; Anna Bea D. Geronga, BA Creative Writing, 1.194; Francis Czeasar M. Chua, BSBAA, 1.194; and Kenji M. Miyazaki, BS Mechanical Engineering, 1.197.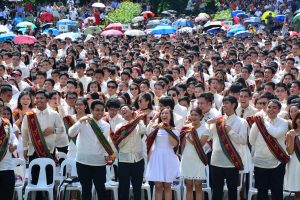 Chancellor Michael L. Tan welcomed the graduates, parents and other guests with a short message.
Sunflowers. Tan likened the graduates to the sunflowers. While most sunflowers have already wilted due to constant rain and countless selfies by passersby and photo ops, he said "Yuko na ang mga sunflower, ngunit hindi sila sumusuko. Pinipilit pa ring makatindig at makangiti."
"Watching the sunflowers and their fans, I thought of the expression: "Stand up in the light," popularized recently by US Justice Secretary Loretta Lynch when she visited Orlando, Florida to comfort the families of those killed in the mass shooting. It is a good phrase, a way of urging people to take courage rather than sulking and complaining in the dark," Tan said.
The Chancellor reminded the graduates that "UP has trained you, to a fault, to be tough and to be assertive, which is fine.  But understand, too, that to stand in the light, in your homes, in your communities, in your workplace, you must be compassionate, [and be] as much a source of comfort as you are of strength."
Giving and service. UP President Alfredo E. Pascual was UPD's commencement speaker.
Pascual reminded the graduates that "a life of giving and service provides meaning and purpose to our existence."
"Making a life of service may not be as happy. You may become overworked, underpaid and even unappreciated. People may and often will forget to thank you along the way. Yet, for people who have dedicated their lives to the Filipino people, fulfillment is not in the happy prospects of money, fame or power. More than happiness then, service is about attaining a sense of meaning and purpose. At the end of the day, which makes us more satisfied?" Pascual said.
This is the last year of his term as the UP System's top official. A finance and management expert, President Pascual is the 20th president of the University, a post he assumed in February 2011.
He also posed a challenge to the graduates: "Our country is still confronted with challenges so complex that it needs the best and brightest minds we can muster from across the nation. Finding  solutions is our extraordinary task in UP and your challenge as UP graduates."
Oblation. Speaking on behalf of the graduating class was Lopez, a BA Philosophy graduate from the College of Social Sciences and Philosophy (CSSP). He also has a BS Basic Medical Sciences degree from UP Manila.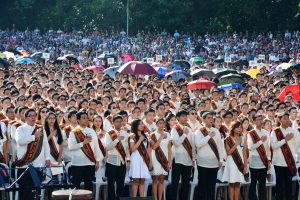 He said the Oblation statue can represent the Iskolar ng Bayan, "The rocks are like the differently-shaped disciplines that make up UP. Each discipline, whether it be from the sciences or humanities, has a different character. The combination of these differences allows humans to soar."
He added that being inspired is a great motivation to do one's best, "When we are inspired, we do our best work. When we do our best work, we can offer the best service to our countrymen, which is after all, what Oble is known to symbolize."
Lopez also compared his fellow graduates to Diwata, the Philippines' first microsatellite launched to space.
"We, the graduates, have the potential to soar through the stratosphere. From the rocks of Oble on the ground to the cosmic domain of Diwata, our family, friends, university officials and professors have shaped us to take flight. Let us thank them by soaring to the sky. Pumailanlang na tayo. Mabuhay ang mga bagong diwata!"
The Class of 2016. The three colleges with the most number of summa cum laude are CSSP and College of Engineering (CoE) with six each.  These were followed by the College of Science and the School of Economics with five each and the College of Arts and Letters and the Virata School of Business with two each.  Meanwhile, the colleges of Education, Fine Arts and Mass Communication and the School of Statistics each had one summa cum laude.
In addition to the top honors, the graduating class had 325 magna cum laude and 936 cum laude.  Magna cum laude graduates have a WAG of up to 1.45 while cum laude up to 1.75.
Of the total graduates, 3,580 received their undergraduate degrees and 972 their graduate degrees, of which 70 were conferred their doctoral degrees.
COE had the highest number of graduates at 839 (746 undergraduates/UG, 93 graduates/G).  It also had the highest number of graduates with Latin honors at 200.  Meanwhile, CSSP came second with 184 Latin honors and 373 graduates (304 UG, 69 G), and VSB, third with 163 Latin honors from a total of 351 graduates (207 UG, 144 G).  VSB however, has the highest percentage of graduates with Latin honors at 78.74 percent.
Like an unwritten tradition, towards the end of the program, student activists raised their fists and banners and aired their protests against the K-to-12 program, tuition fee hike, Socialized Tuition System, commercialization of education and other political and social issues.
The graduation ceremonies ended barely an hour before 12 nn. Undaunted by the scorching heat, the graduates and their loved ones proceeded to the Oblation Plaza and University Avenue to take selfies with the sunflowers.
Others went for a groufie with friends. Their backdrop?  The canopy on the stage designed by popular sculptor  and UPD alumnus Toym Imao which depict the graduation theme "Pumailanlang" and the banner posted at the Quezon Hall Building with the message "Paglingkuran ang Sambayanan."