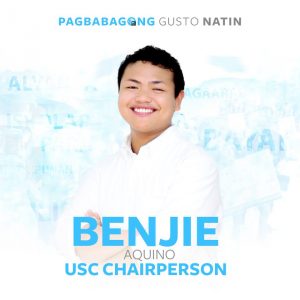 (APR. 10) — Benjie Allen D. Aquino, Alyansa ng mga Mag-aaral para sa Panlipunang Katwiran at Kaunlaran (ALYANSA) standard bearer, was elected chairperson of the UPD University Student Council (USC) defeating Student Alliance for the Advancement of Democratic Rights in UP (STAND UP) standard bearer Ben Galil R. Te in an election held on Apr. 6.
Aquino garnered a total of 4, 143 votes while Te earned 2,540 votes.
Aquino, a student from Virata School of Business (VSB), succeeds former USC chair and STAND UP member Christian Bryle Leano.
This year, Nagkakaisang Iskolar para sa Pamantasan at Sambayanan (KAISA) member Jose Rafael L. Toribio won as vice chairperson with 6,272 votes beating STAND UP's Ma. Shari Niña G. Oliquino who garnered 1,829 votes.
Toribio, also from VSB and a former USC councilor, succeeds Beata Regina Carolino of STAND UP.
Six ALYANSA members were also elected as councilors. They are: Cassandra D. Deluria (5,783 votes), Bryan Nicholas Q. Del Castillo (4,318), Jose Marie L. Yapcengco (3,893), Julie-Ann Kris R. Corridor (3,519), Kisha Marielle C. Beringuela (3,205) and Rianne Mae B. Geronimo (3,182).
Independent candidate Carlos C. Cabaero led this year's 12 councilors with 7,525 votes. Completing the list of the 12 elected councilors are: independent candidate Paolo Iñigo C. Sevilla (3,928); KAISA members Jelaine L. Gan (3,713), Joshua Jethro Jedidiah R. Malimata (3,291) and Gertrude Anmari E. Farenas (3,271) and STAND UP member Timothy Brian B. Black (3,256).
Meanwhile, STAND UP emerged victorious in the college representative race winning eight out of 19 seats. ALYANSA clinched five seats, KAISA four and independent candidates, two.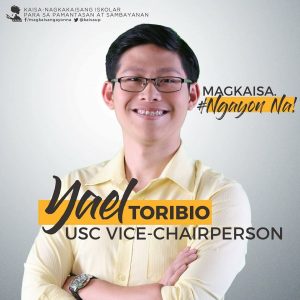 UPD has 27 degree granting units. However, only 19 elected representatives for their respective units. The seven units without representatives are the UPD Extension Program in Pampanga and Olongapo and units offering graduate programs, namely: Asian Center, Archaeological Studies Program, Institute of Islamic Studies, School of Labor and Industrial Relations, School of Urban and Regional Planning, and Technology Management Center.
The eight STAND UP representatives are: Sharmaine Jo Regina S. Badong (Asian Institute of Tourism), John Isaac B. Punzalan (College of Arts and Letters), Michael D.A. Yam (College of Fine Arts), Jesse David C. Doctor (College of Mass Communication), Caryl Jean Gabriela O. Lucero (College of Social Work and Community Development), Patricia Ruth P. Jasmin (College of Education), Liezel M. Aldiano (School of Library and Information Studies) and Tierone James M. Santos (School of Statistics).
The five representatives from ALYANSA are: Maria Regina L. Jimenez (College of Human Kinetics), Ricardo Juanito Balledos (College of Music), Philippe Jefferson A. Galban (College of Social Sciences and Philosophy), Ian Jerald J. Serrano (School of Economics) and Isabelle Beatriz DLS. Ginez (VSB).
Four KAISA members elected are:   Ma. Norma Thea Madeline M. Conjares (College of Home Economics), Aran Khristian A. Mendoza (College of Science), Allen John S. Bagkus (College of Engineering) and Christen Diana P. Gallinera (National College of Public Administration and Governance).
Two independent candidates elected are: Noel Ingersol G. Castro (College of Architecture) and Muviel Justine C. Martinez (College of Law).
Article IV Section 2-A of the Constitution of the USC in UPD states, "The college representative shall serve as a liaison between the USC and the local student council."
According to the Office of Student Activities, of the total 24, 138 students, this year's election had 11, 951 voters or 49.51 percent turnout which is a bit higher compared to last year's 49.126 percent.
Election results were based on the number of students who voted online through the open-source software Halalan. It was initially used in the 2009 USC elections.
Halalan automated the manual election processes of voting, counting and archiving. It was created by former members of the student organization UP Linux Users' Group (UnPLUG), namely: Waldemar Bautista, Ralph Justin Arce, John Michael Bitanga, Vanessa Rose Castro, Wigi Vei Oliveros, Antonio Mari San Miguel, DJ Sison, Carlo Santos and Orly Tarun with former UnPLUG president Rystraum Fabe Gamonez.
All elected student officials will serve in UPD's USC for Academic Year 2017-2018.
Photos:
USC Chair Benjie Aquino ~https://www.facebook.com/photo.php?fbid=10212962519406170&set=a.1601795813253.86456.1486813348&type=3&theater
USC Vice Chair Jose Rafael L. Toribio ~https://www.facebook.com/photo.php?fbid=10155086314642618&set=t.1337387365&type=3&theater