New UP Diliman (UPD) School of Library and Information Studies (SLIS) dean, Rhea Rowena U. Apolinario, is the woman with the plan as she leads the SLIS at an important point in the school's history: coming out of the pandemic and preparing to move to its new permanent home.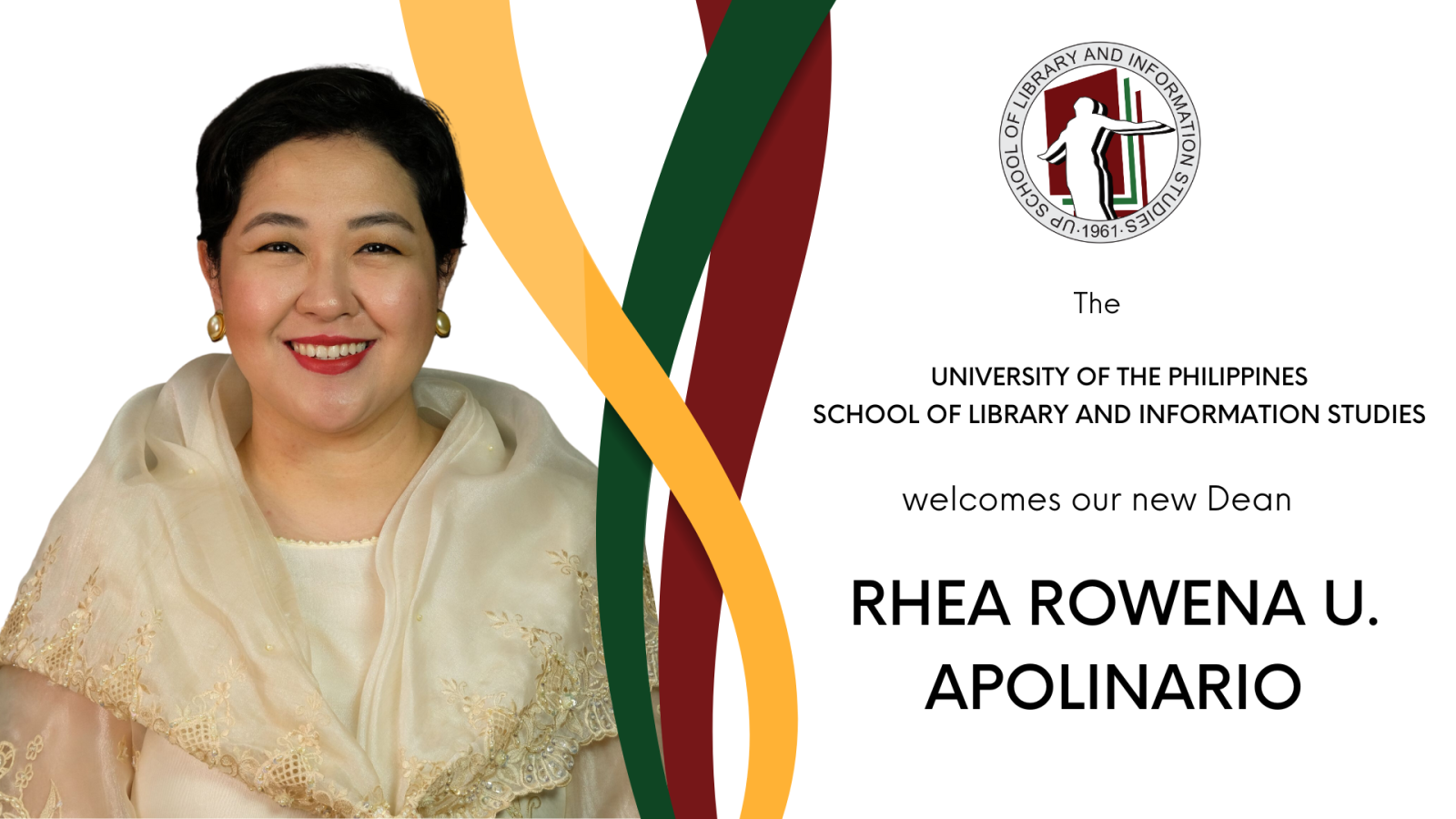 Apolinario laid out her plans in her threefold vision, termed Equip. Engage. Excel.
She plans to improve the technical capabilities of the SLIS administrative staff and research, extension, and professional staff (REPS), assist in the professional development of its faculty, and upgrade the school's physical facilities, operation, and processes to keep up with current learning trends.
Among the initiatives on her list is increasing staff complement by securing tenure for two full-time faculty members, and adding two more administrative personnel.
"I will completely encourage and work on the professional development endeavors of all full-time and part-time faculty members. I will support (and consistently remind them if need be) their research and extension work; generate funds for faculty, administrative staff, REPS, and student development; create a mentorship program; conduct 'writeshops,' research clinics, and colloquiums; foster ideas; and nurture innovation in terms of activities, programs, and projects in the school," she said.
Apolinario plans to upgrade the technical capabilities of the school's administrative staff and REPS through a competency development program (that includes a training needs assessment) to ensure their professional development.
She also has plans to renovate and equip the SLIS New Building. The former Zoology Building along Quirino Ave. is currently under construction and being converted to become the school's permanent home.
The current facility will house spaces for teaching, discussion, and study for the entire student body; laboratories and collaboration areas to support research activities; and specialized laboratories to conduct extension services and programs.
The SLIS Building will also have storage areas for SLIS and UPD records; spaces for exhibitions, public lectures, and research dissemination; and a functional library that may also serve as an experimental space for library and information science services.
"We will endeavor to equip the building (and the SLIS Library inside) with the necessary furniture, equipment, tools, and appropriate technologies of a 21st-century learning environment," Apolinario said.
With all of the initiatives to upgrade their technical capabilities, Apolinario hopes to promote excellence not just among the faculty, but also among the administrative staff.
"We will regularly review our office processes and employ systems that will help us efficiently conduct our work. Not only should we frequently review office processes but as well as policies and practices," she said.
In 2024, the Bachelor of Library and Information Science (BLIS) program is set to undertake quality assurance under the ASEAN University Network Quality Assurance (AUNQA) and Apolinario hopes to see the program certified by 2024.
"I will exert all efforts for SLIS to make it through the AUNQA preparations and pass the certification with flying colors. I will closely work with our (UPD) Quality Assurance Office and AUNQA team for these purposes," she said.
Throughout this proactivity, Apolinario also intends to cater to the emotional and mental well-being of SLIS constituents, implementing an open-door policy and "management by walking around." Consistent communication with and among the school's various stakeholders, she said, is a key component of her threefold vision.
She aims to conduct monthly informal brown-bag and kapihan sessions for faculty, REPS, and staff while establishing a student relations committee and holding regular town hall meetings with the student body.
"SLIS also enjoys the privilege of having outstanding part-time faculty members who are practicing LIS professionals with various specializations… I will hold regular meetings and consultations with them to ensure that I know their concerns and for us to build initiative and create programs or projects that will benefit SLIS and its community," she said.
Pure-blood. Apolinario is armed with more than two decades of experience both inside the industry and as a two-time college secretary (2014-2015; 2018-2020).
After finishing her BLIS from the SLIS in 2000, she spent the better part of the 2000s serving as head of the Learning Resource Center of the Southeast Asian Ministers of Education Organization-Regional Center for Educational Innovation and Technology (SEAMEO INNOTECH), where she juggled quality management and internal quality auditing duties while earning a Master of Technology Management from UPD in 2009.
She joined the University as an assistant professor at the SLIS in 2009. Aside from assuming various tasks such as alumni relations coordinator and editor of the in-house Journal of Philippine Librarianship, she also served as thesis adviser to various undergraduate and graduate students. Four of her students were awarded for best theses.
Apolinario is also a member of the Commission on Higher Education Working Group for the Revision of the Policies, Standards, and Guidelines for the BLIS and the Working Committee of the ASEAN Librarians' Leadership Convergence (2020-2022).
In a message to the SLIS and wider UPD community, she said, "It is such a challenging journey, but with the support of my SLIS family and community, I hope we can advance our school in the next three years towards the achievement of our vision and plans.
The UP Board of Regents confirmed Apolinario's appointment at its 1,382nd meeting on June 29. She will serve until 28 June 2026.