The UP Dance Company (UPDC) once again conquered the stage as it presented Rody Vera's "Ang Unang Aswang" on Feb. 25 and 26 and Mar. 4 and 5 at the College of Architecture (CA) amphitheater.
UPDC, UP Diliman's official contemporary dance group, marked a milestone as it successfully interpreted the award-winning 1-act play into a full-length dance production, a first in the Company's history.  The dance production was part of the UP Diliman Month 2017 celebration through the Office for Initiatives in Culture and the Arts (OICA).
Synopsis. "Ang Unang Aswang" is Vera's Palanca Award-winning One-Act play about "deception, agony and exploitation."  Set during the Japanese occupation, it tells of a feral girl born in the forest and raised by a dog, a cat and a pig.  The girl grows up unaware of her body, her surroundings and of other humans.  She eventually meets a man who ventured into the woods, falls in love with him and surrenders her innocence to him.  She later feels her greatest pain, that of rejection when the man abandons her.  Persistent, the woman looks for her love, but only to be confronted by what is revealed about the man: he is married and his wife is with child.  The woman's anger and despair revert her to her monstrous origins but her love for the man remains.  The play was first staged at the PETA Theater in 2007.
Challenges.  Prof. Angela Lawenko-Baguilat, UPDC Artistic Director, said the play translated into a contemporary dance production by UPDC associate artistic director Japhet Mari Cabling had many layers of challenges.
Baguilat said, "UPDC, through Cabling's exploration in choreography again questions and tests the limits of dance creation and production."  The production "blurs the lines of love and lust, good and evil, fantasy and reality."  She said Cabling's stint as choreographer in several Dulaang UP plays gave him "leverage in telling a story through dance."
It also helped that this is not the first time Cabling has been involved in the staging of "Ang Unang Aswang."  He played the role of Lalaki at the 2011 thesis of theater actress Delphine Buencamino at the Ateneo de Manila University.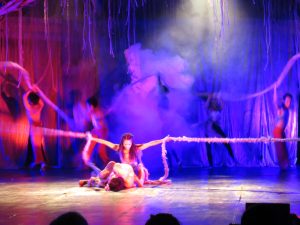 "Since physical theatre ang treatment niya sa play, kinailangan niya ng mover.  Madugong proseso iyon na iniyakan ko nang malala," Cabling said.
According to Justin Cash published at Theatre Links (http://www.theatrelinks.com/), "physical theatre is a genre of theatrical performance that pursues storytelling through primarily physical means.  Several performance traditions all describe themselves as 'physical theatre,' but the unifying aspect is a reliance on physical motion of the performers rather than or combined with text to convey the story.  In basic sense, you talk through hand gestures, body language, thought track and many more physical features."
For Cabling, this is his first time to be process-based.
"Siniguro kong binibigyan ko ng chance ang performers na makapaglaro sa choreography at direction ko.  May room kami for discussion ng mga possibilities.  May questions sila na questions din ang sagot ko.  May questions sila na questions ko rin.  May questions ang collaborators ko pero…nahihiya akong hindi ko sila nasasagot bilang director.  Masaya rin pala yung ganitong proseso.  Yung unti-unting naga-unfold sa akin ang mga bagay-bagay nang hindi napre-predict  o pinipilit ang mangyayari," Cabling said.
Challenges in dance creation however, is part of UPDC's training.  "This challenge to create and explore new ideas is one of UPDC's objectives, to encourage its members to innovate ideas in dance, and to help broaden UPDC's repertoire," Baguilat noted.
Apart from the challenge of "conceptualizing the idea" of translating the play into a contemporary dance, there is also the difficulty of the production's venue.
"Set in the amphitheater of CA, Cabling poses yet another layer of challenge, transforming an unconventional space for performance," Baguilat said.
The challenge of transforming the Arki amphitheater into a performance space was met by Cabling's collaborators Ohm David for set design and Pamela Paige for lighting design.  They were joined by Bonsai Cielo for costume design, Toni Muñoz for music and Popo Amascual and JC Bautista for dramaturgy to make the play's Creative Team.
The cast leads were performed by UPDC performers Elena Laniog and Aisha Josephine Polestico (alternates for Unang Aswang), Al Bernard Garcia and Gebbvelle Selga (alternates for Lalaki), Sarah Maria Samaniego and Marla Rivera (alternates for Baboyramo), AL Frederick Abraham and Kirby Dunzell Teraza (alternates for Aso) and Ma. Alexa Andrea Torte and Honey Iynn Juntilla (alternates for Pusa).
Laniog currently serves as UPDC co-artistic director and is one of the resident choreographers.  She finished DCPMA-Dance at the UP College of Music (CMu) and is a lecturer at the College's Dance Program.
Polestico is an alumna of the Philippine High School for the Arts (PHSA).  She is currently finishing her Bachelor's degree as a dance major at the CMu.  She recently placed third in the Cultural Center of the Philippines (CCP) Ballet Competition.
Meanwhile, Selga who is a PHSA and CMu alumnus is a choreographer and has won numerous dance awards, including the 2016 Trudl Dubsky Zipper Award for choreography in the 2016 CCP Ballet Competition Senior Category.  His alternate, Garcia is an independent artist, performer and choreographer, and currently a dance faculty at Fo Guang College and Dance Program coordinator and faculty at the PHSA.
Completing the cast are ensemble members Marveen Ely Lozano, Jhoy Anne Maverick Chavez, Jose Gabriel Eugenio, Leong Sil Rose Panuelos, Louise Nightingale Meneses, Kirby Dunnzell Teraza, Daniel Wesley Nagal, Francis Eudarlio Gatmaytan and Anton Alvia.
"Ang Unang Aswang" is UPDC's first production for the University this year. (Photos courtesy of OICA)
Photo credit: http://janellynspeaks.blogspot.com/