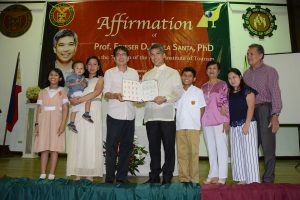 Dr. Edieser D. Dela Santa was formally affirmed as the 7th Dean of the UP Asian Institute of Tourism (AIT) on Feb. 8 at the Isabelo delos Reyes Auditorium of the School of Labor and Industrial Relations (SOLAIR).
Dela Santa was appointed to the deanship effective Nov. 24, 2016 during the 1322nd meeting of the UP Board of Regents (BOR). He succeeds Dean Miguela M. Mena.
Programs. In his message, Dela Santa shared his vision of a more competitive AIT in the areas of education, research, extension services and human capital development detailed in eight strategies – academic degree program development, faculty development, procurement and facility development, student growth, resource generation, promotion of linkages, administrative efficiency improvement and achieving a Center of Excellence status from the Commission on Higher Education.
"We hope to offer the graduate diplomas and master's degree program by the next school year. The proposal is awaiting approval by the BOR," Dela Santa said. He also envisions the submission of a proposal for a doctorate degree within five years.
"We also hope that the renovation of AIT be completed by the first half of 2018 so we can go back to our home," he continued. The AIT is currently housed at SOLAIR.
With resource generation, he hopes that AIT's area reduced by the construction of the UP-Ayala TechnoHub complex will be compensated accordingly. "Maybe a percentage of the annual rental of Ayala can be accorded to AIT," Dela Santa quipped.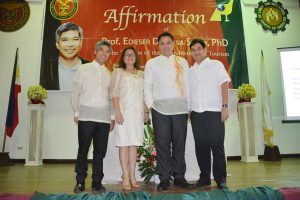 He also seeks to conduct more training programs to enhance faculty capabilities as well as to encourage collaboration with students and even faculty from other colleges to increase AIT research outputs. "We also wanted to initiate creation of a Philippine Hospitality Leisure and Tourism Research Network among local universities and colleges to create a venue for information sharing and research dissemination," Dela Santa said.
His executive committee is composed of Prof. Gladys Wina B. Nocon (Institute Secretary), Giovanni Francis Legaspi (Director, Academic Affairs) and former AIT dean Prof. Reil G. Cruz (Director, Tourism Research and Extension Services).
In his message, Chancellor Michael L. Tan said "I want to see you develop your programs since you are the pioneers in Southeast Asia. We have to be a step ahead of the other universities and institutions. I hope you would also be able to play with concepts of ecotourism, medical tourism, sports and recreation tourism, culinary tourism and even slum tourism."
Dela Santa has been teaching in AIT for 16 years. He was Institute Secretary from 2012 to 2016, Director of Academic Affairs (2010- 2012) and Director of Tourism Research and Extension Services (2004-2005). His term as dean is until Nov. 23, 2019.
He was conferred with the UP Diliman Centennial Professorial Chair Award twice since 2013 and the UP President International Publications Award in 2016. He obtained his Doctor of Philosophy in Tourism from the University of Otago, New Zealand in 2010.
Witnessing the rites were AIT former deans: Prof.  Evangeline M. Ortiz, Cruz and Mena; and deans from other Colleges: Dr. Ronahlee A. Asuncion (SOLAIR), Dr. Maria Fe Villamejor-Mendoza (National College of Public Administration and Governance), Dr. Amihan Bonifacio-Ramolete (College of Arts and Letters [CAL]) and Prof. Armin Sarthou Jr. (College of Architecture).
The event was spiced by performances from CAL students Ivy Baggao, Ann Bumanglag, Chase Salazar and Gabo Tolentino, AIT student Eliza Anne S. Hermosa and the Quezon City Symphonic Band.