The entire Academic Oval, from the front of the Oblation Plaza to Vinzons Hall including part of Roces Street between the old Faculty Center and the College of Engineering, will be closed to the public from March 19 (Saturday), 10 p.m. to March 22 (Tuesday), 9 p.m. to make way for the Special Bar Examinations for the Shari'ah Courts that will be held in UP Diliman (UPD).
It will be closed to motorists, pedestrians, cyclists, and joggers as well as other unauthorized persons or entities.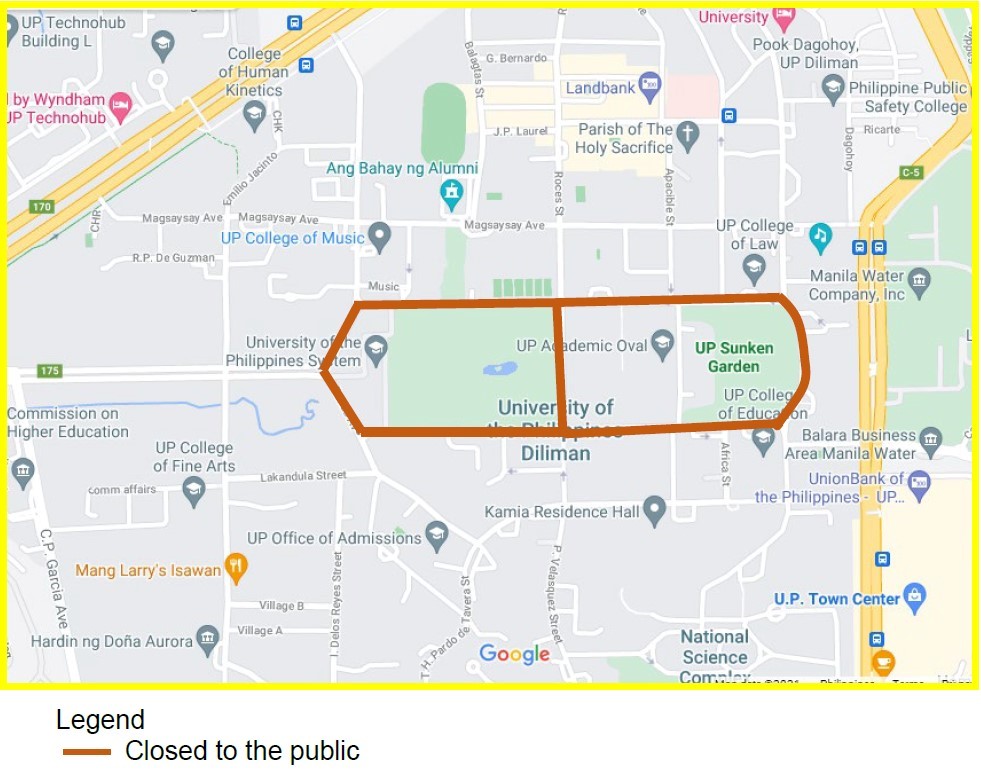 According to the Office of the Vice Chancellor for Community Affairs Memorandum No. ABB-22-07 issued on March 16, "only authorized individuals and vehicles will be allowed entry to the restricted areas" for this period and the public is "advised to seek alternative routes as may be necessary."
The examinations will be held on March 20 and 22.
The examinations are for aspiring lawyers who want to work in courts under the Bangsamoro justice system established by the Republic Act 11054 (Bangsamoro Organic Law).
Located in certain specified provinces in Mindanao, these courts operate in consonance with the Philippine Constitution, Shari'ah, traditional or tribal laws, and other relevant laws.
Shari'ah or Islamic Law forms part of the Islamic tradition derived from religious precepts of Islam, particularly the Qur'an and Sunnah. These courts are under the administrative supervision of the Supreme Court of the Philippines.
The UP Institute for Islamic Studies offers a master's program in Islamic studies and review courses for the special bar examinations. In February, UPD was also chosen as one of the venues for the national bar examinations.