In the latest installment of Bahaginan of the UP Diliman Department of Speech Communication and Theatre Arts (DSCTA), four academics discussed the synergy of theory and practice in theatre.
Topics in acting/directing, dramaturgy, festival management, and costume and scene design were featured in A Very Good Artist: Theatre Arts and the Creative Industry on Nov. 13 at the Teatro Hermogenes Ylagan at Palma Hall Pavilion 3.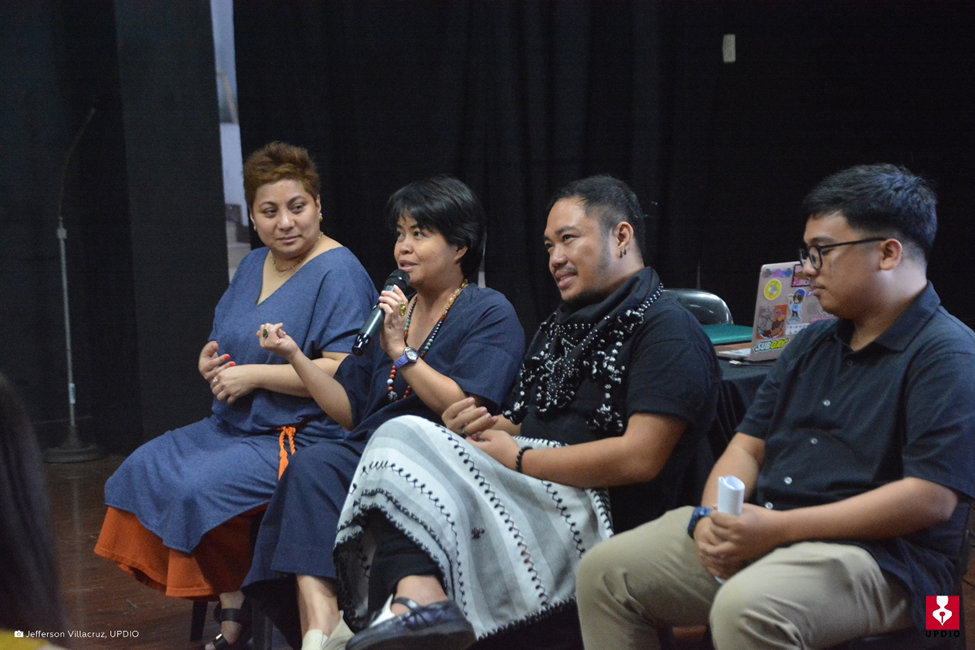 Presenting their lectures at the forum were Maria Stella Rossa M. Lopez, artistic director of the Dulaang Unibersidad ng Pilipinas; John Carlo V. Pagunaling, instructor at the DSCTA and a multi-awarded set and costume designer; Maria Teresa S. Jamias, an assistant professor at the DSCTA and an actor, director, and dramaturg; and Jonas Gabriel M. Garcia, instructor at the DSCTA and a dramaturg.
Lopez talked about how her craft as an independent performance-maker helped her connect with and assist people in a community. She elaborated on Kapitbahayan at Kwentong Tahanan, a part of her lecture Women of Koalisyon Pabahay ng Pilipinas Sharing Herstories of Home and Self.
Pagunaling talked about his research and his work as a designer in his lecture Visual Language: Ang Disenyo at Istilo ng Produksiyong Kumprontasyon.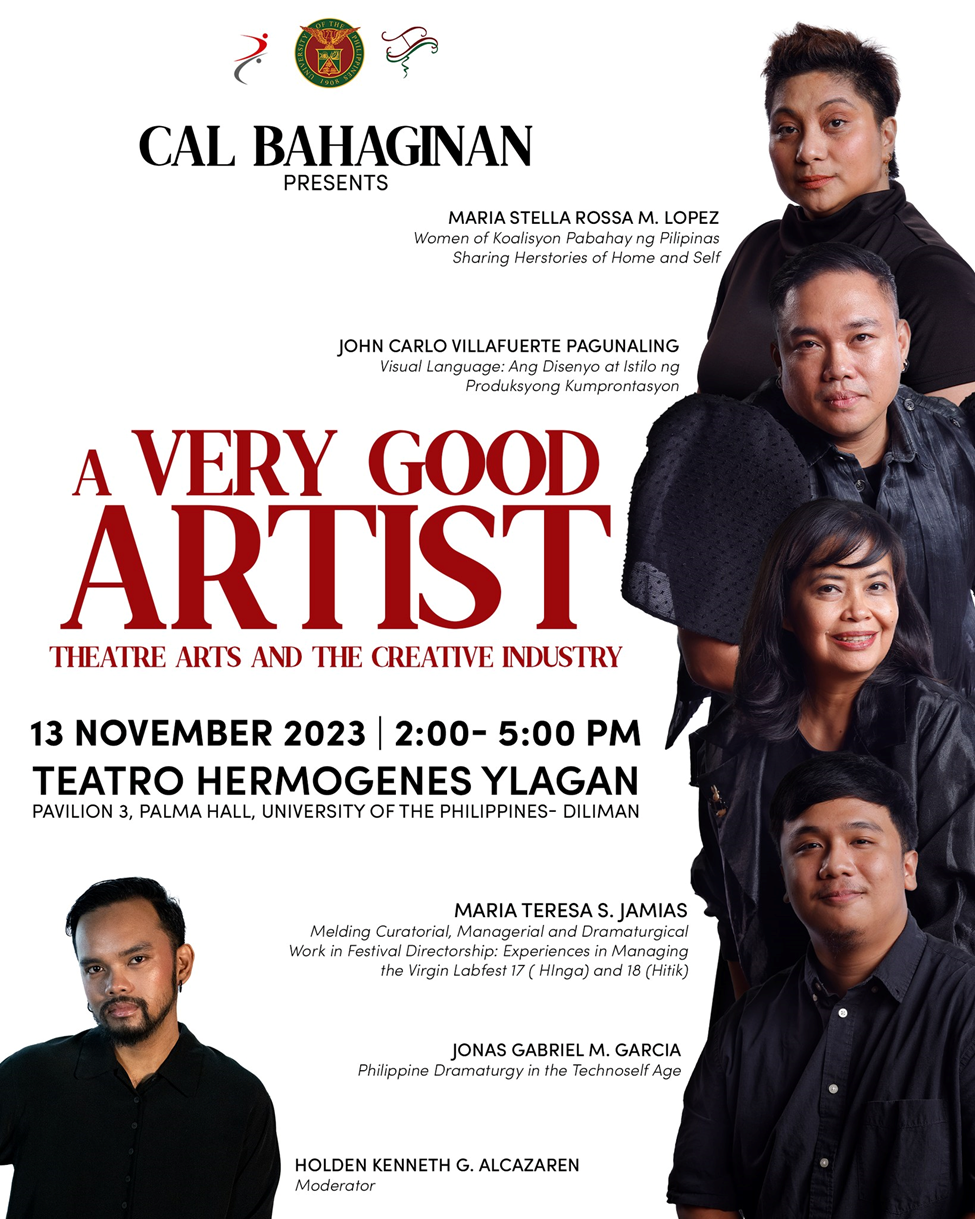 Meanwhile, Jamias discussed festival management in Melding Curatorial, Managerial, and Dramaturgical Work in Festival Directorship: Experiences in Managing the Virgin Labfest 17 (Hinga) and 18 (Hitik); and Garcia on dramaturgy in Philippine Dramaturgy in the Technoself Age.
During the open forum, the experts shared some pieces of advice with regard to collaborative work. Jamias said sometimes one's friends may not be one's best collaborators.
"There is trial and error. When you find the people you enjoy working with and are actually productive with, then you stick with them," Jamias said.
For his part, Pagunaling said, in any collaboration, communication is important. He also advised the students that they should not be very choosy while they are young because it is at their youth that they still have the stamina to accept more work which allows them to build their network.
In closing, the speakers left some advice for the forum participants.
Garcia said, "Attend your classes, observe deadlines, and read through readings."
For her part, Lopez said, "It is important than when you are going to your classes you are already using it as a laboratory or a think tank of how can you better an idea that you have and you are really passionate about."
Jamias said creating art does not need to be something new, but something that is a product of connecting things. One has to "learn the skill of connecting things."
Pagunaling encouraged the students to "Think positive, huwag mawalan ng pag-asa, there's always a solution [to a problem] and maging masipag."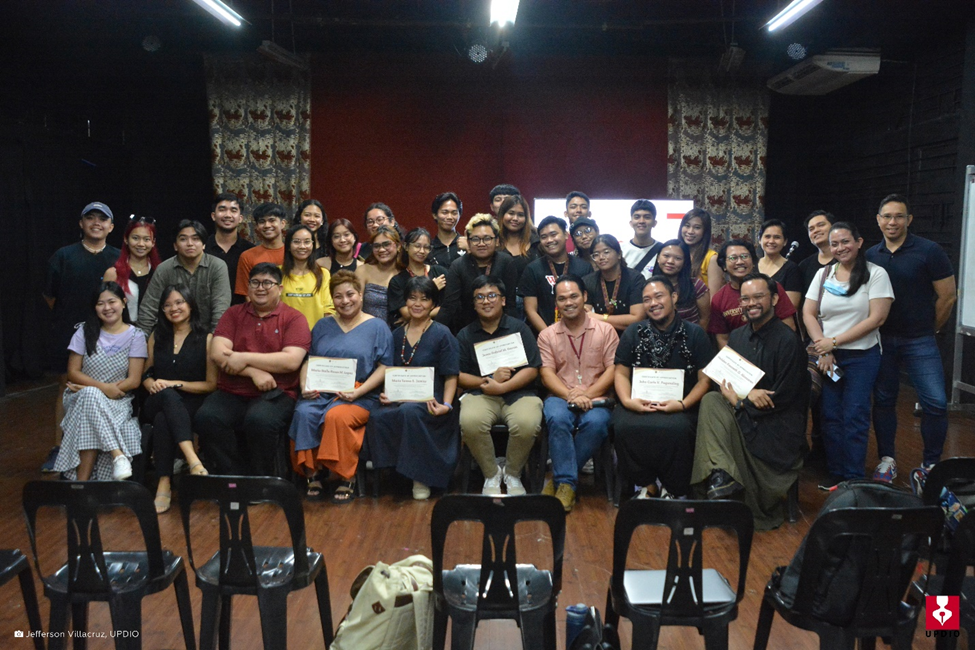 Meanwhile, Christine Joy A. Magpayo, an assistant professor at the DSCTA said "Bahaginan is meant to be an invitation to continue work that needs to be done, and it is our hope that we keep working to make art that matters."
This echoed DSCTA Chair Oscar T. Serquiña Jr.'s message when he said, "This Bahaginan hopefully can emphasize to all of us that theory and practice know no division." He added "Theatre arts is unique. It does not make us choose one over the other. It compels us to excel in both."
The latest installment of Bahaginan had Holden Kenneth G. Alcazaren, an assistant professor at the DSCTA, as moderator.