Economic recovery post-pandemic was the hot topic of the seventh PilipiLunas webinar series, "Pamumuhunan sa Pag-angat at Pagbabago ng Ekonomiya" held on Feb. 21 via Zoom and livestreamed on the PILIpiLUNAS Facebook page (https://www.facebook.com/PILIpiLUNAS2022).
The webinar's first half featured UP School of Economics (UPSE) professors Renato Reside Jr., PhD, Cielo Magno, PhD, and Adrian Mendoza, PhD. Each opined on the state of the Philippine economy, the opportunities and challenges available to legislators, and the policies that they believe could and should be taken by the next administration.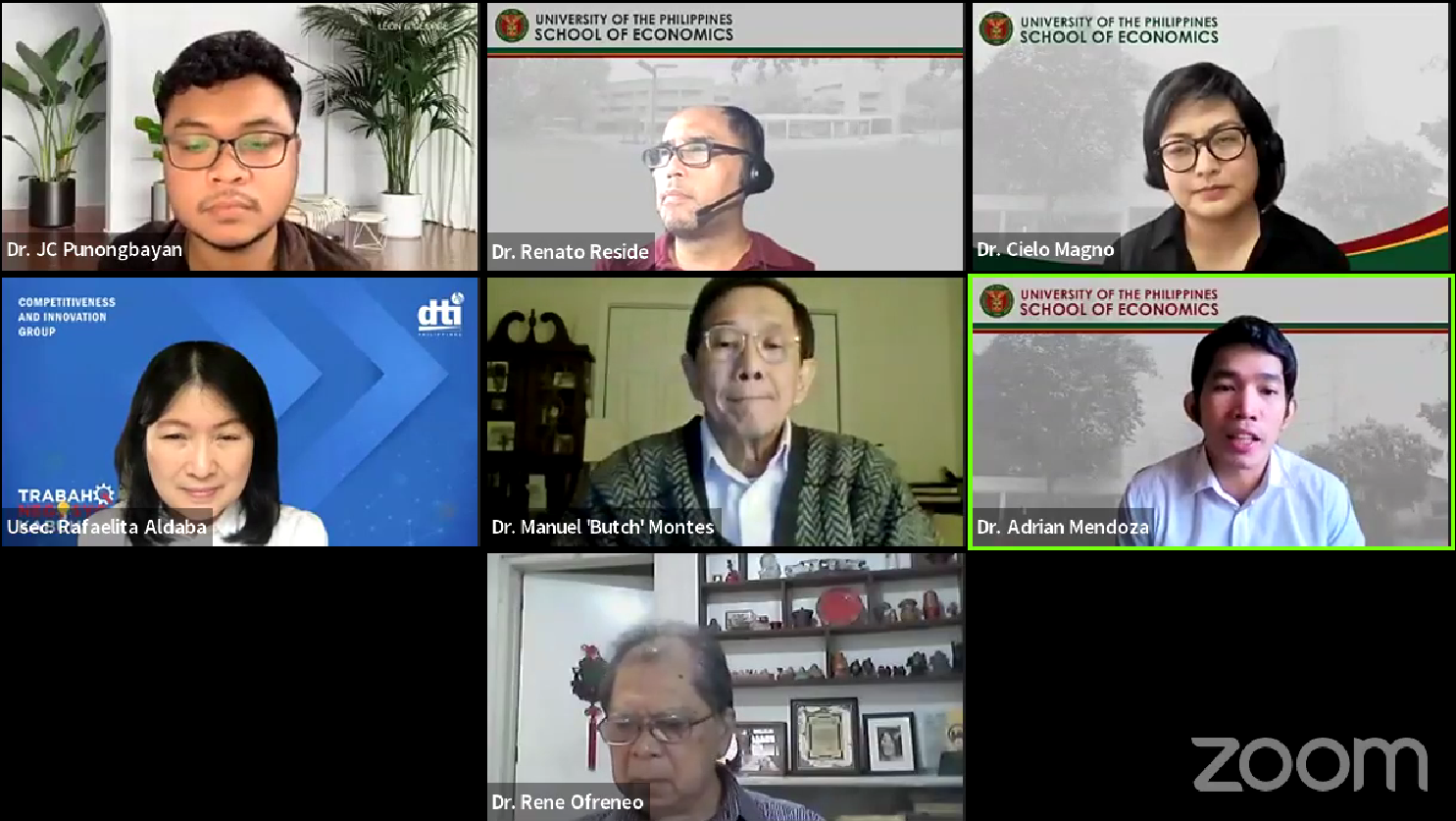 Reside's lecture, "What Factors have Determined Cross-Country Economic Growth During the Pandemic? : Lessons for the Philippines," stated that while the country is not yet in a terrible position debt-wise, the government must be careful to spend money and exert effort on revenue-generating measures so that economic growth can be sustained.
Magno, in her talk, "Policy Imperatives for the Recovery of Key Economic Sectors," said the next administration should prioritize institutional reform to be more credible, improve social protection programs, and invest in the information technology and business process management, and maritime industries.
Mendoza's talk, "Old Problems in the New Normal: Diagnosing Trade and Investment in the Philippines," revealed the need to increase the number of the country's major exports as well as look for new markets to export them to.
Undersecretary Rafaelita Aldaba, PhD of the Department of Trade and Industry, Professor Emeritus, Rene Ofreneo, PhD of the UP School of Labor and Industrial Relations, and Manuel F. Montes, PhD, senior adviser of the Society for International Development served as reactors while UPSE professor JC Punongbayan, PhD, served as host.
PilipiLunas 2022 is a series of webinars organized by the UP Diliman Office of the Chancellor – Task Force on a Blueprint for Building the Nation and the Center for Integrative and Development Studies, co-presented by DZUP, the UPD Information Office, and the Office of the Vice Chancellor for Student Affairs.
It puts into the public domain the works of the UP academic and research community to send the message to policy makers and the public on UP's readiness to help build the country's foundations, economy, and institutions.