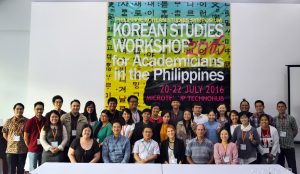 (AUG. 4)—Fourteen participants of the Philippine Korean Studies Symposium (PKSS) 2016 met and were mentored by four renowned scholars of Korean studies last Jul. 20-22 at Microtel, UP-Ayala Technohub.
PKSS is a regular event organized by the Department of Linguistics of the UP Diliman (UPD) College of Social Sciences and Philosophy (CSSP) since 2012.  It has become a venue for Filipino scholars to acquire new knowledge on the Korean society, present their cutting-edge research, interact with renowned Korean Studies scholars from all over the world, and develop Korean programs in their respective institutions.
Dr. Laurel Kendall, Dr. Wayne Patterson, Dr. Andrew Eun-Gi Kim and Dr. Seong-Chul Shin mentored scholars from the various parts the Philippines at the fifth installment of PKSS, dubbed as Korean Studies Workshop for Academicians in the Philippines.  The workshop's aim is to deepen the Filipino academicians' awareness, understanding and knowledge of Korea, and ultimately help them develop a Korean Studies curriculum and produce comparative research in their institution.
In addition to mentoring, they also presented papers.  Kendall presented "Superstition, Culture, and Religion and the Things for which People Pray: Shamans and Popular Religion in South Korea," as Patterson presented "Maritime Customs and China's Indirect Imperialism in Korea in the 1880s."  Meanwhile, Kim delivered "The Construction of Multicultural Korea: Myth or Reality?" and Shin delivered "Researching the L2 Classroom and Application to Korean."
Kendall is curator of Asian Ethnographic Collections and chair of the Division of Anthropology at the American Museum of Natural History and fellow of the Weatherhead East Asian Institute at Columbia University while Patterson teaches history, international relations and Korean history at the University of Pennsylvania and Korea University.  Kim is professor in the Division of International Studies at Korea University, and Shin is senior lecturer (equivalent to American Associate Professor) of Korean Studies and deputy head of Research at the School of Humanities and Languages, Faculty of Arts and Social Sciences at the University of New South Wales, Sydney, Australia.
The PKSS 2016 participants were accepted to present their ongoing/prospective research on Korean studies along with their respective fields such as linguistics, political science, mass communication, sociology, business and management, and law and governance, among others. Divided into four groups, each group was mentored by the four invited academics.  The participants were also given tips on publishing in scholarly journals and the presentation of the different journals published within and by UP Diliman: "Daluyan," "Kasarinlan," "Plaridel: A Philippine Journal of Communication, Media, and Society," "Diliman Review," "Asian Studies," "Philippine Political Science Journal," "Social Science Diliman" and "Philippine Social Sciences Review."
PKSS 2016 was organized by the UPD CSSP Department of Linguistics in partnership with the Korean Studies Promotion Service of the Academy of Korean Studies.