By Kevin Brandon E. Saure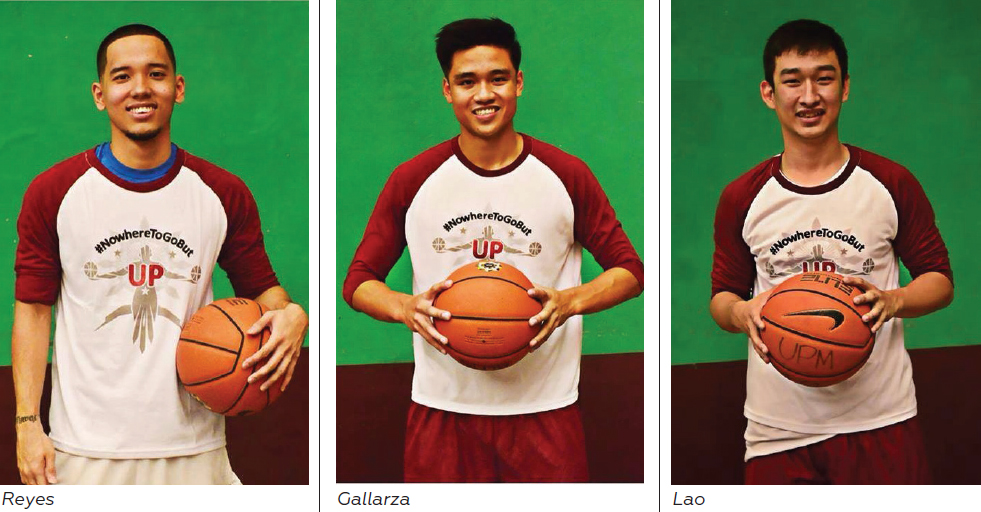 (July-August)—Theirs is a difficult dribbling of balls and ballpens.
Given the pressures of representing UP in the University A t h l e t i c A s s o c i a t i o n of the Philippines (UAAP) basketball competition, how do the Fighting Maroons' cagers go about basketball and academics at the same time?
Members of the basketball team are selected via the Varsity Athletic Admission System or VAAS. The process is very stringent; applicants must pass a series of tryouts and tests.
Passers will then have to actively represent UP in the UAAP for four years. The university provides training and game allowances, uniforms and equipment. Deserving varsity members are awarded tuition grants while others are recommended to scholarships offered by UP.
However, it is also expected of athletes to enroll in a minimum of 15 units or five subjects every semester. They must pass at least four of the five subjects, or face disciplinary sanctions.
So, how do UP athletes do it?
Three cagers, point guard Miguel Antonio "Mikee" Reyes, power forward Joseph Rey "JR" Gallarza and shooting guard Kyles Jefferson Lao share their lives off the court, their career plans, academics and how they balance these commitments as student-athletes of UP.
Top scorer Mikee Reyes. Even in his fourth year of playing for the university, Mikee says "hindi ko pa natutunan ang balance," noting however, that he tries his best to not let his other commitments get in the way of academics. He says he coordinates well with groupmates given his hectic schedule as a varsity player. On the other hand, he says he does well in his school works so as not to affect his commitment to the varsity.
Currently a fourth year BS Tourism major, one thing Mikee takes pride in is that he has never failed a subject. Though he admits that his academic performance is not stellar, he says he always works hard to pass every class requirement.
Mikee regards his basketball-playing father as his greatest inspiration. His family also supports him all the way, even when he comes home injured and without a win to boot sometimes.
His family never fails to provide mental and emotional support. After games, his father would identify points for improvement. And when he comes home late after training, family members still join him for dinner.
Mikee's goal is to practice professional basketball after graduation, which is one more playing year from now. As a hardcourt jock, he is not comfortable being treated as a celebrity in class. "I want to come in as a student, and when I'm in the court, then I am a basketball player," says the jersey number 9 player.
In the game versus Adamson last Aug. 9, Mikee helped push the Fighting Maroons to victory with a career-high 28-point contribution. The Fighting Maroons routed the Soaring Falcons in a 77-64 final score.
The homecoming giant. JR is in his fourth year at the College of Education, pursuing a Bachelor of Elementary Education, major in Teaching in the Early Grades. A giant at 6 feet 5 inches, he wants to be a good influence to kids someday. He aspires to become a teacher or a guidance counselor, helping to properly educate children.
Despite the difficulty of juggling basketball and academics, JR has a magna cum laude standing, showing other students that proper balancing can yield good results.
How does he do this? "You have to have fun in what you're doing. It is difficult to wake up everyday if you don't," he said. He gives a high premium to attendance and giving 100 percent in every class endeavor, be it [as] small as a quiz or [as] big as final exams and reports.
"All the professors don't care who you are. As long as you are a student at UP they're going to push you and try to get the best out of you," he said. JR always keeps in mind that he has to deliver as a student of UP, and there are no excuses.
JR was born in the Philippines but his family migrated to Canada. At the early age of four, he was already playing basketball under his father's supervision. Throughout his career, his mother has been his most reliable fan. While his father is his strict coach to make him perform better, his mother acts as his quiet critic and "backstage manager."
His 2-year-old son, Reinen, is his source of inspiration. Before, JR looked up to professional basketball players for motivation, but since Reinen was born, he has been his source of strength and motivation.
UAAP Season 76 Rookie of the Year. Giving a new hope to the Fighting Maroons during a winless season in 2013, Lao was chosen Rookie of the Year of UAAP Season 76 for having the best statistical score among fellow firstyear players.
Lao comes from a family of basketball lovers. He grew up watching his father and brothers playing basketball, and later on, he developed a liking for the sport.
The Lao family never misses any of his games. His brothers, although having jobs and families, would make it a point to support and motivate him.
The business gene also runs in the family. Lao recently shifted from Bachelor of Sports Science to Bachelor of Science in Business Economics. Like his parents, he wants to do business someday, all while playing basketball.
Lao regards Business Economics as a difficult course, so he sees to it that he accomplishes his academic tasks. In the classroom, he says he listens well to the lectures and copies notes from classmates afterwards. "It would be easier for me to remember things because I've already written it and heard it," he shares.
For Lao's family, Sunday is family day. Meanwhile, afterpractice is usually dinner time with friends. He stresses the importance of keeping the relationship with loved-ones despite one's busy schedule.
Breaking the "curse." After a 27-game losing streak, UP finally clinched its much anticipated first victory in the UAAP Men's Basketball Team competition on Aug. 9 against Adamson Soaring Falcons. On the night of the momentous win, the UP community welcomed the team in jubilation through a bonfire at the Sunken Garden. Hundreds of supporters came to witness the event and share with the UP Varsity the sweetness of success.
According to Mikee, JR, and Lao, the said victory helped boost the morale of the UP Men's Basketball Team. The victory came in after two long years of not giving up and believing in the varsity mantra of "nowhere to go but UP."
Although UP has yet to score its second win, it continues to receive support from different sectors. Recently, Sen. Francis "Chiz" Escudero donated shoes while Sen. Juan Edgardo "Sonny" Angara provided a much needed 50-inch LED TV and a DVD player for players to review their games.
In mid-August, UP alumni through the Facebook page nowhere-to-go-but-UP pledged their support to the various varsity teams through a statement of unity "Basketball as bridge, volunteerism as highway" published at UPdate Online. —Images courtesy of facebook. com/pages/nowhere-to-gobut- UP