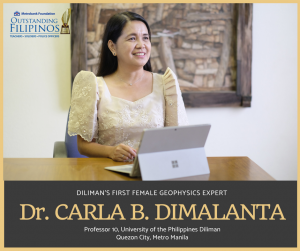 Prof. Carla B. Dimalanta, D.Sc., Professor 10 at the National Institute of Geological Sciences, is one of the 10 recipients of this year's Metrobank Foundation Outstanding Filipinos Award. 
A program of the Metrobank Foundation Inc. (MBFI), the Outstanding Filipinos Award is a career-service exemplar in the academe, the military and the police force. The award recognizes the awardee's services rendered above and beyond the call of duty. 
As the country's only female Exploration Geophysicist with a Doctoral Degree, "Dimalanta's 25-year service delves in researches that provide answers to geoscientific problems in the Philippines, such as assessment of landslide hazards, investigating gold mineralization and identifying sources of groundwater for coastal communities."
"I want to be remembered as someone who embodies the different roles a teacher has to play in today's world: a mentor who shapes students' minds and shares her knowledge to her colleagues; a researcher who contributes to the generation of new knowledge; and a public servant who uses geophysics as a tool empower communities and help solve pressing societal problems," said Dimalanta.
The MBFI announced the winners on August 10 in a press conference in Quezon City. Dimalanta, together with three other educators, three military officers and three police officers will receive the award on Sept. 7 at the Metrobank Plaza Auditorium in Makati City, in celebration of Metrobank's 56th anniversary. She and his co-awardees will receive a trophy, a medallion and a cash prize. 
This is the second year MBFI put the three component search programs (outstanding teachers, outstanding soldiers and outstanding policemen) into one award.
Currently Assistant Vice President for Academic Affairs of the UP System, Dimalanta earned her Doctoral of Science degree in Earth and Planetary Sciences from the University of Tokyo, Japan in 2001.
For her significant contributions in the field of geology, Dimalanta has been recognized with the following awards: the National Academy of Science and Technology (NAST)- Philippines Outstanding Young Scientist in 2003; UPD 2010 Gawad Chanselor Para sa Natatanging Guro; UP Scientist I (2006-2008 and 2009-2011); UP Scientist III (2012-2014 and 2015-2017); One UP Professorial Chair Award (Outstanding Research and Public Service) 2016-2018; and the 2018 NAST-Philippines Outstanding Research and Development for Basic Research or the Eduardo A. Quisumbing Medal Award.