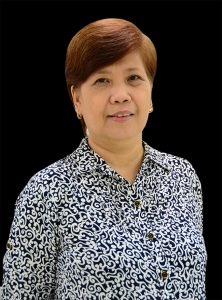 UPD Institute of Biology director Dr. Ernelea P. Cao is this year's recipient of the Metrobank Foundation Outstanding Teacher Award.
Cao, together with four elementary, four secondary school teachers, and a professor from the higher education level, were conferred with the award on Sept. 5 at the Metrobank Plaza Auditorium in Makati, in celebration of the National Teachers Month and Metrobank's 54th anniversary. Cao and the other awardees received a trophy, a medallion and a cash prize.
The winners, in special ceremonies, were also presented to the Philippine president at the Malacanang Palace on Sept. 12.
Cao said she feels very honored, elated and recharged to continue teaching with the award.  She also wants to serve as an inspiration to younger or junior faculty members at the IB and the whole UP community as well.
"It was such a great honor and a boost for me to go on teaching not just because this is my job but because I find self-fulfillment in it [teaching]," explained Cao.
Cao said she would use part of her cash award to conduct a free training-workshop for secondary public school teachers that are in the immediate vicinity of UPD. She is targeting teachers who will handle the Genetics subject in the STEM (Science, Technology, Engineering, and Mathematics) strand of the Senior High School program of the Department of Education.
"I want to be of help in strengthening the teaching capabilities of those teachers handling the genetic course in Grades 11 and 12.  In mentoring the mentors, I would be able to share my expertise," Cao said
A Professor 12 at the IB, Cao is also the interim director of the Institute for Health Innovation and Translational Medicine, Philippine-California Advanced Research Institutes. She also served as deputy executive director of the Philippine Genome Center from May 2011 to July 2014, and as director of the UP Natural Sciences Research Institute from April 200 until March 2012.
Cao, who holds the rank of Scientist I, is also a recipient of the 2012 UPD Gawad Chanselor Para sa Natatanging Guro; the 2013 AFMA R&D Paper Award by the Bureau of Agricultural Research, Department of Agriculture; and the 2015 Service Award (Individual Category) by the Philippine Society for Microbiology, Inc.
The search for the outstanding teachers is now on its 32nd year.  A program of Metrobank Foundation, the search "honors the teaching profession, recognizing those who exhibit competence, remarkable dedication to their work, and effective educational leadership, as well as their various community involvements." Over the years, the search has become a sought-after award among educators as it earned the prestige of becoming a benchmark of excellence in the teaching profession.