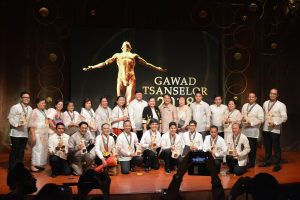 (MAY 17)—Fourteen individuals, two programs and one organization were recognized for their exceptional contributions to the University of the Philippines Diliman (UPD) at this year's Gawad Tsanselor on May 11, 2 p.m. at the Institute of Biology Auditorium.  
Winners and categories.  Distinguished for embodying UP's honor and excellence in their services and achievements, included in this year's roster of winners were Isabelita P. Gravides and the UP Community Chest Foundation, Inc (Natatanging Lingkod Komunidad) and Aklatang Bayan Publikasyon of the Sentro ng Wikang Filipino/SWF, and Paglulual International Ceramic Art Projects of the College of Fine Arts/CFA (Natatanging Programang Pang-Ekstensiyon).
They were joined by Joseph Daniel M. Dantes and Ernest P. Delmo of the College of Engineering/COE, Lee Edson P. Yarcia of the College of Law/CL (Natatanging Mag-aaral); John Paulo V. Gonzales of the Campus Maintenance Office/CMO, Fernando B. Llano Jr. of the Institute of Chemistry/IC, Imelda R. Reyes of the College of Social Sciences and Philosophy/CSSP (Natatanging Kawani); and Rhoel E. Rondilla of the University Library/UL, Marie Antoinette DP. Villaflor of the College of Science/CS and Marte C. Villena of IC (Natatanging REPS).
Dr. Louis Angelo M. Danao and Dr. Bryan B. Pajarito of COE, Dr. Ricardo Trota Jose of CSSP and Prof. Jose Carlo G. De Pano of the College of Arts and Letters/CAL, (Natatanging Guro) round up the list of this year's Gawad Tsanselor winners.  This is Jose's third Gawad Tsanselor para sa Natatanging Guro.  COE Dean Rizalinda de Leon received Pajarito's award on his behalf as he is currently in Australia working on his post-doctoral degree. 
Gravides was honored, among others, for her dedication and her more than a decade of service as Baranggay Captain of Baranggay UP Campus.  The UP Community Chest Foundation, Inc. was recognized for its more than 60 years of service to UPD and its voluntary services and outreach programs which focus on health, environment and entrepreneurship as well as its financial assistance to UPD personnel.  
Aklatang Bayan was recognized for its advancement and its advocacy of the Filipino language through its publications, while Paglulual was distinguished for its exceptional contribution in introducing new knowledge and training in the field of ceramic arts and design as part of the Filipino culture, among others.
Dantes, Delmo and Yarcia were distinguished for their achievements as UPD students, as evidenced by their academic standing through their high grades, participation in various academic programs and activities and as well as their involvement in public service.  Yarcia, in particular is honored for his excellent standing as a law student, as a medical doctor and as a human rights advocate.  
For their well-lauded service to their home units and various publics in spite of the many challenges they face daily, administrative staff Gonzales, Llano and Reyes were honored, as REPS Rondilla, Villaflor and Villena were recognized for the innovations and research and extension works they provided not only to their home units but for the whole of UPD.
Meanwhile, faculty members Danao, De Pano, Jose and Pajarito were distinguished for their exemplary service in teaching, research and extension works and for being role models to their students and to their peers as well.
Of the UPD units, COE had the most awardees at four, followed by CS with three (two of whom were from IC), CSSP with two and one each for CAL, CFA, CL, CMO, SWF and UL.
Gawad Tsanselor para sa Natatanging Programang Pang-Ekstensiyon and Natatanging Lingkod Komunidad are new categories, with Natatanging Lingkod Komunidad replacing Natatanging Pook.  Meanwhile, even if there were nominees, no one was chosen this year for the Natatanging Mananaliksik sa Filipino category.  
Honor, excellence and compassion.  In his message, UPD Chancellor Michael L. Tan said he agrees with the proposal/suggestion of Vice Chancellor for Academic Affairs Evangeline C. Amor, chair of the Gawad Tsanselor Steering Committee to review the Gawad Tsanselor and suggested additional categories be included.  Tan said he wants to see Gawad Tsanselor evolving to recognize not just honor and excellence but compassion.
"I would recommend for example a new award, for exemplary honesty of our staff, pati na ng non-contractual (ed: agency), kasi ang dami ng examples dito katulad ng mga guards, SSB (Special Services Brigade) at mga utility staff.  I am inclined to name it, as what a dean suggested, Gawad Katapatan," he said, adding there is so much to explore to the university personnel's service to UP and to the nation especially in these times.
"We have to remember we have to continue to serve in many ways and always let us be guided by luwalhati't pagsinta.  We serve with honor, we serve with joy, we serve giving joy because we have compassion and love," Tan said.
Luwalhati't pagsinta are part of the lyrics from the country's national anthem, "Lupang Hinirang," and is Gawad Tsanselor's theme for this year.
Pagsinta in English is passion.  Tan explained luwalhati comes from two root words: luwal and hati.  Hati comes from the Malay word meaning heart or emotion.  Luwal on the other hand means something that moves outwardly.  Put together, luwalhati means a joy that moves outwardly.