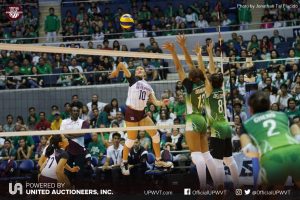 (MAR. 6) — The UP Women's Volleyball Team (UPWVT) defeated the defending
champion De La Salle University (DLSU) Lady Spikers in a five grueling sets, 21-25,
25-20, 25-21, 20-25, 15-12 in the UAAP Season 81 Women's Volleyball Tournament
on Mar. 2 at the Smart-Araneta Coliseum.
After losing the first set, the Fighting Maroons found their rhythm come second set
and fought back to tie the match at 1 set apiece.
In the game's third frame, DLSU looked determined to bounce back erecting an early
lead, 14-9, but UP countered with a 7-0 run to take lead. The Maroons never looked
back and eventually snatched the set and gave UP a 2-1 match lead. DLSU recovered
in the fourth canto behind May Luna's heroics to send the game into a deciding set.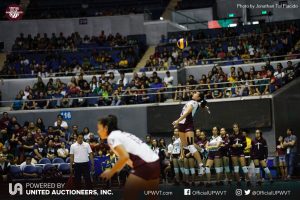 It was a very tight game in the final set with UP leading by just a point, 8-7, at the
half. In the ensuing plays, Isabel Molde and Jesma Ramos scored two in a row and a
service ace, respectively, to give UP an 11-8 breathing room.
DLSU managed to even the game at 12-12. UP's Diana Mae Carlos, however, scored
on a cross-court attack and DLSU's Luna committed a hitting error in the next play
that gave UP the match point, 14-12, before Justine Dorog scored on an off-speed
attack that sealed the win for the Fighting Maroons.
Molde top scored for the Fighting Maroons with 20 points off 17 attacks and three
blocks, Carlos had 19 points and Marist Layug scored 11 points. Ayel Estrañero, who
did not play in their previous game against the University of Santo Tomas due to
food poisoning, registered 38 excellent sets and contributed four points.
UP will next face the Ateneo de Manila University Lady Eagles on March 10, 4 p.m. at
the FilOil Arena, in San Juan City.—Bino Gamba