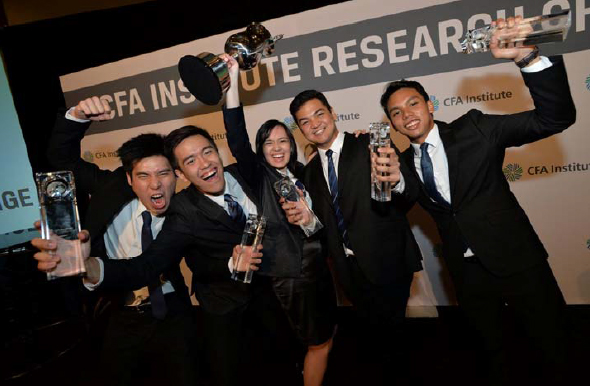 The UP Virata School of Business won the Global Finals in the CFA Institute Research Challenge held in Singapore last April 25, 2014. In the Global Finals, UPVSB beat University of Missouri Kansas City, representing the Americas, and Politecnico Di Milano, representing Europe, Middle East and Africa (EMEA) region.
According to CFA Institute, this year's competition involved 800 universities and over 3,700 students from 60 different countries. Most of the universities were represented by their MBA or MS Finance students. UPVSB entered its final year undergraduate BSBAA students: Geoffrey Archangel D. Bautista, Diego Mikhail T. de Ocampo, Nigel Williamson T. Lee, Corrine Francesca C. Reyes and Miguel Alfonso M. Solidum. Dr. Daniel Vincent H. Borja accompanied the students in Singapore. The winning school shall receive US$10,000 in prize money.
In the evening of April 24, UPVSB emerged victorious in the Asia-Pacific Regional Finals over Indian Institute of Foreign Trade New Delhi, Auckland University of Technology (New Zealand), and Foreign Trade University (Vietnam). In the preliminary regional round held in the morning, UPVSB qualified to the Regional Finals over National University of Singapore, Griffith University (Australia), and Tokyo Institute of Technology (Japan). The 12 other universities that won their Local Finals and participated in the Asia-Pacific Regional Competition are: Monash University (Australia), Shanghai Advanced Institute of Finance, Tsinghua
University (China), Chinese University of Hong Kong, Indian Institute of Management Bangalore, Universitas Indonesia, Sunway University (Malaysia), Karachi School for Business and Leadership (Pakistan), National Taiwan University, Chulalongkorn University (Thailand), Sogang University (South Korea) and University of Colombo (Sri Lanka).
All the schools were required to conduct primary research and write an Investment Report about a publicly listed company in their countries that is supported by a financial model in order to come up with a Buy, Sell, or Hold recommendation. The subject company for the Philippines is Manila Electric Company–MERALCO (PSE ticker name: MER). All the teams presented their 10-minute research report followed by another 10-minute question and answer portion to the Board of Judges.
The UP Virata School of Business is now the only university on record that has won the Global Finals twice in five years of joining the CFA Institute Research Challenge. It first won the Global Finals in 2010.—Story courtesy of VSB Dean Ben Paul B. Gutierrez, photo from CFA Institute Research Challenge Facebook page