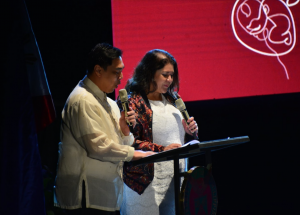 (MAR.1)— UP Diliman (UPD) honored its University Scholars (US) in the undergraduate and graduate levels and students who excelled in various fields at the "Parangal sa Mag-aaral 2020" on Feb. 26 at the University Theater.
Of the total 24, 168 student population for Academic Year (AY) 2019-2020, there were 4,686 US awarded at the Parangal this year.
A US is a student who earned a General Weighted Average (GWA) of not lower than 1.25 in the second semester of AY 2018-2019 and the first semester of AY 2019-2020.
UPD also recognized graduates who made it to the top 10 in the licensure examinations for lawyers, architects, teachers, environmental planners, social workers, guidance counselors, nutritionist dietitians, librarians, chemists, psychologists, accountants, geologists, chemical engineers, civil engineers, electrical engineers, electronics engineers, geodetic engineers, mechanical engineers, metallurgical engineers and mining engineers; together with those who distinguished themselves in other fields; and winners in national and international competitions.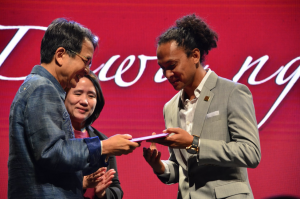 Four student organizations were awarded the Parangal sa Samahang Mag-aaral (Ignacio B. Gimenez Outstanding Award for UP Student Organizations' Social Innovation Project): UP Economics Society, UP Debate Society, UP Lipunang Pangkasaysayan and UP Political Society. The awardees received a certificate and P20,000 cash prize.
The UP Volunteers for Children received the Ignacio B. Gimenez Excellent Student Organization Project Award and P50,000 cash prize for their project "Playtime."
The "Diwa ng Diliman Award" was presented to UP Track and Field Team (UPTFT) head coach Rio Dela Cruz for his all-out support to the UPTFT.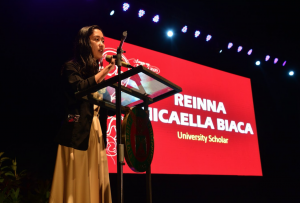 Thirty-five recipients of the Performing Arts Scholarship Program (PASP) and 15 recipients of the Visual Arts and Cultural Studies Scholarship Program (VACSSP) of the Office of the Chancellor administered by the Office for Initiatives in Culture and the Arts (OICA) were recognized at the Parangal.
Program. The Parangal program lasted for two and a half hours featuring spectacular performances from the UP Repertory Company, UP Concert Chorus, Legato Visual Performing Arts and Amiel at James, the acoustic duo from the UP Institute of Mathematics.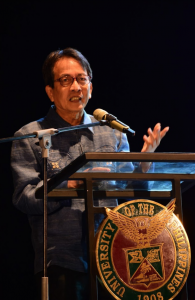 Chancellor Michael L. Tan opened the ceremony while Vice Chancellor for Student Affairs Jerwin F. Agpaoa delivered the closing message.
Meanwhile, six students representing the US, student artists, athletes, delegates and volunteers, and board topnotchers spoke on behalf of all the student achievers.
The student achievers were called per category and were asked to rise from their seats to attach their respective pins.
The awardees made an oath to maintain their excellence in academics, volunteerism, competitions, sports and arts. This part of the program started in 2019.
In addition to the certificate of recognition, all the awardees received a Parangal sa Mag-aaral pin and were given two special tokens.
Assistant Professors Jane O. Vinculado and Manuel Manuel III hosted the program. —Haidee C. Pineda, images by Leonardo A. Reyes