(AUG. 13)—Rachel Angela Penuliar Ferrer, a graduate from the UP Diliman College of Engineering Department of Mining, Metallurgical and Materials Engineering (DMMME) topped the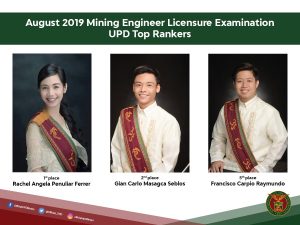 nationwide August 2019 Mining Engineer Licensure Examinations held on Aug. 8 with a 91.20 percent rating.
Two other UPD DMMME graduates made it to the Top 10. Gian Carlo Masagca Seblos placed second (90.50%) while Francisco Carpio Raymundo placed fifth (89.85%).
The three were among the 35 UPD examinees who passed on their first try, giving the University a 100-percent passing rate and making it one of the top performing schools.
This was announced by the Professional Regulation Commission on their website on Aug. 9. Of the 375 who took the examination, 310 passed.—Text by Anna Regidor, photos from Melinda Penuliar Banez, Seblos and Raymundo