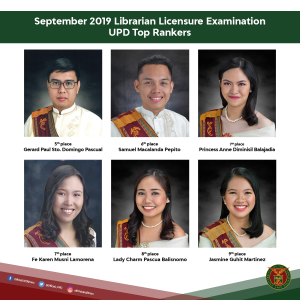 (SEPT. 18)—UP Diliman (UPD) ranked first among the top performing schools in the September 2019 Librarian Licensure Examination as the graduates of the School of Library and Information Studies (SLIS) placed in five of the top 10 spots.
All 36 examinees from UPD passed on their first try, making the University the only top-performing school with a 100 percent passing rate.
Six made it to the top 10 rankings led by Gerard Paul Sto. Domingo Pascual who came in 5th place with an 88.85 percent rating followed by Samuel Macalanda Pepito who came in 6th place (88.8%).
Tying for 7th place are Princess Anne Diminisil Balajadia and Fe Karen Musni Lamorena (88.70%). In 8th and 9th place are Lady Charm Pascua Balisnomo (88.40%) and Jasmine Guhit Martinez (88.30%), respectively.
According to the Professional Regulation Commission (PRC), UPD has a high batting average at the librarian licensure examinations, averaging a passing rate of 98.64 percent since 2009. The only time UPD didn't rank first was in 2018 when Benguet State University-La Trinidad took the top spot. SLIS graduates also consistently place in the top 10, with the most number of placements in 2015 (7 spots). The last time UPD grabbed first place was in 2012.
Of the 1,024 who took the exams, only 565 passed. Examinations were administered in the cities of Manila, Baguio, Cagayan De Oro, Cebu, Davao, Iloilo, Legazpi, Tacloban and Tuguegarao.—Text by Anna Regidor, images from the UP SLIS