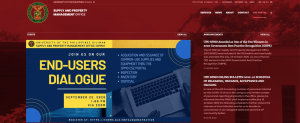 (OCT. 24)– The UP Diliman Supply and Property Management Office's (UPDSPMO) Common-Use Supplies and Equipment Portal was listed as one of the 10 winners of the Development Academy of the Philippines (DAP) 2020 Government Best Practice Recognition (GBPR).
The selection and announcement of winners were held over two days from Oct. 22 to 23 via digital platforms.
In its video entry, the UPDSPMO emphasized the ease of use and efficiency afforded by the portal to its end users, which was designed similar to e-commerce sites like Lazada or Shoppee for ease of use.
With the portal, the processing time for each transaction became seven times faster, reducing a four-day wait to just four and a half hours and saving UPD close to 27.5 hours of waiting time per transaction.
The shift to online transactions has the added benefit of drastically reducing physical contact between SPMO personnel and personnel from other UPD units.
"Prior to the UPDSPMO-CSE Portal, end-users would physically go to UPDSPMO and request that a Certificate of Non-Availability of Stocks (CNAS) be issued.  Now, end-users would only need to go to the Portal and click PRINT to get the CNAS," the SPMO said.
The other initiatives that won are the "Barangay Empowerment Synergy and Transparency Program of Sangguniang Bayan of Paracale" by the Sangguniang Bayan of Paracale, Camarines Norte; "eBPPro: Electronic Budget Planning Process of Camarines Norte State College" by Camarines Norte State College; "Coffee-based Agroforestry: Pampanga State Agricultural University's Model to Promote Sustainable Co-Management of Forest Land with Informal Settlers" by Pampanga State Agricultural University; "Establishment of Food Processing Innovation Center-Davao as a Common Service Facility" by the Department of Science and Technology Regional Office No. XI; "'HI PERA' High Personal Effectiveness through Resource Allocation" by the Local Government Unit of General Santos City; "Operational Strategic Performance Management System (SPMS)" by Visayas State University; "Cauayan City's Food Bank" by the Local Government Unit of Cauayan City, Isabela; "Service Delivery Network (SDN) Online Referral System" by the Bataan General Hospital and Medical Center and "Project Express Lane Operation" by the City Government of Parañaque.
According to DAP the GBPR is meant to "promote, showcase and share outstanding and innovative practices demonstrated by the public sector organizations. The GBPR serves as a harmonizing strategy to attain the objective 'to advance the public sector productivity movement' among Asian Productivity Organization (APO) member countries. Ultimately, it aims to foster knowledge sharing innovations that have been proven effective and helpful in improving organizational productivity and performance in the public sector."
The judges for GBPR 2020 were Civil Service Commission Director Alma Flores-Foronda, Department of Budget and Management Assistant Secretary Clarito Alejandro D. Magsino and National Academy of Science and Technology Academician Engr. Raymond R. Tan.
The criteria for judging were Best Practice Evidence (20%), Replicability of Practice (10%), Review/next steps planned (10%), Level of Deployment (10%), Innovation (20%), Best Practice Performance (Results) (30%).
"For these 10, we would just like to highlight that these are the best practices to be proud of and could continue working on. And the COVID-19 pandemic has brought a lot of challenges for you and a lot of opportunities too," said Tan.