(JUN. 21)— UP Diliman (UPD) paid its student achievers tribute at the Parangal sa Mag-aaral 2019 held at the University Theater on Jun. 19.
This year, UPD honored 4,302 University Scholars (US) in the undergraduate and graduate levels and students who have distinguished themselves in various fields.
US are students who earned a General Weighted Average (GWA) of not lower than 1.25 in the second semester of Academic Year (AY) 2016-2017 and first semester of AY 2017-2018.
The five academic units with the most number of US are the College of Engineering (COE) with 829 awardees, College of Social Sciences and Philosophy (CSSP/578), Cesar E.A. Virata School of Business (VSB/412), College of Science (CS/323) and College of Arts and Letters (CAL/309).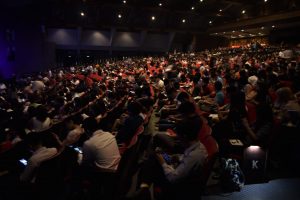 In the undergraduate level, COE had the most number of US with 723 followed by CSSP (544), VSB (412), CAL (267) and CS (248).
In the graduate level, COE again topped the list with 106 followed by CS (75), College of Education (56), School of Urban and Regional Planning (45) and Technology Management Center (43).
UPD also recognized graduates who made it to the top 10 in the licensure examinations for lawyers, architects, teachers, accountants, librarians, chemists, geologists, chemical engineers, electronics engineers, electrical engineers and geodetic mechanical engineers; together with those who have distinguished themselves in other fields; and winners in national and international competitions.
Students who have topped the licensure exams during the second semester of AY 2017-2018 and first semester of AY 2018-2019 are John Michael T. Dela Paz (Teachers-Elementary), Kristian R. Monay (Geodetic Engineers), Peter Nicholas S. Onglao (Chemical Engineers), Jaydee N. Lucero (Civil Engineers) and Dainty Clarice V. Rabang (Geologist).
Some students who won the grand prize in international competitions are: Johanne Jazmin Tan-Jabines (champion, 2018 English Speaking Union's International Public Speaking Competition Global Public Speaking Competition, London, England); Marie Catherine S. Alcantara, Deanna Clarisse M. Heceta, Michelle T. Lao, Hilton A. Lazo, Vaupetroanji J. Peña and Anton Miguel A. Sison (Overall Best Victims' Counsel Team, International Criminal Court Moot Court Competition 2018, Leiden University, The Hague, The Netherlands); Abdulwahid H.G. Panganting (Winner-Lomba Pidato, Lomba Pidato dan Bercerita dalam Bahasa Indonesia/Bahasa Indonesia Speech and Story Telling Competition 2018, Jakarta, Indonesia), and Marian Abigaile Manongdo (Next Generation Scientist Award, 2018 Novartis and University of Basel Next Generation Scientist Program Internship Competition, Basel, Switzerland).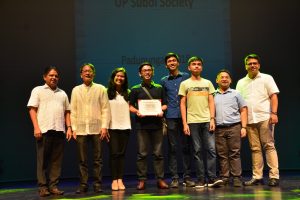 Four student organizations were awarded the Parangal sa Samahang Mag-aaral (Ignacio B. Gimenez Outstanding Award for UP Student Organizations' Social Innovation Project), namely: Junior Philippine Geographical Society, UP Academic League of Chemical Engineering Students, UP Association of Civil Engineers and UP Chemical Engineering Society. The awardees received a certificate and P20,000 cash prize.
The UP Subol Society received the Ignacio B. Gimenez Excellence Award and a cash prize of P50,000 for their project "Padunungan 2018."
This year, the Parangal sa Mag-aaral Committee introduced a new award called "Diwa ng Diliman." The award was given to Jacob Richard Anthony S. Lim, a BS Computer Engineering student from COE, who was cited for his "natatanging kontribusyon sa Unibersidad; paggawa ng UPD Mobile App, pagsasaayos ng UP Carillion Bell Tower at pagtatatag ng Ahon Microfinance, mga inisyatibong kapakipakinabang sa loob at labas ng Unibersidad."
Meanwhile, the total number of US this year increased by 554 students or 14.78 percent compared to last year.
In addition to the certificate of recognition, the awardees also received a Parangal sa Mag-aaral pin designed by Kevin Brandon E. Saure, a CSSP graduate student and staff of the UP Diliman Information Office. Students who attended the awarding ceremony were given an additional UPD journal as special token.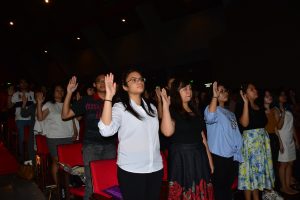 Program. During the program, students, parents and other guests were treated to an afternoon of spectacular song and dance numbers from award-winning performers, namely: the UP Dance Company, CONCHORDS, Legato Visual Performing Arts, Raymond Roldan and the UP Concert Chorus.
Vice Chancellor for Student Affairs Jerwin F. Agpaoa opened the ceremony with his welcome remarks while Chancellor Michael L. Tan delivered an inspirational message.
Five student representatives spoke on behalf of all the student achievers.
Ina Marie Claire E. Mallari of the National College of Public Administration and Governance spoke on behalf of the US; Carl Angelo M. Caluag of the Institute of Chemistry for the board topnotchers; Joshua James N. Versola of the Department of Science and Technology (DOST) Scholars Association for the student volunteers; Julius Czar B. Torreda, Galactic Impact Awardee (National Aeronautics and Space Administration, NASA Space Apps Challenge 2018 Global Competition), for the national and international competitions winners and participants, and UP Men's Basketball Team member Diego Miguel Dario for the student-athletes.
The Parangal this year was again shorter compared to previous years. The student achievers were called per category and were asked to stand up from their seats and attach their respective pins.
In addition, the awardees were asked to take an oath to maintain their excellence in academics, volunteerism, competitions, sports and arts, a new inclusion to the annual Parangal ceremonies.
PASP, VACSSP and CTGACH. Although not mentioned during the program, the Parangal also recognized the recipients of the Performing Arts Scholarship Program (PASP), Visual Arts and Cultural Studies Scholarship Program (VACSSP) and Critical Thesis Grant in the Arts, Culture and Humanities (CTGACH) of the Office of the Chancellor administered by the Office for Initiatives in Culture and the Arts (OICA).
For the PASP, 29 students who belong to six performing groups were given the scholarship—three from the UP Concert Chorus, UP Dance Company (6), UP Kontra-GaPi (3), UP Repertory Company (5), UP Singing Ambassadors (2) and UP Symphonic Band (10).
Twenty students were granted scholarship through the VACSSP while 14 were awarded the CTGACH. —Haidee C. Pineda, images by Leonardo A. Reyes