(JAN. 27)–Folk narratives such as epics, myths, legends and folk tales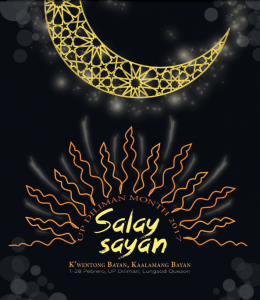 —also known as k'wentong bayan—form the centerpiece of UP Diliman's celebration of the National Arts Month in February in the festival billed Salaysayan: K'wentong Bayan, Kaalamang Bayan.
"An oral tradition, kuwentong bayan is a narrative told from one generation to another during community ceremonies, rituals and in everyday conversation and story-telling among a group of individuals. These are organized stories often used to explain aspects of traditions, norms and even histories. In folklore studies, the kuwentong bayan are means of artistic communication in small groups," said Dr. Sir Anril P. Tiatco, theatre arts professor and the festival's project leader.
With its 7,107 islands and diverse ethnolinguistic communities, the Philippines is a repository of many kuwentong bayan, often revealing valuable information and insights about the different Philippine communities.
"Kuwentong bayan foster a shared set of perspectives, values and histories. These narratives also give meaning to life. Our epics transcend our common life into a world in which our pre-colonial gods interact with us, humans, and therefore we start believing that our daily actions are part of the grand scheme delegated by our gods. In times of difficulties, the pain is more bearable because we believe that the trials have meaning; we are suffering for a bigger cause rather than being battered randomly," said linguistics professor and co-project leader Jem R. Javier.
Events. Recuperating the kuwentong bayan as important repository of ideas, information and even knowledge, the festival features a conference and workshops, an installation art exhibit, dance and musical concerts, a puppet theater, the re-staging of Goethe's Faust and film showings.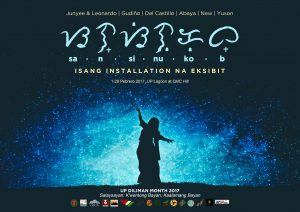 Opening the festival is Seremonya ng Pagbubukas: K'wentong Bayan, Kaalamang Bayan, a dramatic interpretation of the commonly-heard legend "Alamat ng Pilipinas" on Feb. 1, 6 p.m. in front of the Faculty Center.
"Sansinukob," an installation art exhibit, will also be unveiled at the UP Lagoon and College of Mass Communication Hill. The exhibit features UPD visual artists Leo Abaya, Junyee, Anton del Castillo, Rita Gudiño, Gerry Leonardo, Leeroy New and Reg Yuson depicting Philippine stories on the origin of the "sansinukob" (universe). The exhibit is a glimpse of the ethno-astrology and ancient cosmology of Philippine cultures.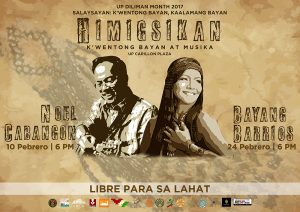 "Himigsikan: Mga K'wentong Bayan at Musika," features songs based on and inspired by Philippine folk narratives as performed by Noel Cabangon and Bayang Barrios on Feb. 10 and 24, respectively, at 6 p.m. at the UP Carillon.
"Sita & Rama: Papet Ramayana," a  retelling of the epic of the same title through a puppet theater featuring the Teatrong Mulat ng Pilipinas, will be staged on Feb. 18 and 19, at 10 a.m. and 3 p.m. at the Institute of Biology Auditorium. Tickets are at P200.
An inquiry into the relationship of religion and kuwentong bayan, "Si Faust at ang Dalumat ng Kasamaan: Isang Adaptasyon ng Akda ni Goethe" features Dulaang UP under the direction of José Estrella and adaptati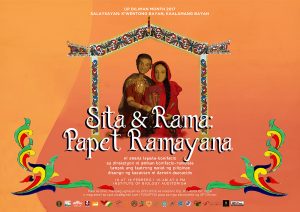 on by playwright Rody Vera. The play runs from Feb. 15 to Mar. 8 at the Wilfrido Ma. Guerrero Theater. For tickets and show times, contact Dulaang UP at 981-8500 loc. 2449.
"Ang Unang Aswang," a dance-movement piece of the award-winning play of the same title by Rody Vera will be interpreted by the critically acclaimed UP Dance Company on Feb. 25 and 26 and Mar. 4 and 5 at 7 p.m. at the Arki Amphitheater. Tickets are at P200.
The academic component of the festival is the "Sampaksaan sa K'wentong Bayan," to be held Feb. 23 at the UP NISMED Auditorium. The conference features multi-modal and cross-disciplinal discussions on the significance of the kuwentong bayan in the context of contemporary Philippines. The symposium is free but pre-registration is required.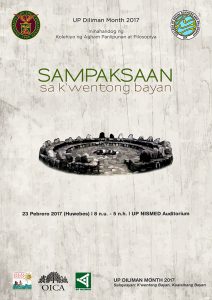 "K'wentong Bayan sa Pelikula," featuring contemporary films about k'wentong bayan such as "Tuos," "Ang Sayaw ng Dalawang Kaliwang Paa," "Hinulid," "Ang Panggagahasa kay Fe," "K'na the Dreamweaver" and "Ploning," runs from Feb. 7 to 9 with screenings at 5 and 7 p.m. at the UP Cine Adarna. Admission to all films is free.
Closing the festival is "Seremonya ng Pagwawakas: Hanggang sa Susunod na Kabanata," a concert on Philippine myths, legends, folktales and epics featuring the Mindanao State University Sining Kambayoka and other surprise guests. The event will be held on Feb. 28, 6 pm, at the UP Amphitheater.
Part of the celebration is an art-walking tour coined as Pasyal Diliman where participants may experience the arts and cultural landscapes of the campus. The tour is also a wonderful opportunity to encounter UP Diliman as an important cultural heritage of the country.
For tickets, conference pre-registration and additional information, contact Joshua Ceasar Chan at 0917 677 5141 / jchan@up.edu.ph.