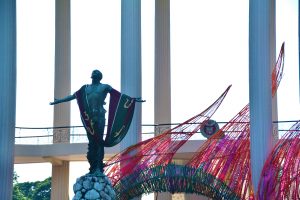 (AUG. 7) — The sudden shift to the "new normal" due to the COVID-19 pandemic saw the University of the Philippines Diliman (UPD) conferring academic degrees on 3,789 graduates at its first virtual commencement exercises on Sunday, Jul. 26.
The full commencement program was streamed live to the public at 7 in the morning and may be viewed at https://upd.edu.ph/livestream-2020/.
Observing the health and safety protocols set of the COVID-19 Inter-Agency Task Force, the University limited the attendance to the ceremony strictly to key participants.
Although the graduates were not physically present during the program, their photos and videos were virtually and artistically shown in the livestream.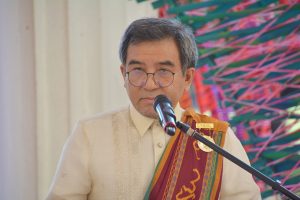 Theme. The 109th Pangkalahatang Pagtatapos carried the theme "Maglingkod, Magmalasakit, Manindigan." It calls on the graduating class, particularly in these challenging times, to serve the country with empathy and conviction so that excellence, rights and justice may prevail. It pays tribute to the frontliners and those who lost their lives to COVID-19 and is also a protest against the Anti-Terrorism Act of 2020 and Congress' vote to not renew ABS-CBN's franchise.
Forming the backdrop for this year's ceremony was "Dalunduyan," a triptych of arches depicting portals. Created by artist and UPD faculty Toym Imao, the work is a portmanteau of three vernacular terms namely "Daluyan" meaning a channel or portal; "Lunduyan" or center; and "Duyan" or cradle. The artist uses the cradle to symbolize the graduates as vessels of compassion or "malasakit."
Dalunduyan will remain at the Quezon Hall until December, marking the duration of the University's lockdown because of the pandemic.
Summa cum laude. Class 2020 were led by 28 summa cum laude, an academic distinction for graduates who earned a weighted average grade (WAG) of 1.20 or better.
Joshua Raphael N. Ambrosio, BS Economics (BS Econ), led the top honors with a WAG of 1.049, followed by Martin Alexander F. Cruz, BS Business Administration and Accountancy (BSBAA,) 1.086 and Jose Antonio C. Buencamino, Bachelor of Music (Composition), 1.098.
Others in the top 10 were: John Lawrence E. Mallanao, BSBAA, 1.100; Gabriela Angela Nicole T. Durian, BA European Languages (Italian), 1.103; Nina Patricia G. Morales, Bachelor of Fine Arts (Industrial Design), 1.107; Simon Alec J. Askin, BSBAA, 1.139; Aaron Jordan R. Sta. Maria, BA European Languages (Spanish), 1.141; Paolo Miguel T. Tablante, Bachelor of Music (Piano), 1.141; and James Allen E. Dy, BSBAA, 1.145.
The next 10 were: Ryan Kendrick U. Lim, BS Molecular Biology and Biotechnology (BSMBB), 1.145; Kate Chrisgracen Y. Au, BS Architecture, 1.147; Beatrice Hope G. Reyes, BS Biology, 1.156; Chloe B. Borromeo, BSMBB, 1.171; Kouji T. Tomas, BS Electrical Engineering, 1.172; Jo Adrian P. Del Mundo, BS Industrial Engineering, 1.173; William T. Lara, Bachelor of Sports Science, 1.178; Nicole Charis M. Pontanilla, BA Linguistics, 1.178; Michael T. Castro, BS Chemical Engineering, 1.180; and Seth Kelvin E. Escobedo, BS Electronics and Communications Engineering (BSECE), 1.183.
Rounding up the top honors were Janella Meara L. Chan, BS Econ, 1.185; Lorenz D.L. Nalica, BSBAA, 1.185; Enrique Lorenzo L. Martinez, BS Psychology, 1.188; Steffi Eunice S. Ramos, BA Broadcast Communication, 1.192; Kirsten Rae C. Hipolito, BSECE, 1.193; Stephaenie Natalie C. Gan, BS Business Economics (BSBE), 1.197; Corinne Mariel T. Wong, BSBE, 1.197; and Adrian L. Patricio, BS Computer Engineering, 1.199.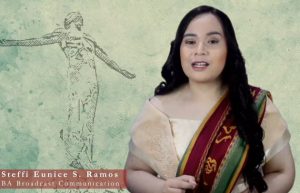 Total graduates. As of Jul. 22, figures from the Office of the University Registrar showed that 302 received the Latin distinction of magna cum laude (WAG of 1.4 or higher) while 683 graduated with the honors cum laude (WAG of 1.75 or higher).
Of the total candidates for graduation, 2,892 received a baccalaureate degree and 897 were conferred graduate degrees in the diploma, master's and doctoral levels.
UPD amid the COVID-19 pandemic and uncertainties. Chancellor Fidel R. Nemenzo, in his first opening remarks as UPD chancellor, said the graduation was special and unforgettable because "Pagkatapos ng mahigit apat na buwang pagkakakulong sa ating mga bahay dahil sa pandemya sa kabila ng takot at agam-agam para sa seguridad natin at ng ating pamilya, pangangapâ at trial-and-error dahil sa biglaang remote o online learning, sa wakas nakarating kayo sapagtatapos."
Nemenzo said while the effects of COVID-19 pandemic shocked the entire world and majorly disrupted people's daily lives, UPD braved the uncertainties and established the UPD COVID-19 Task Force to respond to the public health emergency.
 He said with all the issues that needed to be addressed, the students' welfare is the UPD administration's top priority.
"This is the age of uncertainty. We live in what is called a VUCA world. Volatile, Uncertain, Complex, Ambiguous," he said.
Moreover, Nemenzo said "to survive and thrive in the VUCA world and the Fourth Industrial Revolution, you need other skills such as informed decision making, creative problem solving, andperhaps above all, resilience, agility and adaptability.To the extent possible, UP Diliman has tried to prepare you for the challenges you mayface as you chart your own future."(See full text of Chancellor Nemenzo's remarks here.)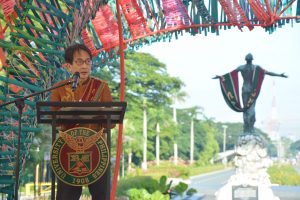 Honor, Excellence, Compassion and Accompaniment. Dr. Michael L. Tan, UPD immediate past chancellor, is this year's commencement speaker.
In his message, Tan said, although the graduation this year was done virtually because of the pandemic, "Now more than ever, we felt we needed to have a commencement ceremony. After all, we have been with you, I as your chancellor until March of 2020, through your academic journey."
Tan said "The pandemic challenges our definitions of accompaniment but always constant in here must be this respect for kapwa, of the sacred ground of humanity."
"In our difficult times where families are often divided, accompaniment has become all the more important in terms of connectivity," he added.
Tan urged the graduates "As you set out into the world, I want you to think too of leadership as accompaniment.Without becoming elitist, let us face up to the reality of a nation expecting a UP graduate totake the lead in whatever profession we enter."
Lastly, Tan thanked the graduates and reminded them, "Ngayon ay binubuksan na ng UP ang mga pintuan patungo sa bagong mundo. Gayunpaman, hindi magsasara ang mga pintuan nito para sa inyo lalo pa kapag kinailangan ninyong muli ang aming kalinga. Gayundin, umaasa kami napaglilingkuran ninyo ang UP at ang bayan nating mahal kapag mangangailangan ang mga ito."(See full text of Dr. Michael L. Tan's speech             here.)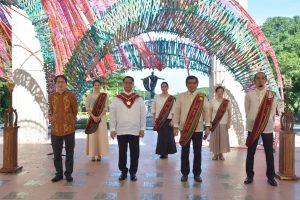 On Telling the Difficult Story, On Compassion Amidst Fatigue. Speaking on behalf of the graduating class was Ramos, who talked about telling the difficult story and compassion amidst fatigue.
As a College of Mass Communication student, Ramos said she dreamed of joining the media industry one day. This industry she said "took many hard, even fatal, blows. Ano daw ba ang kasalanan nila? They asked the difficult questions. They let the Filipino people know the real picture, no matter how grim this could be. They pushed for the truth, even if the truth could offend those in power. They told us the true Filipino story."
She also said "The stories we were trained to tell are sometimes stories that are never easy to tell. Ang bumubuo sa kuwento ng bansang Pilipinas ay hindi puro magaganda. Hindi ito laging masaya. May mga bagay na hindi kanais-nais. Mayroong mga pangyayaring nagpapalungkot at mga trahedyang nakapanlulumo. May mga panahong napakahirap ikuwento ng naratibo ng masang Pilipino, but we have a right to tell all of these stories."
As an Iskolar ng Bayan, "If there's one value that my stay in UP has underscored, it was to remain kind and compassionate amidst crises, amidst fatigue, amidst frustration and defeat," Ramos said.
In these uncertain times brought by the COVID-19 pandemic, she reminded her fellow graduates "Walang manual sa UP MainLib na magtuturo sa atin kung paano mag-survive sa isang pandemya. UP trained us to be tough, which people in the comments section interpret as being nagmamagaling and being too combative. At the core of this toughness and assertion should be compassion. Ngayon higit kailanman, sana'y hindi natin makalimutang iparamdam ang ating pagmamalaskit sa ating  kapwa Pilipinong nagpaaral sa atin." (Refer to Ramos's full speech here.)
The virtual commencement program was made possible by the joint efforts of UPD's graduation committee headed by the Office of the Chancellor and the artistic production team led by Prof. Josefina F. Estrella, the over-all artistic director and UP Theater Complex director, in collaboration with TVUP led by its director, Professor Emeritus Grace J. Alfonso.