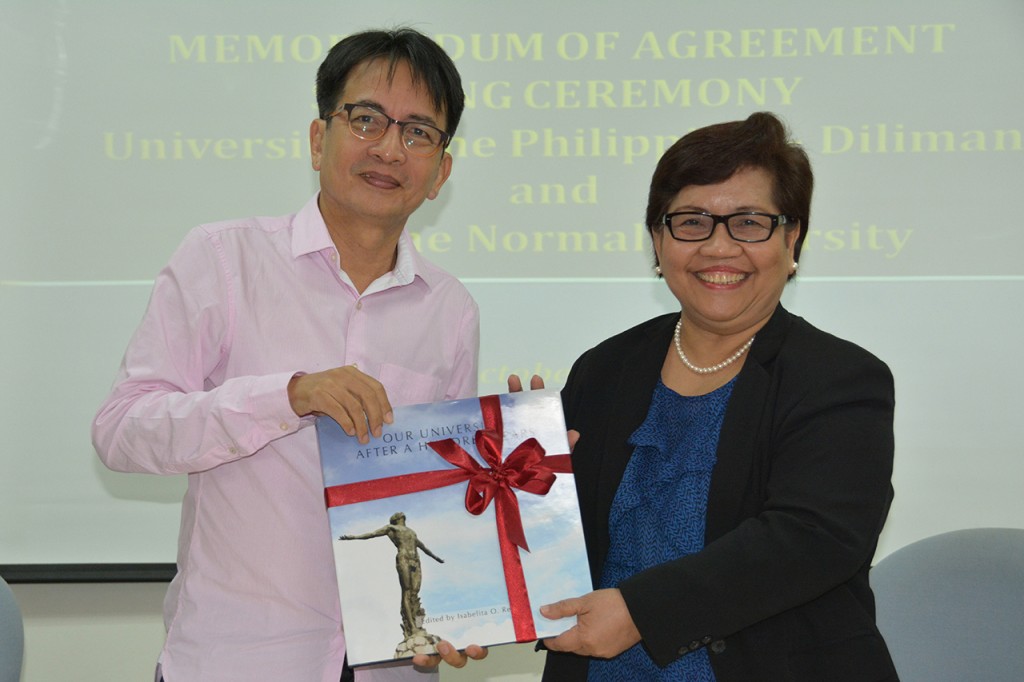 (OCT. 16)—The University of the Philippines Diliman (UPD) and Philippine Normal University (PNU) entered into a memorandum of agreement (MOA) to enable PNU faculty members from its various campuses in the country to enroll in UPD's Tri-College PhD in Philippine Studies program.
Under the agreement, UPD will customize a program to allow PNU faculty to obtain a PhD degree in Philippine Studies, allowing them to teach at PNU while doing their course work at UPD.
With the MOA, PNU aims to transform its Mindanao and Northern Luzon campuses into multicultural and indigenous education hubs.
Signed on Oct. 5 at the UPD Asian Center by UPD Chancellor Michael L. Tan and PNU President Ester B. Ogena, the MOA is valid for three and a half years.
Witnessing the event were UPD College of Social Sciences and Philosophy dean Dr. Grace Aguiling-Dalisay, UPD Asian Center dean Dr. Joefe Santarita, UPD College of Arts and Letters dean Dr. Amihan Bonifacio-Ramolete, PNU Vice President for Academics Dr. Maria Antoinette C. Montealegre and PNU Vice President for University Relations and Advancement Dr. Felicia I. Yeban. – Bino C. Gamba, photo by Leonardo Reyes