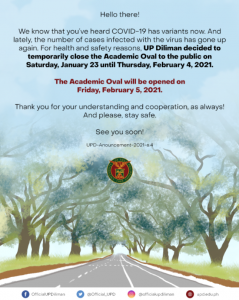 Hello there!
We know that you've heard COVID-19 has variants now. And lately, the number of cases infected with the virus has gone up again. For health and safety reasons, UP Diliman decided to temporarily close the Academic Oval to the public on Saturday, January 23 until Thursday, February 4, 2021.
It will be opened on Friday, February 5, 2021.
Thank you for your understanding and cooperation, as always! And please, stay safe.
See you soon!