By Haidee C. Pineda, images by Jefferson Villacruz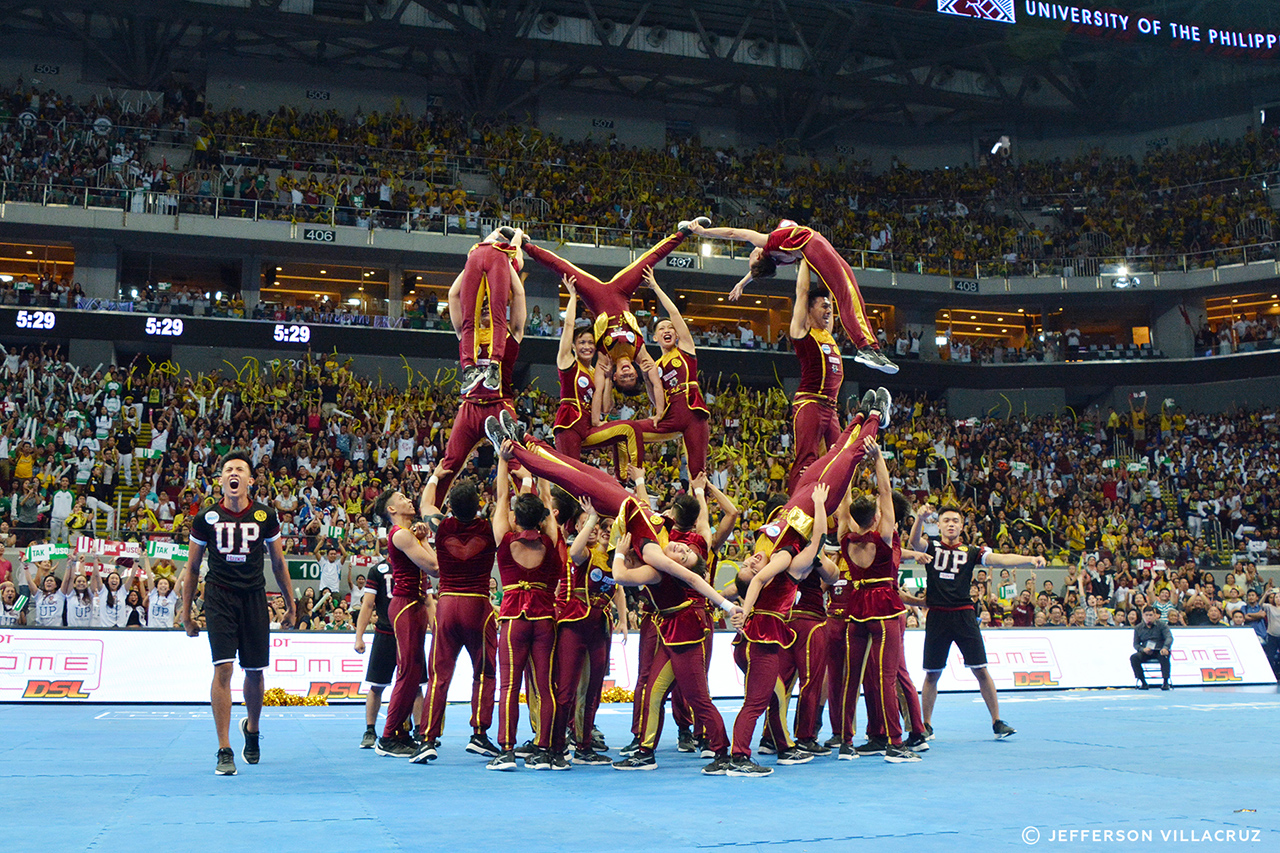 (OCT. 8)—The UP Varsity Pep Squad's  (UP Pep) Utak at Puso or UPuso theme routine may have failed to snatch the grand prize and landed third, but they sure have won the hearts and minds of the crowd at the University Athletic Association of the Philippines Season 78 Cheerdance Competition (CDC) held Oct. 3 at the Mall of Asia (MOA) Arena.
Clad in gold and maroon uniform with a heart-shaped cut at the back, the UP Pep performed a near-flawless routine and stunts without penalties and deductions showcasing mind and heart as the theme.
UP Pep assistant coach Niño Jose Antonio, in an interview with the Philippine Daily Inquirer, said "we dedicate this (performance) to student-athletes. It's because when an athlete gets down in an in-game situation people would usually say 'puso lang.' But for us, since we're from UP, we also need our mind to work with our heart. It's not always our heart that we should always use, 'utak at puso' that's our homage to student-athletes."
More than 25,000 fans at the MOA Arena burst into riotous cheer when the UP Pep flyers were lifted then tossed into mid air like anchors to form an amazing heart-shaped pyramid with the guitar rendition of "UP Naming Mahal" by Wardy Puyod as background music.
The anchors away toss and heart-shaped pyramid won for the UP Pep special awards, namely, the Yamaha Best Toss and PLDT Fantastic Pyramid.
Aside from UP' school hymn, the trendsetting pep squad used Pinoy rock songs at the CDC such as Parokya ni Edgar's "Bagsakan," Sandwich's "Sugod," Rivermaya's "Liwanag sa Dilim," Kamikazee's "Seksi Seksi" and Spongecola's "Puso" as background music for their routine.
UP was named 2nd runner-up after garnering a score of 610.5 points while the University of Santo Tomas (UST) Salinggawi Dance Troupe's African-themed routine won 1st runner-up with a score of 651.5 points. With a caveman-themed routine, the National University (NU) retained their CDC title after earning 668 points, making it their third consecutive win.
Far Eastern University (FEU) Cheering Squad bagged the fourth spot with 583.5 points followed by the University of the East Pep Squad (583), De La Salle Animo Squad (538.5), Adamson University Pep Squad (513.5) and Ateneo de Manila University Blue Babble Battallion (412).
Winners of the CDC were judged based on tumbling (100 points), stunts (100 points), tosses (100 points), pyramids (100 points), overall effect (100) , choreography (100 points), technique (100 points) and group execution (100 points) for a total of 800 points.
As champion, NU took home P340, 000 plus a trophy. Aside from trophies, UST and UP received P200,000 and P140,000 cash prizes, respectively.
For the group stunts category, UST was declared as champion and received a cash prize of P25,000. NU placed second followed by FEU.
Winners for the group stunts were judged based on stunt execution, stunt difficulty and overall performance.
This year's judges were Paula Isabel Nunag, National Cheerleader Championship, Inc. (NCCI) national director; Bernard Daniel Puatu, NCCI director of operations; Celine Tanjuatco, former national gymnastics team member; Elaine Christine Lapuz, NCCI member; Douglas Nierras, Whiplash choreographer; Angela Lawenko-Baguilat, College of Music faculty and UP Dance Company associate artistic director; Kevin Chang, Chinese Taipei Gymnastics Association president; Wilson Ong and Nancy Crowe.