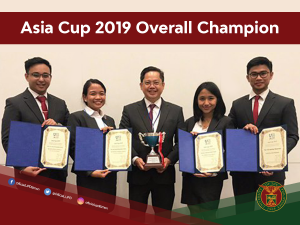 (AUG. 14) – The UP Law Moot Court Team is this year's overall champion at the recently concluded Asia Cup 2019 International Law Moot Court Competition last Aug. 6 and 7 in Tokyo, Japan.
The Team was the country's sole representative in the international rounds competing against 16 qualified teams. The Team later won over teams from South Korea, Malaysia and Russia. The UP Law Team also placed third Best Memorial.
According to the UP College of Law Facebook page, the problem argued was a Case Concerning the Maritime Operation Sheer Cliff and Certain Criminal Proceedings: Kingdom of Amphit (Applicant) vs. Republic of Rhea (Respondent).
The UP Law Moot Court Team is composed of Marianne Angeli B. Estioco (team captain), Abelardo G. Hernandez, Anton Miguel Sison and Leslie Diane D. Torres, with Prof. Rommel J. Casis as coach/faculty adviser.
Torres won as Best Applicant Oralist while Estioco and Hernandez were declared second and third Best Respondent Oralist, respectively.
In her message posted at the UP College of Law Facebook page, Estioco said, "We are extremely glad to bring home the championship for the country and the University. This victory is a product of long hours of research and training, and we are truly grateful for the College's support in our endeavors. We hope to continue to uphold UP's long history of excellence in oral and written advocacy."
Asia Cup began in 1999 in Tokyo, Japan and was formerly the Japan Cup that started in 1996. The then moot court competition among Japanese universities opened its door to students all over Asia to "become one of the prime events in the field of the international law moot court competitions, and has offered outstanding opportunities to promote good fellowship among the representatives from Asian countries."
Asia Cup has been co-organized by the Japanese Society of International Law and the Ministry of Foreign Affairs of Japan (MOFA) since 2013. — Mariamme D. Jadloc, photo courtesy of UP Law Debate and Moot Court Union