(MAY 30)–Seventy-one faculty members were named UP Scientists of various ranks under the Scientific Productivity System (SPS) in ceremonies at the School of Statistics Auditorium on May 28.
The scientists were appointed for the period 2018 to 2020. Of the total appointees, 41 or 57.7 percent (7 Scientist III, 6 Scientist II and 28 Scientist I) were from UP Diliman. 
Awarded the distinction of Scientist III were Dr. Windell L. Rivera and the late Dr. Perry S. Ong from the Institute of Biology (IB); Dr. Gisela P. Concepcion from The Marine Science Institute (The MSI); Dr. Carla B. Dimalanta and Dr. Alfredo Mahar Francisco Lagmay from the National Institute of Geological Sciences (NIGS); and Dr. Percival Almoro and Dr. Caesar A. Saloma of National Institute of Physics (NIP). 
Scientist II were Dr. Jonas P. Quilang of IB; Dr. Christine C. Hernandez from the Institute of Chemistry; Dr. Jose Edgardo Gomez Jr. and Dr. Maria Helena Yap from The MSI; Dr. Maria Socorro G. Bautista of School of Economics (SE); and Dr. Erniel B. Barrios of School of Statistics (SS).
And Scientist I were: Dr. Alfred Pawlik of Archaeological Studies Program; Dr. Dave Centeno of Cesar E.A. Virata School of Business; Dr. Rizalinda De Leon, Dr. Mark Daniel G. De Luna and Dr. Bryan P. Pajarito of Department of Chemical Engineering; Dr. Ariel C. Blanco of Department of Geodetic Engineering; Dr. Magdaleno M. Vasquez Jr. from the Department of Mining, Mettalurgical and Materials Engineering; Dr. Susan D. Arco (IC); MSI professors Dr. Porfirio Aliño, Dr. Patrick C. Cabaitan, Dr. Maria G. Cecilia Conaco, Dr. Arturo O. Lluisma, Dr. Marie Antonette J. Meñez, Dr. Maria Lourdes San Diego-McGlone, Dr. Fernando P. Siringan and Dr. Cesar L. Villanoy; 
Dr. Clarissa David from the College of Mass Communication; Dr. Carlos Primo C. David; Dr. Allan Gil S. Fernando and Dr. Noelynna T. Ramos from NIGS; Dr. Elmer S. Estacio, Dr. Nathaniel P. Hermosa II; Dr. Eric A. Galapon and Dr. Roland V. Sarmago from the NIP; Dr. Joseph J. Capuno of SE; Dr. Claire Dennis Mapa of SS; and Dr. Ralph John dela Cruz and Dr. Jose Ernie C. Lope from the Institute of Mathematics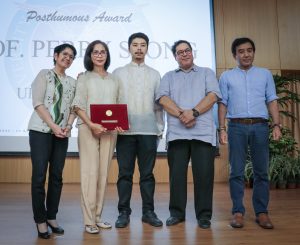 The SPS was created by virtue of its approval by the UP Board of Regents at its 1199th meeting on Aug. 26, 2005.  SPS supports the development of science and technology and encourages and rewards scientific productivity. 
Appointment as UP Scientist is evaluated based on scientific publications in reputable refereed scientific journals and books; peer-reviewed technological outputs; scientific standing in the international science community; and professional standing in the international science community. 
The UP Scientist appointment carries monetary rewards of P150,000, P200,000 and P250,000 annually, for Scientist I, II and III respectively. — Bino Gamba, images by Misael Bacani, UP MPRO