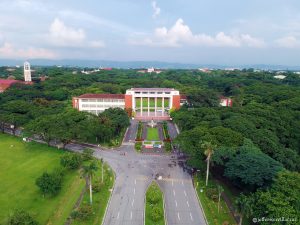 With the mad, mad rush to apply for the next UPCAT (UP College Admissions Test), I thought I may as well explain the mysteries of UP and terms like "campuses," "CUs," and "UP System."
From its establishment with a small campus in Ermita (and a building in Quiapo) in 1908, UP has grown through the years to the point where the late senator Edgardo Angara, who also served as UP president, spearheaded the setting up of a UP System. Patterned after American universities like the University of California, UP is composed of constituent universities (CUs) that are independent of, but in close coordination with, each other.
The UP System is headed by a president, while the CUs, now numbering eight, are headed by chancellors. I'm always asked what chancellors do, and I reply: all the day-to-day nitty-gritty work like looking for budgets, cleaning up the garbage left behind by visitors (hint, hint), reviewing hundreds of curricula, listening to complaints (and occasional praise), and much more.
A CU is not a campus, as I will explain shortly.
The "original" UP is the Manila campus, straddling an entire block in Ermita—Padre Faura on one side, Pedro Gil on the other. Although more campuses were to be set up, UP Manila remains the center of degree programs in medicine and the health sciences.
Unknown to many, UP Manila has three campuses outside Manila. The School of Health Sciences, established in 1976 and offering a ladderized program with students picking up degrees in midwifery and nursing before medicine, has campuses in Palo in Leyte, Baler in Quezon, and Koronadal in South Cotabato.
A second campus was set up a year after the one in Manila. This is the one in Los Baños, focusing on agriculture, forestry and the animal sciences (including veterinary medicine). UP Los Baños is the "richest" when it comes to land, with some 15,000 hectares. Not all of it is in Los Baños—there are land grants as well in Rizal and Laguna.
The third UP just celebrated its centennial. This is UP Cebu.
The fourth CU is UP Diliman, which houses the UP System, established in 1949. UP Diliman has the most number of degree programs among the CUs, and the largest student population (about 27,000).
The UP System offices administer to the needs of the entire UP. For example, an Office of Admissions takes care of UPCAT, from the applications, to administering the exams in several testing centers scattered across the country, to the ratings of the exams and publication of lists of those who passed.
UP Diliman has campuses outside Quezon City. There is the UP Diliman Extension Program in Pampanga, which has campuses in Clark as well as in Subic. UP Diliman also has a marine research station in Alaminos, Pangasinan.
Then there's UP Visayas, with campuses in Tacloban (which has risen out of the devastation caused by Supertyphoon "Yolanda"), Miag-ao in the province of Iloilo, and in Iloilo City itself. UP Visayas is known mainly for its fisheries programs. The investiture of their new chancellor, Dr. Ricardo Babaran, was held yesterday.
To the south, we have a UP Mindanao in Davao City, and to the north, we have UP Baguio, which will probably end up having the most innovative architecture because it's literally a hillside campus.
Finally, the eighth CU is the UP Open University. Although its programs are offered online, it does have real buildings, out in Los Baños. It also has an office in UP Diliman.
There are a number of campuses that do not belong to any CU—that is, they report directly to the UP System. The most visible of these is the one in Bonifacio Global City in Taguig. UP BGC holds classes for law, business administration and statistics.
Final trivia that isn't too trivial: UP does have elementary and secondary schools in UP Diliman, UP Los Baños, UP Cebu and UP Visayas (Iloilo), with cutthroat competition to get admitted. I like to joke that even more difficult than UPCAT is our Diliman UPKAT (UP Kindergarten Admissions Test)!
Let me end with a tip for UPCAT applicants. Don't limit your preferences to UP Diliman, which, incidentally, was fiercely opposed back in the 1930s when it was first proposed. No one, the protesters warned, would want to enroll out in the wilderness that was Diliman.—published with permission of the author