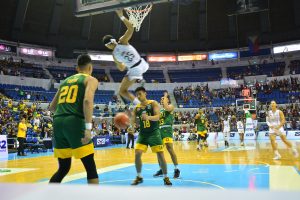 (SEPT. 4) —The University of the Philippines (UP) Fighting Maroons survived the very gritty Far Eastern University (FEU) Tamaraws, 61-55, Wednesday at the Smart-Araneta Coliseum.
Both teams struggled in the first couple of minutes, shooting blanks on both ends. But FEU's Kenneth Tuffin and UP's Jun Manzo helped them shake off opening game jitters by opening the scoring with conversions from the outside. The Fighting Maroons unravelled an acrobatic offensive display, with high flying forwards Dave Murrell and Ricci Rivero providing the spectacular plays. The Tamaraws, however, kept in step trailing only by three at the end of the 1st quarter.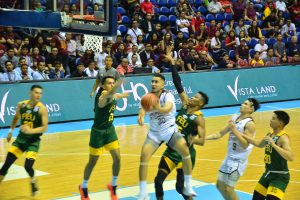 Javi Gomez De Llano (GDL) anchored a 16-7 2nd quarter blast to establish their biggest lead at 12 points, 36-24.
The Tamaraws limited the Fighting Maroons to just nine points in the 3rd period, even tying the ball game at 44 apiece before falling behind anew, but this time by just three, 44-41, entering the final canto.
The last quarter saw a heated exchange of baskets, both teams simply refusing to give up the game. After the last deadlock at 55 apiece, with 4:06 still remaining, the two protagonists entered into a long scoring spell. It was not until the 1:35 mark that Bright Akhuetie broke the curse for both teams, putting UP ahead by two points, 57-55. Botched attempts at the basket by FEU's veteran guards signaled the end for the Tamaraws. Manzo calmly sank four straight charities to knot the final count.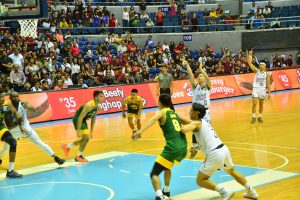 Javi GDL finished with 22, 16 coming in the first half, to lead all scorers. Rey Bienes led the Morayta-based dribblers with nine while LJay Gonzales, Pat Tchuente and Wendell Comboy wound up with 8 points each.
The Fighting Maroons face the University of Santo Tomas Growling Tigers on Saturday, 4 p.m. at the same venue.—Javi Palaña, images by Leonardo A. Reyes