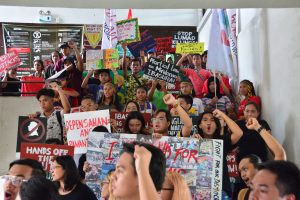 (AUG. 20)—Students, staff and faculty in UP Diliman staged a protest in response to a call against the entry of military personnel on campus on Aug. 20. 
Dubbed "UP Day of Walkout and Action," mobilization began as early as the night before (Aug. 19), with the hashtag #DefendUP and #UPWalkout appearing on Twitter Philippine trends as UPRISE, a multi-sectoral alliance of members of the UP community calling for a Twitter rally. 
On Aug. 20 protesters began gathering in individual colleges 10:30 a.m., such as the College of Fine Arts, College of Science, College of Mass Communication, the College of Engineering, the National College of Public Administration and the College of Arts and Letters.
At 11 a.m. those protesting inside the AS (Palma Hall) Lobby began to swell as delegations from all over the campus arrived. They climbed up the stairs to the second floor, encouraging students inside their classes to join. 
By 11:30 a.m. the various delegations were greeted by the UP Pep Drummers, who were using the University's cheers normally used in UAAP (University Athletic Association of the Philippines) games to show support. The crowd now covered the entirety of the AS Steps, spilling over to the pavement infront and temporarily halting traffic.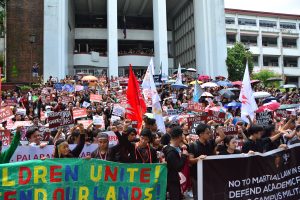 After that the protesters staged a symbolic lockdown of Palma Hall by closing the central gate led by UP Student Regent Isaac Punzalan. 
Speeches of support from guest speakers comprised the bulk of the 2-hour program, with a fairly extensive list of personalities present: Cong. Eufemia Cullamat of Bayan Muna Partylist, Professors Josephine Dionisio and Gerardo Lanuza of the College of Social Sciences and Philosophy Department of Sociology, Sandro Rex Nepomuceno of the College of Arts and Letters Department of Speech Communication and Theatre Arts, former National Anti-Poverty Commissioner Liza Maza, Patrick dela Cueva of Anakbayan and College of Science Dean Giovanni Tapang. 
The UP Repertory Company, a student theater organization aimed at raising social consciouness, staged "Ang Mga Kriminal," based on a 1977 poem by Romulo Sandoval. 
Senator Leila de Lima, currently inside the PNP Custodial Center in Camp Crame, sent a statement of solidarity read by former student regent Shari Oliquino. 
Capping the program was a musical performance by Alay Sining, a cultural National-Democratic mass organization. The students who stayed then headed off to Mendiola and then to Liwasang Bonifacio in Manila for educational discussions and more protest actions.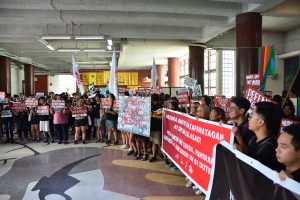 The UP Day of Walkout and Action was a system-wide event, with students in UP Cebu, UP Los Baños and UP Mindanao staging their own protest actions while classes in UP Visayas were suspended entirely to make way for it. 
The movement began when the Office of Student Regent declared Aug. 20 as the "UP Day of Walkout and Action" to assert students' "right to academic freedom to organize, and to protest" in a memorandum dated Aug. 14. 
This came after an Aug. 7 hearing of the Senate Committee on Public Order and Dangerous Drugs, chaired by Senator Ronald "Bato" Dela Rosa, looked into alleged recruitment of students by leftist groups. 
A few days after, Dela Rosa remarked that police and military personnel should be allowed inside state universities and colleges to conduct their own counter-indoctrination. 
A 1989 tripartite agreement was signed by UP, the Department of National Defense and the Department of Interior and Local Government barring the entry of military forces into university premises.—Anna Regidor, images by Jefferson Villacruz