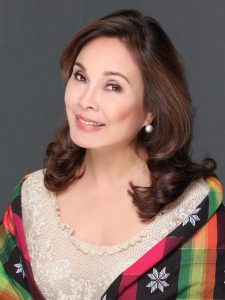 (JUN. 21)— The University of the Philippines (UP) will confer an honorary Doctor of Laws degree on Senator Loren Regina Bautista Legarda at UP Diliman's 107th General Commencement Exercises on June 24, 7 a.m. at the University Amphitheater.
On her third term as a senator, Legarda is currently the chairperson of the senate committees on Finance, Climate Change and Foreign Relations.
Legarda was a senator in six Congresses of the Philippines with the first in the 11th Congress (1998-2001), followed by the 12th (2001-2004), 14th (2007-2010), 15th (2010-2013), 16th (2013-2016) and the 17th (2016-2019).
She is the principal sponsor and author of a number of laws, some of which are the Philippine Climate Change Act, Ecological Waste Management Act, Magna Carta for Micro, Small and Medium Enterprises, the National Health Insurance Act of 2013 and the Universal Newborn Screening and Intervention Act.
Promoting the rights of women and the youth, she co-authored the Anti-Violence Against Women and Children Act and the Anti-Child Labor Law. As an advocate for the environment and indigenous culture, she co-authored the Philippine Tropical Fabrics law, the Renewable Energy Act and the Environmental Awareness and Education Act, among others.
She graduated from UP with a BA Broadcast Communication degree, cum laude, in 1981 and earned a master's degree in National Security Administration from the National Defense College of the Philippines in 1993 with the rank of Lieutenant Colonel. In 2017, she completed the Command and General Staff Course of the Armed Forces of the Philippines Command and General Staff College and was promoted to Full Colonel on Mar. 7 this year.
She was appointed as Global Champion for Resilience of the United Nations International Strategy for Disaster Reduction in 2015 and the National Adaptation Plan Champion of the UN Framework Convention on Climate Change in 2017.
Legarda will address some 4,600 candidates for graduation, led by 29 summa cum laude, with Ernest P. Delmo, Bachelor of Science in Chemical Engineering leading the top honors with a weighted average grade of 1.086.