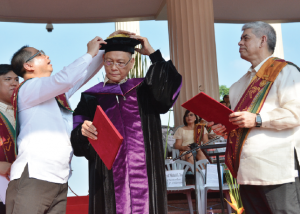 The University of the Philippines Diliman (UPD) conferred an honorary Doctor of Laws degree on Department of Budget and Management (DBM) Secretary Benjamin E. Diokno at its 106th General Commencement Exercises held June 25 at the University Amphitheater.
The Doctor of Laws, honoris causa is the University's highest academic rank and honor. It is awarded to public servants and lawyers who have contributed to international understanding, leadership and the rule of law, notes the Commission on Higher Education.
Diokno is Professor Emeritus at the School of Economics where he has taught courses such as Public Sector Economics, Microeconomics, Macroeconomics and special topics for over 40 years.
Described as a respected teacher and researcher of Economics, he was cited as "drawing on his experience, he shaped his students to become productive members of the community. As an expert on Public Economics, Development Economics, Public Investment, and Local Government Financing, he was named Professor Emeritus by the University."
"Outside the academe, he offered his expertise to the nation as a high official in various government agencies—most notably, as an Undersecretary from 1986 to 1991 and Secretary from 1998 to 2001 at the DBM," his citation also stated.
Some of Diokno's major policy reform contributions include: providing technical assistance to the 1986 Tax Reform Program to simplify the income tax system and introducing the value-added tax; helping design the 1991 Local Government Code of the Philippines; initiating a What-You-See-Is-What-You-Get policy to streamline the release of funds; and sponsoring the internationally-lauded Government Procurement Reform Act to modernize, regulate and standardize government procurement activities in the Philippines.
Finally, he was recognized for "his tireless service to the nation which embodies the loftiest ideals of our University."
The conferment rites were officiated by UP President Danilo L. Concepcion and Dr. Patricia B. Licuanan, chair of the UP Board of Regents, represented by University Secretary Roberto M.J. Lara.
Message. Like a benevolent mentor, Diokno offered the graduates some words of advice, drawing on the learnings from his illustrious career. The first was to be flexible and roll with the punches.
"To those of you who are like me when I was young—with a clear, straightforward career path in mind—anticipate that life will throw challenges at you that will put you off-course. My advise is this: be flexible, roll with the punches, because life is unpredictable. Life has its ups and downs, its twists and turns," he said.
For those who have not yet figured out what they want to do in life, he offered the strike three rule.
"You may have had a plan in mind a few years ago, which led you to taking your degree, but now maybe you feel like you have something else in mind. That's alright. You are entitled to change your mind. Don't feel bad for wanting to do something else other than what you studied for. Don't be afraid to try different things. What's two to three years of trying different jobs just to know what you really like?
Here's my take on changing careers: you are entitled to change your mind up to three times at most. That's the strike three rule. Kapag sumobra sa tatlong palit, baka di mo na talaga alam kung anong gusto mong gawin sa buhay mo, " he said.
He also urged them to take risks. "This sounds cliché, but this kind of attitude has opened so many great opportunities for me that I want you to have as well." He however cautioned that "taking risks has to be complemented with working hard. That's really what will open up opportunities for you."
He said the University "has taught you not just what to think, but how to think," and with this ability to learn and continue learning, "you can adapt and meet the challenges of the future.
In closing, he asked the graduates to consider government service.  He said presently there are not enough people manning government posts, especially the technical ones.
"How important are technical people in the government? Extremely important. They are essentially the backbone of the entire system. The technical people draft the reports, manage complicated processes, handle inter-agency transactions and so on."
He said a strong and competent technical staff in government "is a strong buffer against corruption, inefficiency and ineffectiveness in the government. How so? When you have enough people in the government who are competent and confident in their skills and knowledge, it's much more difficult for illegal and unethical transactions to pass through. This is where you graduates come in. With your level of education, your talent and determination, there is so much you can do."
From UP, Diokno finished his BA in Public Administration in 1968, a Master of Public Administration (1970) and an MA in Economics (1974). He also earned an MA in Political Economy from the Johns Hopkins University in the United States in 1976 and a PhD (Economics) from the Maxwell School of Citizenship and Public Affairs of the Syracuse University in New York in 1981.
Diokno served as adviser and consultant to the World Bank, Asian Development Bank, European Commission and the USAID for work in the Philippines, China and transitioning economies like Vietnam, Cambodia and Mongolia.