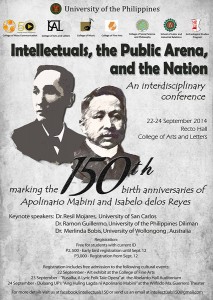 (AUG. 20) — The University of the Philippines celebrates the sesquicentennial or 150th year of revolutionary hero Apolinario Mabini and politician, writer and labor activist Isabelo Delos Reyes through a conference to be held in September at the Faculty Center Claro M. Recto Hall.
Noted scholars and writers Resil Mojares (University of San Carlos), Ramon Guillermo (University of the Philippines) and Merlinda Bobis (University of Wollongong) will serve as the conference's keynote speakers. Bobis will also read from some of her award-winning literary works.
About 60 papers on wide-ranging disciplines will be presented on themes including people's struggles; media and society; artists, writers, and musicians as intellectuals; archaeology and history of ideas; performance and public spaces; narratology and authorship; aesthetic traditions; pedagogy; and university life.
Among the presenters are Joyce Arriola, Glecy Atienza, Arnold M. Azurin, Grace Barretto-Tesoro, Edsel Basilla, Cherish Brillon, Kristoffer Brugada, Jose Buenconsejo, Patrick Campos, Mae Caralde, Linda Grace Cariño, Lito Casaje, David Corpuz, Melodina Cruz, Wystan de la Peña, Lorelei D.C. de Viana, Richard Karl Deang, Alfredo Diaz, Anthony Divinigracia, Kristoffer Esquejo, Karen Frondozo, Jimmy Balud Fong, Romeo Galang, Jr., J. Neil Garcia, Eli Guieb III, Antonio Hila, Corazon Hila, Maria Alexandra Iñigo-Chua, Lisa Ito-Tapang, David R.M. Irving, Rene Javellana, Diosa Labiste, Danim Majerano, Lilimay Manalo, JPaul Manzanilla, Jack Medrana, Rhayan Melendres, Lara Katrina Mendoza, Raul Casantusan Navarro, Karen Lee Panela, Choy Pangilinan, Michael Pante, Raul Pertierra, Rommel Rodriguez, Rosemarie Roque, Scott Magkachi Saboy, Jaimee Santos, Dawn Satumbaga, Marie Louise Antoinette Sioco, Edelquinn Sy-Beltran, Christian Tablazon, Judy Taguiwalo, Arwin Tan, Teresa Tinio, Rolando Tolentino, Jose Victor Torres, Christina Ustaris, Doris Wilson and Clod Yambao.
The conference is organized by the College of Mass Communication, in partnership with the Archeological Studies Program, College of Arts and Letters, College of Fine Arts, College of Music, College of Social Sciences and Philosophy and the School of Labor and Industrial Relations.
The conference has been endorsed by the Commission on Higher Education (CHED) for faculty and students involved in social science programs from higher education institutions. It is free for students, while a minimum conference fee of P3,000 will be charged for other participants.
Tickets to the opera Antonín Dvořák's Rusalka on Sept. 23 (Abelardo Hall) and Dulaang UP's Ang Huling Lagda ni Apolinario Mabini on Sept. 24 (Wilfrido Ma. Guerrero Theater) may be availed as part of the conference fee, on a first-come, first-served basis.
For more details, please send an email to filipinointellectuals150@gmail.com, visit  www.facebook.com/intellectuals150 or call the secretariat at 920-6864.—UP College of Mass Communication