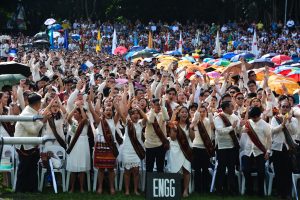 (JUL. 1) —Wet grounds, rain-soaked-but-still-radiant-as-ever sunflowers and moist grasses and soil welcomed some 5,000 graduates who were conferred their respective degrees, together with their parents, guardians, guests, faculty and staff, at UP Diliman's (UPD) 108th General Commencement Exercises at the University Amphitheater on Jun. 30.
At 5 a.m., it was still drizzling. The graduates came wearing their sablay and prescribed dress code, but instead of wearing high heels and leather shoes, most were wearing comfortable and practical shoes. They also brought raincoats, ponchos and umbrellas as they were warned the day before the graduation about the chances of rain in the morning. 
Although it was cloudy, the drizzle stopped as soon as the ceremony officially started at 7 a.m.  and a glimpse of sunshine blessed the graduates with good weather throughout the event.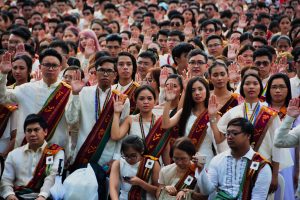 Summa cum laude. This year, a record high of 54 summa cum laude led the graduates from UPD's 27 degree-granting units.
Summa cum laude, a Latin phrase meaning "with the greatest honors," is the university's highest academic distinction for graduates who earn a weighted average grade (WAG) of 1.20 or better.
The 54 top honors came from 11 degree-granting units from UPD's four clusters: Science and Technology (S&T), Social Sciences and Law (SS&L), Management and Economics (M&E), Arts and Letters (A&L).
Leading the top honors was Jaron Nicolas T. Uy, Bachelor of Science in Chemical Engineering (BS ChE) of the College of Engineering (COE), with a WAG of 1.019. On second spot was BS in Electronics and Communications Engineering (BS ECE) major, Reine Jiana M. Reynoso, 1.027.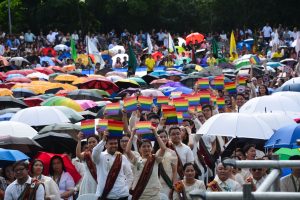 They were followed by Samantha P. Amante, BS in Business Administration (BS BA) from the Cesar E.A. Virata School of Business (VSB), 1.071; Jamie Christine B. Lim, BS Mathematics (BS Math), College of Science (CS), 1.073; Sethric Andre S. Mesoza, BS Math/CS, 1.078; Lea Andrei B. San Juan, Bachelor of Sports Science (B SS), College of Human Kinetics (CHK), 1.088; Bianca Isadora P. Germar, Bachelor of Arts/BA Anthropology, College of Social Sciences and Philosophy (CSSP), 1.089; Joshua Emmanuel T. Ramos, BA Philosophy (BA Philo), CSSP, 1.096; Mariel D. Santos, BS Psychology/CSSP, 1.110; Joshua Miguel C. Danac, BS Molecular Biology and Biotechnology (BS MBB), CS, 1.113; Anna Michaella E. Dela Cruz, B SS/CHK, 1.116; Jody Kirsten S. Uy, B Secondary Education (Double Major), College of Education (CEd), 1.118; Helli-Mar T. Trilles, BS Civil Engineering (BS CE), COE, 1.122; Jasper S. Jamir, BS ECE/COE, 1.127; Raphaelle Joshua L. Traballo, BS BA/VSB,1.130.
Also on top honors' list were Aleeza Dana C. Sy, BS Industrial Engineering (BS IE), COE, 1.131; Raphael Don A. Tantan, BS Business Administration and Accountancy (BS BAA), VSB, 1.133; Jerielle V. Malonzo, BS Math/CS, 1.134; Xaika Nadine A. Saldivar, BA Broadcast Communication, College of Mass Communication (CMC), 1.135; Christian Fitzedward C. Tan, BS Economics (BS Econ), School of Economics (SE), 1.142; Stanley Brian R. Sayson, BS CE/COE, 1.146; Ciana L. Lim, BS Computer Science (BS CS), COE, 1.154; Eloise P. Misa, BS Math/CS, 1.155; Ara Isobel G. Mercado, B Fine Arts/B FA (Painting), College of Fine Arts (CFA), 1.156; Weand S. Ybañez, BS MBB/CS, 1.158; Erika Antonette T. Enriquez, BS Math/CS, 1.161; Isabella Mae S. Tan, B FA (Industrial Design), CFA, 1.163; Wilbert Jacob G. Julio, BS ChE/COE, 1.165; Carlos Emmanuel P. Garcia, BS Mechanical Engineering, COE, 1.166; Maru Feriel O. Del Carmen, BS ChE/COE, 1.167.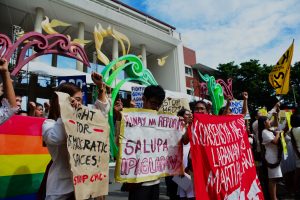 Others who made it to the top were Anderson Kirk Nigel G. Tan, BS Psychology (BS Psych), CSSP, 1.168; Joseph Neos C. Cruz, BS MBB/CS, 1.168; Timothy Jason C. Simeon, BS CE/COE, 1.169; Ranier L. Biglang-awa, B FA (Painting), CFA, 1.173; Mikaela Maria E. Gomez, BS BA/VSB, 1.180; Samantha Yzavelle H. Ceniza, BS Econ/SE, 1.181; Jiwan S. Tai, BS Econ/SE, 1.183; Ferdinand John S. Briones, BS Computer Engineering, COE, 1.185; Karlo N. de Leon, BS Physics, CS, 1.186; Charmaine Regina S. Yu, B FA (Visual Communication), CFA, 1.187; Sam Ezrael L. dela Cruz, BS MBB/CS, 1.187; Reina Nette R. Daguio, BS CE/COE, 1.188; Arvy Daniel S. Ngo, BS ECE/COE, 1.188; Lian Mae T. Tabien, BS Statistics, School of Statistics, 1.190.
Rounding the list of summa cum laude were Francis Zac Q. dela Cruz, BS CS/COE, 1.191; Kwen Kwen R. Cabalag, BA Philo/CSSP, 1.193; Exequiel Kim Isaac I. Salvador, BS Math/CS, 1.193; Edrea Faustina L. Choa, BS BA/VSB, 1.193; Emilio Paul L. Nogales, BS ChE/COE, 1.194; Aaron Cris P. Vega, B SS/CHK, 1.195; John Anthony C. Kho, BS ChE/COE, 1.196; Carissa Andrea D. Lim, BS BAA/VSB, 1.196; Dana P. Sison, BA European Languages, College of Arts and Letters (CAL), 1.197; and Francesca C. Sy, BS CE/COE, 1.199.
Total graduates. Of the 11 degree-granting units represented, COE garnered the most number of summa cum laude with 18, followed by CS (11), VSB (6), CSSP (5), CFA (4), CHK (3) and SE (3).  CAL, CEd, CMC and STAT have one summa cum laude each.
As of Jun. 28, figures from the Office of the University Registrar showed that 437 were magna cum laude while 1,173 graduated cum laude. Of the total graduates, 3,980 received a baccalaureate degree while 1,069 were conferred a graduate diploma, master's and doctoral degree.
Strength amid adversities. UPD Chancellor Michael L. Tan, in his welcome remarks said "The sunflowers bloomed somewhat early and held out even when battered by rains to make it today. We made it as well, a symbolism of strength amid adversity could not have been more appropriate, your batch graduating as we mark the 70th anniversary of UPD."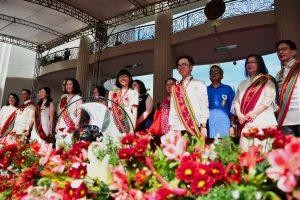 "We take pride today in the 54 summa cum laude, the highest in UP's history and which I know will elicit accusations of grade inflationBut, can we help it that we keep getting the brightest of students (with bright mothers of course, intelligence being largely maternally inherited, but thank you as well to fathers who helped genetically as well as in nurturance)?" Tan said.
He also said, "Can we help it, too, that UP has become more enabling, so visible in the current frenzy of building? Andaming mga bagong gusali saka renovations…Together with the buildings, we continue to expand many services and to introduce new ones for the mind, the body and the spirit to bring out the full potential of our iskos and iskas."
Moreover, Tan said "What strikes me about our summa cum laudes is that so many of them were able to combine academics with serving in student councils, student organizations, serving others… That too is the spirit of UP. eyond the Latin honors, we celebrate the dare-to-dream, dare to win attitude of our students, so dramatically epitomized by the now famous slogan, "Atin Ito" – victory will be our's —coined by Paul Desidero, captain of the men's basketball team that catapulted UP into 2nd place in the 2018-2019 UAAP basketball tournament, our entry into the Final 4 breaking a 22-year old drought." (See full text of Chancellor Tan's remarks here.)
Commencement speaker.  National Artist for Theater Amelia Lapeña-Bonifacio is the Commencement Speaker.  Lapeña-Bonifacio, a University Professor Emeritus at CAL's Department of English and Comparative Literature, is known as "The Grand Dame of Southeast Asian Children's Theater." As a playwright, among her works are 10 books, 16 plays, 30 plays for children and more than 120 short stories for children published by the "Philippine Journal of Education." She has also produced a number of poems, short stories and essays.
In her message, Lapeña-Bonifacio gave emphasis to the importance of home. She said "Bakit mahalaga ang tahanan? Sa tahanan nadadama ang pagmamahal at pag-aaruga. Sa tahanan maaaring magpahinga o maaaring uminom. Sa tahanan may nakikinig sa iyong kuwento, masaya man o malungkot ito. Sa tahanan puwede kang mangarap at lumikha." 
Her advice to the graduates, "Mahalaga ang may ambisyon. Subalit kailangang balansehin ang pagtungtong sa reyalidad. Sa dami ng gusto nating gawin, kailangang tukuyin ang prayoridad. At ang kagustuhan nating maabot ang pangarap, kung minsan ay nadarapa rin tayo. Matutong bumangon kapag nadapa. Hindi ito katapusan. Ibig lang sabihin ay may kulang sa ginawa natin kaya't magpursige upang magtagumpay tayo. At ang huli ay ang maglingkod nang may dangal, buong husay at walang inaapakan." (See full text of National Artist Lapeña-Bonifacio's speech here.)
Pag-ibig, pagtahan, paglaya. Speaking on behalf of the graduating class was Ramos, who talked about the concept of home.
Ramos said is his second home and like home, it is where "hinuhubog ang ating pagkatao. Ang mga wastong halagahang pinupulot ng bata ay bunga ng pakikisalamuha niya sa pamilya. Halimbawa, likas sa sanggol na umiyak at madalas ito'y dahil sa gutom. Kapag daw po natutugunan ng ina ang pangangailangan ng sanggol, siya'y lalaking may kakayahang punan din ang pangangailangan ng iba sa kanyang paligid. Sa madaling sabi, maaaring ugatin ang kapasidad nating magmahal sa tahanan."
"Pinag-iisa ng Pamantasan ang buhay-akademiko at ang mga panawagan ng nasa laylayan ng lipunan. Pinatutuloy natin ang mga kapatid nating Lumad sa Diliman at inaalam ang kanilang suliranin. Sa gayon, hindi nakakabiglang may mga Iskolar ng Bayan na tinalikuran ang pagkakataong sumahod nang malaki at sa halip ay naging guro para sa mga kabataang Lumad," Ramos said.
He also said while home is where children first learn about critical thinking, in UP, "Palagi tayong inuudyukang magtanong at mag-usisa. Hinahanapan natin ng matibay na pruweba ang pahayag ng sinuman at binubusisi kung ito ba'y moral, naaayon sa batas at para sa ikabubuti ng bayan." 
Moreover, Ramos said while freedom starts at home, "May mas malalim na pagka-tahanan ang buhay dito sa UP. Maipagmamalaki kong dito sa Diliman, malayang ibigin ninuman ang sinuman na hindi hinahadlangan ng pananampalataya, anyo, lahi at kasarian." (Refer to Ramos's full speech here.) 
For the musical numbers, Joanna Ampil, award-winning musical theater and film actress, performed "Padayon" by Pinoy rockstar Ebe Dancel and "Nais Ko" by National Artist for Music Ryan Cayabyab. Both songs were arranged by Katz Trangco.
As a tradition in every UP graduation, towards the program's end, student activists raised their fists and banners and protested against the commercialization of education, Socialized Tuition System, China-Duterte dictatorship, extra judicial killings and other political and social issues. They also unfurled a banner at the stage with a statement, "Atin ang Pilipinas!" in light of the issues on the West Philippine Sea.
At the end of the program, the graduates and their families and friends took groufies and selfies with the canopy on the stage as backdrop while some went to the University Avenue to have their photos taken with the sunflowers as background. The stage, designed by sculptor Toym Imao, depicted the graduation theme "Tahanan." —Haidee C. Pineda, images by Leonardo A. Reyes and Jacelle Isha Bonus