(SEPT. 4) — The UAAP (University Athletics Association of the Philippines) Season 82 formally opened on Sept. 1 at the Araneta Coliseum with a futuristic-themed ceremony showcasing spectacular light shows, parade of athletes and energetic performances of student performers and top local bands.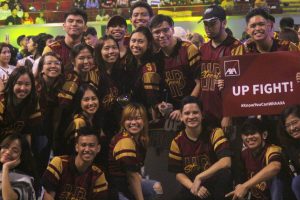 Organized by host Ateneo de Manila University (ADMU), the UAAP Season 82's opening ceremony served as a send-off to the league's student-athletes from eight member universities before competition.
UAAP is composed of Adamson University, ADMU, De La Salle University, Far Eastern University, National University, University of the East, University of the Philippines and University of Santo Tomas.
Unlike previous seasons, there were no basketball games after the opening ceremony.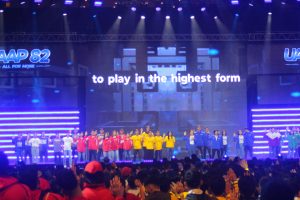 UAAP President Emmanuel T. Fernandez said during the press conference the first basketball game will be today, Sept. 4 and not after the opening ceremony because "We want this to be the pep rally for all the student-athletes of the UAAP."
ADMU president Fr. Jett Villarin, SJ in his welcome remarks said, "We are first a community before we are competitors."
He said the season's theme "All for More" is about doing anything and everything for the greater good and that "We're always asked to do the better thing, the greater choice. Every victory, every defeat, will be more than ourselves."
In addition, former ADMU women's volleyball player, celebrity hose and Season 82 emcee Gretchen Ho said the theme is inspired by the "Magis," a Latin word which means 'more' or 'greater.'
Meanwhile, the UAAP also recognized the athletes who played for and will represent the country in the upcoming Southeast Asian (SEA) Games.
"We are hosting the 2019 SEA Games so it is another occasion for us to come together as Filipinos and I hope that is something that is also a greater thing to do beyond our teams, beyond our schools," Villarin said.
The student-athletes, together with the national athletes, later took their "Oath of Sportsmanship" led by Maxine Esteban, ADMU women's fencing varsity player and World Cup bronze medalist.
This year's UAAP anthem "Ang Ating Tagumpay" was also launched at the event and performed by popular Pinoy rock bands Sponge Cola and Itchyworms.
Other performers during the event were the Ateneo Glee Club, Ateneo Dance Club and the Blue Babble Battalion.
The program culminated with musical performances from Itchyworms, Sponge Cola, December Avenue, Autotelic and IV of Spades. —Haidee C. Pineda, images by Jacelle Isha Bonus