(Feb. 28)— Following the successful Pagbubukas ng Linggo ng Parangal at Pag-uulat on Feb. 21 at the University Theater, the UPD international community were feted in a dinner-program through the Chancellor's International Reception (CIR) 2020 at the Ang Bahay ng Alumni.
The venue was predominantly draped with UP colors and decked with local fabrics and textiles, apt for this year's CIR theme "Habi," which showcased the country's weaving tradition from Luzon to Mindanao.
The Office of International Linkages Diliman (OIL-D) staff and officials were all dressed in Maguindanao-made "Inaul malong." A small booth with handwoven products by the weavers present in the event was placed at the entrance.
As an additional treat and as the program's highlight, weavers from Ilocos, Aklan, Lake Sebu (South Cotabato) and Basilan allowed the guests to witness the actual intricate art of weaving and their (weavers) dexterity in the said craft.
The featured weavers were Erlinda A. Gampong and Elvi M. Galinato from Ilocos; Nelia Rogano and Lynnielyn Rentino from Aklan; Hilda Ugay and Herwin Sabang from Lake Sebu; and Kijong Atalan and Nur-aiza Atalan from Basilan. UPD Chancellor Michael L. Tan presented them each with a certificate of appreciation.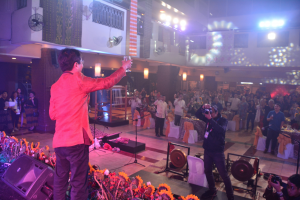 The dinner reception is UPD's way of appreciating and honoring the continued good relations with its international academic partners.
As in previous CIRs, Tan led the ceremonial toast for the attending international students, faculty and guests. Tan thanked the international community and their countries that have academic and cultural partnerships with UPD. — Bino Gamba, photos by Jefferson Villacruz