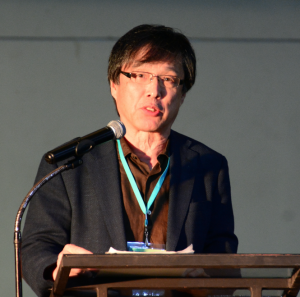 (NOV. 25)—Artistic collaboration is a bit like a storm. Unpredictable, with flashes of blinding inspiration followed by the rolling thunder of applause. And it often leaves those caught in it transformed.
This was Japanese playwright Kentaro Matsui's experience as he talked about several collaborations with other Asian artists during his opening keynote speech at the "Rhetoric of Creative Partnership: Conversations on Cross-Cultural Artistic Exchanges" on Nov. 14 at the GT-Toyota Asian Center.
A theater producer, critic and dramaturg based in the Fujimi Culture Hall KIRARI FUJIMI where he is the Director, Matsui spoke about particular collaborations that, in his own words, "shook his identity."
The first was the play "Palau Antara—The Island in Between" (2001) in which he collaborated with Malaysian writer and director Jo Kukathas.
Kukathas made changes to the ghost which the Japanese character Ryo converses with at one point, from the ghost of a Japanese army colonel to a British colonizer named George. George tells Ryo that he is just one of the countless humans who have come to this island and dreamed of success just like all of us here and who were not able to achieve that dream.
Matsui found it unacceptable, saying that the change diminished Ryo's importance, but upon reflection realized that his reaction came from his own immaturity.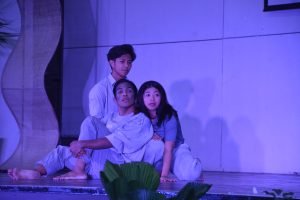 "That I could only see the one viewpoint of history and I wasn't able to accept it. Unconsciously I realized that it was because I was trying to defend myself," he said. The collaboration forced him to think about and re-evaluate his own beliefs and worldview.
"…through this painful experience, I was able to create a new point of view of history, and share it with other participants through this collaboration. And I think this is the biggest and best result of collaboration," Matsui said.
The second collaboration that left a deep impact on Matsui was "Typhoon's Tale" (2015), an adaptation of Shakespeare's "The Tempest" where he collaborated with Korean playwright Kiwoong Sung.
The play revolved around the exile of an early 20th-century Korean king, to the South China Sea. With the help of the sprites on the island, he conjures up a magical typhoon to take revenge on his enemies. The play weaves Japanese and Korean history into the plot.
"In my perception the drama was very objective and an accurate depiction of the foolishness and mistakes of the Japanese colonists. However at the first performance in Korea, many Korean audiences criticized this as a pro-Japanese work," Matsui said.
The piece was again performed at a festival in Tokyo three weeks later, where it received positive critical praise, but left the actors at odds.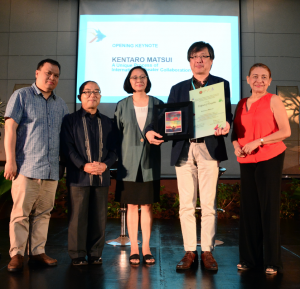 "The veteran Korean actors were deeply hurt because they felt that the Japanese audience who praised the play didn't essentially understand the actual pain of the Korean people," Matsui said.
A balance was found in another performance in rural Fujimi City, Saitama, Japan. There the play was received warmly by the audience. At the same time the veteran Korean actors told Matsui that they "felt that the audience at Fujimi City shared and understood their pain."
Based on these two examples and many other collaborations with artists outside of Japan, Matsui concluded that it's important especially for someone like him who comes from a culturally homogenous country to step out of their box and engage with the wider creative community.
"For me, to work on a creation of theatrical works while thinking of transcending various restrictions such as race, language, religion, nation state and even cultural disconnection, the theatrical methodology of collaboration becomes very essential," he said.—Anna Regidor, images by Leonardo Reyes